This post is dedicated to my mother, Ellorine Cottingham Morgan, and my grandmother, Ellarea Pratt Bryan. My mother, Ellorine Cottingham Morgan, was the caregiver for my grandmother for ten years. The photograph of them was taken when my mother was around six years old.
It's just You and Me—and Death—Mom
by
Ellorine Cottingham Morgan
Your claw-like fingers clutch the blankets that nestle your skeleton frame. Your tongue is swollen and cracked. It protrudes from your lips. An attempt to relive the dryness of your mouth with an eyedropper of water wrenches a spasm of coughing from your weak body. What do I do? I cradle your rag doll body in my arms and cry. . . I love you Mother. Your smile with cellophane lips and close your eyes.
It was so easy to promise you, when you were so full of life and death was something that happens to others, that I would not let you suffer the indignity of being a partner to life-pumping machines. You wanted me to love you enough to 'let you go' if you were terminally ill. Oh dear God. . . how hard it is to keep that promise now!
It's dark outside now, Mom, and the rest of my family have gone to bed. They are leaving this last quiet time for us. It is just you and me . . . and death. Tenderly, gently, I moisten your parched lips with a soft damp cloth. I'll sing a song for you, Mom. One of those good old Baptist hymns that you remembered long after you lost the ability to communicate.
"I come to the garden alone. . ." You squeeze my hand, and your head moves closer to my body.
I called the doctor, Mom. I asked him to come here, but doctors no longer make house calls. He told me to meet him at the hospital with you, so he could start the procedures necessary to keep you alive. I told him that I do not want to prolong the dying experience, but I just wanted to be sure you were not in pain. Doctors are governed by rules. These regulations are set, standard and impersonal that have no room for individual needs. Doctors will not offer reassurance over the phone. I must make the decision, alone. It's just you and me . . . and death, Mom. I feel lonely. Are you to die with dignity and with your family, or shall I give in to the system? You look at me. Can you understand? I will keep my word.
I watch as your shrunken chest moves up and down in rapid motions. Talking to you eases the pain inside me. Your bright blue eyes have lost the sparkle. You are so still, and yet you look at me through half-opened eyes. I am overwhelmed with memories. I hold you close . . . I can't let you go, yet.
Do you have memories left inside you, Mom? We have been through so much these last ten years. Can you understand what I am saying?
I hold the past in my mind and think of those days when you were so full of life. My childhood is filled with pleasant scenes. Our trips to exciting places and the laughter we shared transports us out of this death room.
Do you remember our trips to Warm Springs? We met Franklin D. Roosevelt! Oh, do you remember when Dad ducked you and the inner-tube you were wearing caught on your feet? You never did learn to swim. You swallowed a large part of the pool before Dad looked back and rescued you. Do I see a bit of understanding in your eyes? Are you remembering, too?
That big snow in Birmingham was inconvenient for so many, but we had so much fun. We couldn't drive our cars, so we walked to the store. We were throwing snowballs and giggling all the way. . .like a couple of kids. You smile. . .oh Mom, you wink? I can't help crying, Mom. You are still here with me.
We use to stay up all night painting the rooms in your house or mine. We would decide to redecorate, and we had to do it all at one time. Sometimes, we would just get the song book out and sing together through the night. Other times we used the stillness of the evening to talk. We loved the nights. Tears fill your eyes. I kiss your forehead. I'll sing another song. It was the first one you taught me. "Jesus loves me. . ."
You have been a fighter all your life. You are a survivor. You have been through so much, but you wouldn't quit. You were the fourth of five motherless children; and you learned strength early in life. Your father and your sisters are dead now, as well as, your baby boy. You almost gave up when you lost him. Life hasn't been easy for you. Death took your husband, but you found the strength to start over.
For many years now, I have bathed and dressed you. Our roles reversed, and I became the "mother". What will I do with that chunk of time that I have spent caring for you for so many years?
You are so still now. If you move, other hands must move you. How that independent spirit must hate this dependent nee! Yet, it is better that loving family hands care for you instead of the indifferent attention from strangers. Three of us move you gently to clean your space and soothe your dry skin with ointments and lotions.
Short, rasping breaths now control your body. Is that what 'they' call shallow breathing? We have called the rest of the family, Mom. They are on their way home.
The short, shallow breathing becomes nose gasps. Sunlight flickers through the window. Churchgoers parade their cars and buses down our street with noisy indifference. Don't they know we are experiencing a transformation in this Holy room? The short gasps stop for long seconds and your half-opened eyes empty of "you". Another short gasp – – – It is finished! You are free! So long, Mom.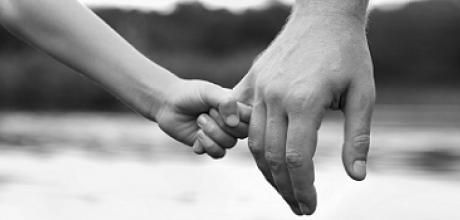 My mother, Ellorine, had many careers in her life, from sales, artist, teacher, as well as owning her own art studio. She graduated from AUM after raising all her children and taking care of her mother for ten years. In her later years, she wrote a novel, The Tattletale Parrot. It was published three months before her death.
My parents are gone now, but at each of their deaths, we continued the tradition she started with my grandmother of "Singing them to Heaven" and it seemed to ease the anguish we experienced during this trying time.