Happy Birthday!
JAMES MILES KILLIAN GUINN
BIOGRAPHY and GENEALOGY
(November 5, 1835 – June 8, 1903)
Randolph County, Alabama
James M. K. Guinn Dec. 20, 1897, (Alabama Department Archives and History)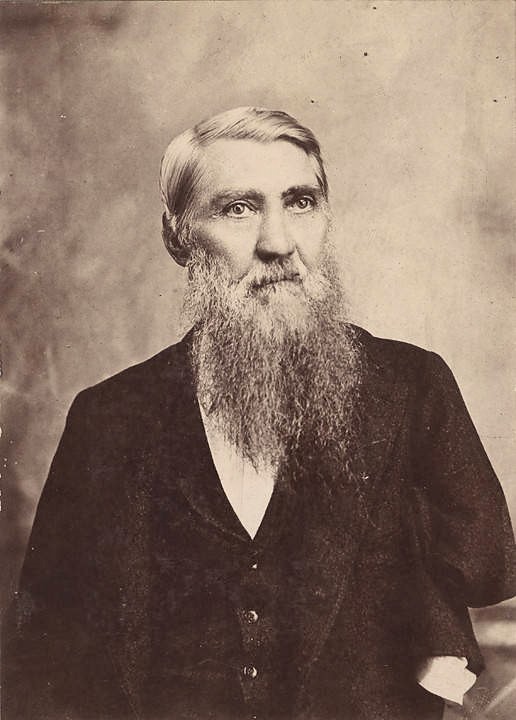 James Miles Killian Guinn, author of this history of Randolph County, published in the Randolph Toiler, Wedowee, Alabama, in 1896, the third son of James W. and Catharine Ann (Dobson) Guinn, was born November 5, 1835, at Franklin, Macon County, N.C., and died at Langdale, Alabama, June 8, 1903, and is buried at Wedowee.
He was educated in the common schools and in 1858 removed to Texas but returned to Alabama and volunteered for service in the Confederate Army and was mustered into service at Montgomery, July 28, 1861. He arrived at Richmond, Va., a few days later and was made Lieutenant of Company K, 13th Alabama Volunteers and afterwards promoted to Captain. The Colonel of the Regiment was Birket D. Fry, a Californian, who was at the time living in Tallassee, Ala., holding a position with the Tallassee Mills.
Mr. Guinn's regiment was in A. P. Hill's Division under Stonewall Jackson. He lost his left arm at Cold Harbor in the seven days fight. He was at Chancellorsville, in the Wilderness Battle and at the seige of Yorktown.
He married first Emily Frances Burton, at Wedowee, Ala., February 27, 1862, and three children were born of that union, Emily, Katy and Robert. His wife died November 6, 1865, at Alto, Texas. The next year he returned to Alabama and on February 21, 1869, married at Wedowee, Mary F. Foster, daughter of Byrd Culbertson. This wife died August 1, 1907. He and Mary Jane had nine children:
Benjamin H. Guinn
James Randolph Graves Guinn
Henry Lee Guinn
Emma Josephine Guinn
Susan Ann "Annie" Guinn
Mary Walter "Gordon" Guinn m. Alonzo Nolan Stanley
Hattie Guinn
Wade Hampton Guinn
Winnie Davis Guinn
Mr. Guinn was a farmer, owned and edited the Enterprise Publisher, Wedowee, from 1873 until 1875. He was County Superintendent of Education between 1873 and 1879; was in the mercantile business in Roanoke, 1879 until 1883 and was U. S. Storekeeper and Guager under Cleveland's first administration.
SOURCE
Alabama Historical Quarterly, Vol. 04, No. 03, Fall Issue 1942
FINDAGRAVE.COM memorial 7979702
ALABAMA FOOTPRINTS Banished
reveals true stories, documents and news articles from this sad time in Alabama's history. Some stories include:
Choctaw & Treaty Of Dancing Rabbit Creek
Private Contracts For Removal
Stockades In Alabama
The Long Trail West
Reverend Daniel S. Burtrick's 1838 Journal
An Observer Writes His Memories