Happy Birthday!
JOSEPH OSWALT THOMPSON
BIOGRAPHY and GENEALOGY
(1869-1933)
Macon and Jefferson County, Alabama
Joseph Oswalt Thompson was a planter, colonizer, and federal office holder. He was born February 2, 1869, near Tuskegee, Macon County the son of William Phillip and Mary Watson (Jordon) Thompson. His father was a farmer, merchant, mayor of Tuskegee, sheriff of Macon County and served four years as a private in Co. K, 45th Alabama infantry regiment, C. S. Army.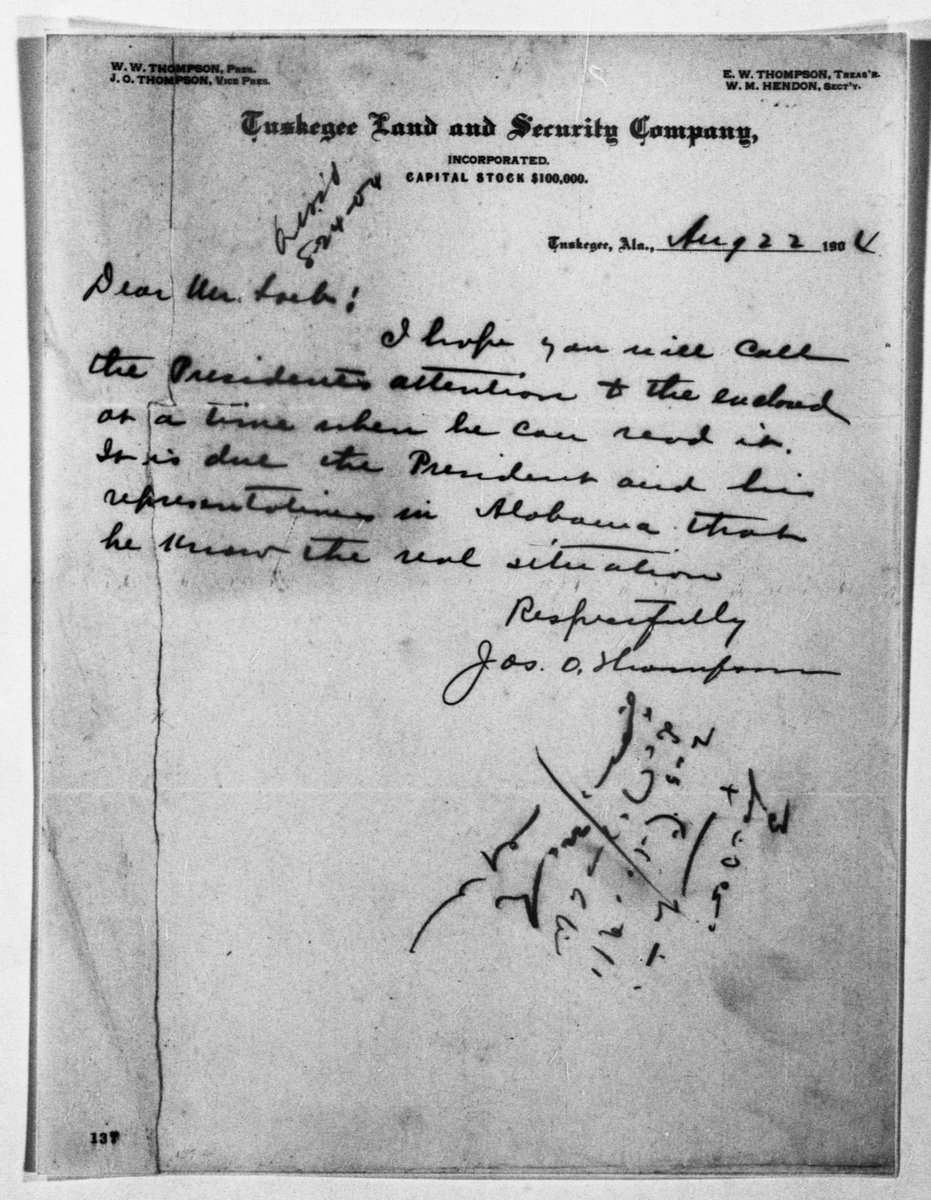 Letter from Joseph O. Thompson to William Loeb (Library of Congress Manuscript Division)
Joseph was the brother of Charles W. Thompson grandson of Alfred and Mary (Wagner)Thompson of Talladega and Cross Keys, and of Samuel and Sarah Dabney (Walker) Jordon who lived first in Lynchburg, Va., and moved to Alabama in 1849. He was the great-grandson of Edmund and Elizabeth (Armistead) Walker, the latter was descended from William Winston of Revolutionary fame, who was the maternal uncle of Patrick Henry.
Thompson was educated in Park's high school and the Alabama military institute. He is a farmer, who has owned and operated a large acreage in a number of counties in the state and has also been interested in promoting farm colonization. He has specialized in cotton production and one year grew more than three thousand bales, being the largest grower in the State at that time. He was one of the organizers and second vice-president of the Alabama Land Congress and organized the cotton holding movement in 1915, by which millions of dollars were saved to the cotton growers.
He was a Republican, and was the sole referee of federal patronage in Alabama, during President Roosevelt's administration. He was chairman of the Republican committee of Macon County and chairman of the State Republican committee for eight years; deputy U. S. marshal; deputy U. S. collector; U. S. commissioner; postmaster at Tuskegee; U. S. collector of internal revenue for ten years; Progressive party national committeeman for Alabama two years; receiver of the Southern steel company, a twenty-five million dollar corporation.
Thompson was a Baptist and was married: April 13, 1888, at Tuskegee, to Annie, daughter of William Reardon and Mary Ann (Perry) Magruder, of that place. She was the granddaughter of Zadoc Magruder of Augusta, Ga., and of Shadrack and Elizabeth (Douglass) Perry of North and South Carolina, respectively.
The American founder of the family was Alexander Magruder, a Scotchman, who settled in Maryland early in the history of the nation.
Joseph and Annie Thompson's children were:
Winston Thompson, m. Willie Peebles, a farmer in Benton, Lowndes County;
Edi Thompson, m. Dr. Eugene Callaway of Selma;
Lois Thompson, m. Miller Krebs. a farmer, Harston;
Magruder Thompson;
Grace Thompson;
Ruth Thompson;
Josephine Thompson;
Hundley Thompson
Joseph O. Thompson resided in Birmingham, Alabama ca. 1921. He died in 1933 and is buried in Tuskegee Cemetery, Macon County, Alabama.
SOURCES:
History of Alabama and Dictionary of Alabama Biography, Volume 4
By Thomas McAdory Owen, Marie Bankhead Owen, S. J. Clarke publishing Company, 1921
Findagrave.com #

49101826
Start researching your family genealogy research in minutes.

 

This inexpensive Ebook has simple instructions on

 

how to get started with FREE sources. Download 

WHERE DO I START? Hints and Tips for Beginning Genealogists with On-line resources 

to your computer immediately with the a FREE APP below and begin your research today!
Reviews
"This book was very informative and at a very modest price. One web site I may have missed in your book that has been very helpful to me is genealogybank.com. I found articles about several of my ancestors in their newspaper archives. Thank you for your great newsletter and this book."
"The book was clear & concise, with excellent information for beginners. As an experienced genealogist, I enjoyed the chapter with lists of interview questions. I'd recommend this book to those who are just beginning to work on their genealogies. For more experienced genealogists, it provides a nice refresher."