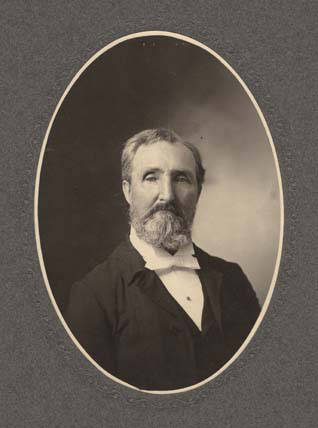 REV. GEORGE EVANS BREWER
BIOGRAPHY and GENEALOGY
(1832-1922)
Elmore, Coosa County, Alabama
Rev. George Evans Brewer was born near Covington, Newton County, Ga., October 31, 1832, and died in 1922 in his ninetieth year and is buried in Notasulga with other members of his family.
He was the son of Rev. Aaron G. and Martha (Taylor) Brewer, the former born near Squancum, Monmouth County, N. J.; grandson of George and Rebecca (Schenck) Brewer, both of whom were members of the earliest Dutch families settling in the New Netherlands, a minister in the Protestant Methodist Church, being a member of the Baltimore convention which organized that body; and of George Taylor, a native of Ireland; great-grandson of Lazarus Brewer, of Monmouth County, N. J.; and great-great-grandson of Anneke Jans Bogardus, of New York.
Rev. Mr. Brewer was educated in the country schools and at Robinson Springs Academy, Elmore County. He taught school from 1851 to 1856. In 1856 he was elected superintendent of education of Coosa County, being the first under the new school law and was a member of the House of Representatives from the same county, 1857-59, and a member of the State Senate, 1859-63.
In the fall of 1860. he was ordained to the ministry in the Missionary Baptist Church and served his first pastorate at Wetumpka. In February 1862, he was elected captain of an infantry company raised in Coosa County and was first on detached duty at Pensacola, but in June 1862, was assigned to Co. A., 46th Alabama infantry regiment, C. S. A.
With this organization, he served until the close of the War Between the States, much of the time in command. He was adjutant-general of Alabama during 1866, but resigned before the close of the year. He then returned to the active ministry, in which he continued without interruption until 1901, when he was appointed to the position of chaplain of convicts, by Gov. Wm. J. Samford, being retained in office by Gov. Wm. D, Jelks.
After the expiration of his term in 1907, he again took up his ministerial work. He served as moderator at various times of the Central, the Tuskegee, and the Harris Baptist Associations. He was a potent influence in the establishment of the School for the Deaf and Blind at Talladega and the hospital for the insane, now Bryce Hospital, at Tuscaloosa.
Mr. Brewer's deep interest in history was manifested by numerous writings both published and unpublished. Among the former was his "History of the Central Baptist Association" (1895.) and "History of the 46th Alabama Regiment, C. S. A.," which appeared in The Montgomery Advertiser, 1902.
He was employed in the State Department of Archives and History for several years, including 1917-18, at which time he wrote the "History of Coosa County". The military files of the Department were enriched by voluminous notes from his pen.
He was married December 20, 1854, at Rockford, Coosa County, to Laura Ann, daughter of Judge Isaac Willis and Louisa (McCary) Suttle, of that county. She died in 1914, after, a happy marriage lasting sixty years.
Children:
Sallie Teresa Brewer, m. Henry Bradford
Edgar Brewer m. Mary Morgan;
Ella Rosa Brewer d. young;
Samuel Oscar Brewer m. Ollie Wilkie
George Francis Brewer m. Frances Meredith
Mattie Laura Brewer, m. Dr. B. W. Allen
Mamie Louisa Brewer, m. Thomas M. Espy
Infant son, deceased
He and his wife are buried in Rosemere Cemetery in Opelika, Lee County, Alabama
SOURCE
The Alabama Historical Quarterly, Vol. 04, No. 01, Spring Issue 19
Find A Grave.com Memorial# 93946981 # 93947112
Start researching your family genealogy research in minutes! This Ebook has simple instructions on where to start. Download WHERE DO I START? Hints and Tips for Beginning Genealogists with On-line resources to your computer immediately with a FREE APP below and begin your research today!