In this corner…Jiujitsu Joey from Gatlinburg Tennessee
by
Shannon Hollon
A few years ago we traveled to Gatlinburg Tennessee for a little family getaway and on our way home we made one last stop at a mountain side petting zoo, this zoo had your typical goats, sheep and donkeys but the one animal that I will never forget was this Kangaroo.
This Roo seemed pleasant and gentle but was truly a marsupial from hades. As my wife and kids were petting and feeding the sheep and goats I walked over to introduce myself to the smiling Roo, after a few gentle pets on his head he commenced to dig his claws in my forearm(yes Roos have claws) and place my arm in some sort of Jiujitsu lock while he began to kick with the force of a Missouri Mule my legs out from under me.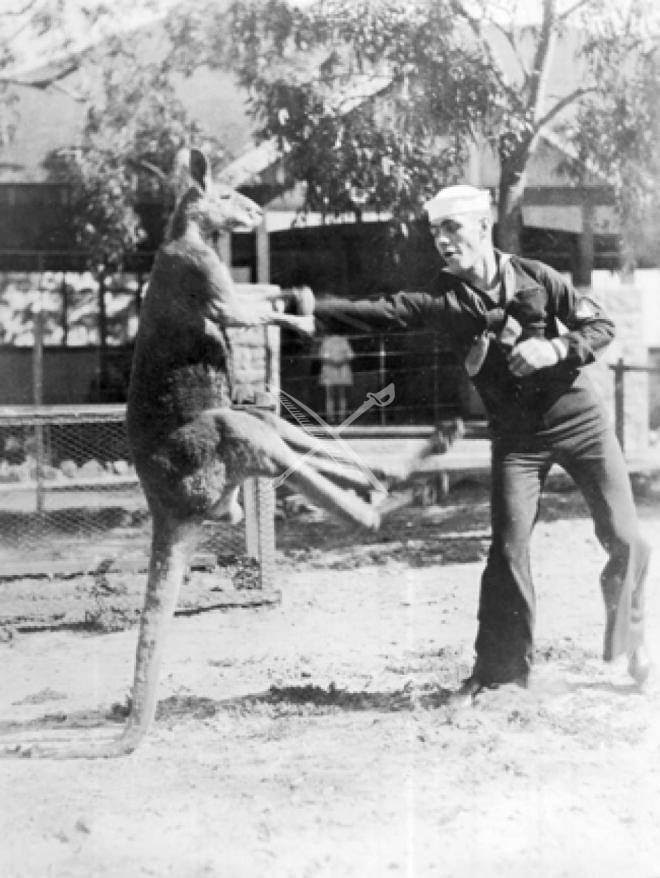 1923 US Navy Sailor boxing a Roo (US Naval Institute)
I remember looking at my wife and kids in horror thinking of tomorrow's headlines: "Alabama man killed by Gatlinburg Kangaroo"… My wife and kids laughed and loved the show and did not realize I was fighting hand to hand combat and in a life and death struggle.Thankfully I got away with only a few scratches and bruises and a funny family memory and the knowledge that hillbilly kangaroos are not as friendly as they look. It must be the altitude.
Shannon Hollon lives in McCalla Alabama graduated from McAdory High School and the University of Alabama at Birmingham. Served 9 years in the US Navy Seabees with one tour in Afghanistan.Currently employed with US Steel and serving on the board of directors for the West Jefferson County Historical Society. http://wjchs.com/