This biography is also in the book Biographies of Notable and Not-So-Notable: Alabama Pioneers (Volume 1)
RICHARD HOPKINS PRATT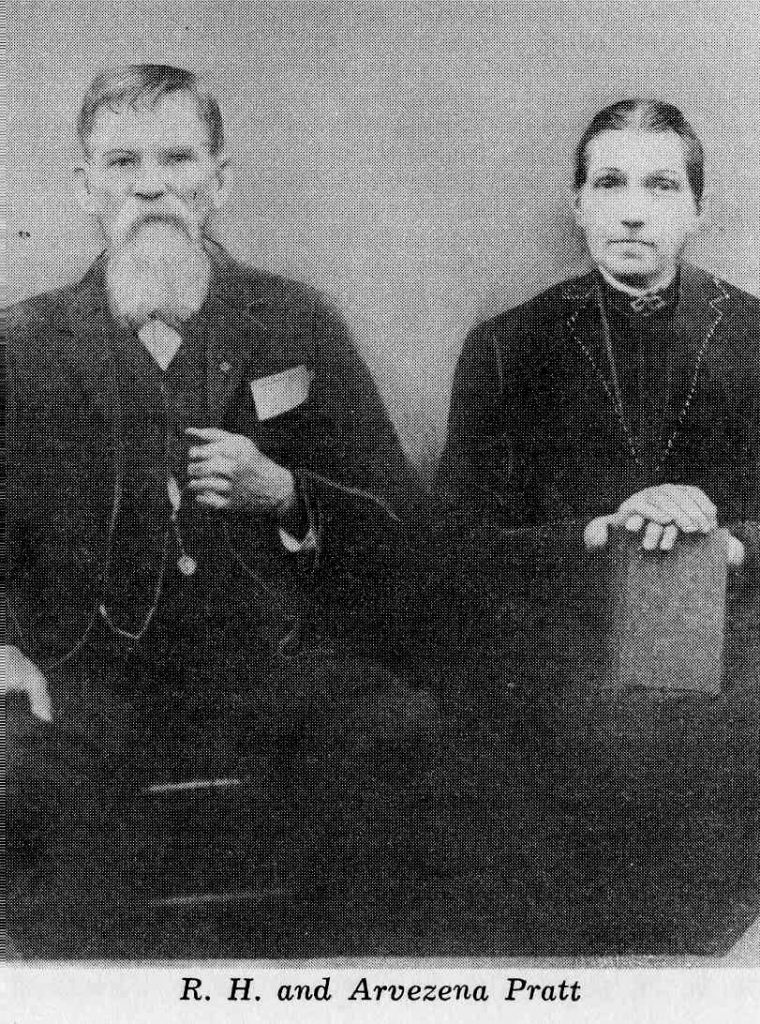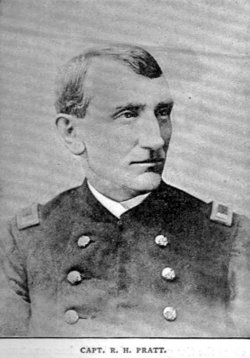 BIOGRAPHY and GENEALOGY
(1827 – 1908)
BIBB COUNTY, ALABAMA
On December 17, 1827, Richard Hopkins Pratt was born to Absalom and Mary Dickerson Pratt in the community of River Bend, Bibb County, Alabama. He was a young man destined to fill an important role in the education of early settlers of Bibb County, Alabama.
Richard's parents, Absalom and Mary (Dickerson) Pratt were married March 1822 in Bibb County, Alabama. Richard Hopkins Pratt was named after his uncle Hopkins Pratt, brother of Absalom who arrived in Bibb County with his wife Sarah, (sister of Mary Dickerson) before Absalom. Mary Dickerson was visiting her sister Sarah when she met Absalom Pratt and they later married. Hopkins died in Alabama and his wife Sarah remarried a minister and she and the minister moved with all her children to Texas to raise.
Absalom and Mary's son, Richard Hopkins Pratt revealed his talents as a scholar early in his life and preferred reading books to working on the plantation. His initial schooling was with private tutors and some at a small two-story school, Sandy Creek Academy, established in 1836 by the citizens in the community.
As a youth, Richard Hopkins Pratt studied for two or three years under Professor Baker at Jonesborough Academy, located near Bessemer. "For advanced training, young Pratt proposed to his father that he be given a formal education as his share of the inheritance. This offer was agreed upon, and in 1852 Richard enrolled at the University of Alabama and was graduated in 1855 with an A. B. degree. Information about his student activities is unknown since the University records were destroyed by fire in 1865 when troops ransacked the Campus."
Click on the link below to see a Letter from Richard Hopkins Pratt in his own handwriting to Isham W. Garrott about the formation of the 20th Alabama Infantry regiment, in which Garrott and Edmund W. Pettus were instrumental.
Letter_from_R_H_Pratt_in_Centreville_Alabama_to_Isham_W_Garrott
After graduation, Richard H. Pratt returned to Bibb County to teach at Big Sandy and began to court Amanda Suttle, daughter of Judge John W. and Mary (Goodwin) Suttle, early pioneers of Centreville, Bibb County, Alabama.
Richard Hopkins Pratt and Amanda Suttle (1836-Nov. 3, 1871) were wed on Feb. 26, 1857.
They had four daughters:
Mary Cora Pratt (b. June 1, 1858, Bibb Co., AL d. March 19, 1936, Jefferson County, AL.) married Thomas Ernest Bouderant 1882 Birmingham, AL
Florence Davis Pratt (b. 1861 Bibb Co., AL d. Oct 19, 1935, married in 1882 Rev. James Milton McCord (b. 1852-d. 19150
Estelle Sanford Pratt (b. Jan. 30, 1866 Bibb Co., AL d. May 18, 1918) married James Epp Mattison Apr 12, 1893
Nettie May Pratt (b. Jan 26, 1865, Bibb Co., d. Feb. 20, 1937) married William Wyatt Arnold Jan.25, 1904.
After completing a few years of initial teaching at Big Sandy Academy in Six Mile, Bibb County, AL, and shortly after his marriage to Amanda Suttle, Richard formed a partnership in 1858 with William Joseph Peters and the two took charge of the Six Mile Male and Female Academy.
"Incorporated in 1859, Six Mile Academy was located on Six Mile Creek (Bibb County) between Centreville and Montevallo on Highway 25 not far from Brierfield Ironworks State Historical Park. A coed elementary and secondary school, Six Mile's heyday came via Captain Richard Hopkins Pratt, who served as headmaster from 1858-1861 and, following the Civil War, from 1872-1896. Six Mile Academy burned in 1897."
With the exception of the four war years, he taught at Six Mile Male and Female Academy for thirty-one continuous years educating hundreds of young men and women. His wife having died, he married Miss Arvezena Peters, a young lady who had attended the school.
"Captain Pratt and his wife, Arvezena, staunch members of the Six Mile Baptist Church, transformed the academy into one of the finest schools in the region and Howard College and Marion Military Institute reaped the benefits of their instruction by admitting their excellent graduates.
"Marion Military Institutes predecessor, Howard College (founded 1842), was an institution of the Alabama Baptist Convention which, like Marion Female Seminary and Judson College, was founded by members of the Siloam Baptist Church here in Marion. Howard and Marion Military Institute received some of their better students (both in Marion and later in Birmingham) – particularly ministerial students – from the feeder Baptist institution, Six Mile Academy, a member of the Mulberry Baptist Association."
"In the War between the States, he was Captain of Company D, 20th Alabama Regiment This regiment was formed by Col. Isham Garrott of Marion, who was killed at Vicksburg (he was later promoted to brigadier general). Captain Pratt was captured at Fort Gibson, Mississippi May 1st, 1863. After almost two years spent as a prisoner on Johnson's Island, and just before the surrender, he was finally exchanged."
In the fall of 1872, he resumed principalship of Six Mile Academy and continued to teach there until 1896, when he was elected Superintendent of Education for Bibb County and held this office until his death from a hearing malfunction on September, 17,1908. "
"Captain Pratt's life was marked by a strong faith in Christ and a moral earnestness much to be admired. He was a member of Six Mile Baptist Church and after his return from the war, he became a leader in the Six Mile Church. He and Mrs. Pratt were the inspiration and organizers of the Sunday School and practiced faithfulness in attendance and being on time. For years he served as superintendent of the Sunday School and was one of its loyal teachers. Mrs. W A. Greene recalled: "one of my mental pictures of Captain Pratt is seeing him dressed in Sunday black, Bible in one hand and cane in the other, with MRS. Pratt by his side as they strode down the hill, across the bridge, and up another long hill to Sunday School and church."
Arvezena Peters Pratt known affectionately as "Miss Arvezena" won the affection of all who knew her. Personal testimony has made evident that she was a devoted Christian and a loving mother. She and Richard never had any children of their own but the daughters became outstanding in the communities where they afterward lived. "Miss Arvezena" taught school at Six Mile Academy and kept it going during the War years as best as she could.
"For years, he was Worshipful Master of the Charity Masonic Lodge No. 331 at Six Mile; and he seems to have been until his old age, the mainstay in keeping it active.
SOURCES
McCord, Cary P. McCord and Lofquist, Margaret U. Pratt Family with sketches of beaver-Vernon-Hampton,1966
Langston, Fern, Echoes of Six Mile
Atchison, Ray M. & Towry, G. Benton Richard Hopkins Pratt and the Six Mile Academy Banner Press 1965
http://mmiarchivist.blogspot.com/2008/03/captain-richard-pratt-and-six-mile.html

Find A Grave Memorial# 20101734

# 19244685

# 19244685

#

118295598

# 118295621 #

# 39570504

# 12744108

# 41026988

# 35692923

# 35692901

# 88629636

# 88629666

Alabama Department of Archives and History
Biographies of Notable and Not-so-Notable Alabama Pioneers Volume I