WINTHROP SARGENT
BIOGRAPHY and GENEALOGY
First Governor of the Mississippi Territory
(b. 1755 – d.1820)
Mississippi Territory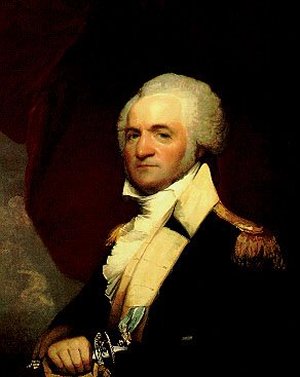 "Winthrop Sargent was born in Gloucester, Massachusetts, May 1, 1755. His first paternal ancestor William Sargent came to America from Gloucester, England sometime before 1568 and his descendants have been distinguished in law, literature, and politics."
Winthrop graduated from Harvard University and soon after went to sea as captain of a vessel owned by his father. "On July 7, 1775, he enlisted in the Army of the Revolution as a lieutenant in Gridley's Regiment of Massachusetts Artillery."
He was soon promoted to Captain-Lieutenant on December 10, 1775, of Knox's Regiment of the Continental Artillery. Before the end of the war, he was promoted to Captain of the 3rd Continental Artillery; Major August 28, 1783, and served as Aide-de-Camp to General Howe from June 1780 to 1783.
'Winthrop took an active part in the siege of Boston, the battles of Long Island, White Plains, Trenton, Brandywine, Germantown, Monmouth and other important operations. A chronicler of 1801, in writing of Sargent at the close of the war, says: 'Six months' pay in Morris' notes and his sword were all that were left him.' At the end of the war, Major Sargent applied for a commission in the army of Holland and applied to General Washington for a testimonial of his service in the Continental Army.
Washington replied with the following certificate:
"I certify that Major Winthrop Sargent, lately an officer in the line of artillery, and Aide-de-Camp to Major General Howe, has served with great reputation in the armies of the United States of America; that he entered into the service of his country at an early period of the war, and during the continuance of it, displayed a zeal, integrity, and intelligence which did honor to him as an officer and a gentleman.
Given under my hand and seal this 18th day of June 1785.
(Signed) George Washington late Commander in Chief, AC
"About this time, a company was formed, made up largely of revolutionary soldiers, for the settlement of the Ohio River country, known as the Northwestern Territory, and Major Sargent accepted employment as a surveyor, charged with the duty of laying out the country into townships. On the organization of a government for the Northwest Territory, in 1787, he was elected its secretary by the old Congress." He married Roewena Tupper, daughter of Revolutionary War soldier, Gen. Benjamin Tupper (1738-1792) and his wife Huldah (White) Tupper. (1739-1812), at the settlement of which became later called Marietta, Ohio. She died in childbirth and is buried in Ohio.
Secretary Sargent served as Adjutant-General of the army in the field under General Arthur St. Clair in the war against the Miami Indians whee he was wounded during the defeat on the Maume, November 4, 1791. "He continued to serve as secretary of the Northwestern Territory, and much of the time as acting Governor until May 7, 1798, when President Adams appointed him governor of the Mississippi Territory"
He was very ill when he arrived in Natchez August 6, 1798, and was taken to Concord, the old home of Governor Gayoso and remained there until he was well. On August 16, he delivered an address to the people of the Territory.
Soon after his arrival, he married for a second time to Maria McIntosh Williams, a young widow of considerable fortune and they had a son William Fitz Winthrop Sargent.
Maria or Mary's four children, and the two sons, she had with Winthrop, George Washington Sargent and William Fitz Winthrop Sargent were all sent north to Boston for "Aunt Murray (Judith) to oversee their education. Maria or Mary Williams brought enormous wealth, including slaves to their marriage. She was born 1764 and died 1844.
Governor Winthrop's administration was filled with discord by the people of the Mississippi Territory, mainly because he was a Federalist and the majority of the citizens were Jeffersonian-Republican. This caused the people of the Mississippi Territory to petition for his removal in 1801 when Thomas Jefferson was President. He took a leave of absence in April and traveled to Washington D. C to try and defend his administration but to no avail. Thomas Jefferson appointed William C.C. Claiborne to replace him as governor.
Though Claiborne describes Sargent as a cold, austere, unsympathetic, grasping man in his letters, the journal of Winthrop Sargent paints a different picture. The journal expresses a man with "a deep love for his country and its interests, that he was sincerely ambitious to serve, faithfully the people to whom he had been sent, and that he surmounted unusual difficulties in the establishment of law and order in the frontier settlement. In his administration of the affairs of government, he was industrious, capable, and just. He was possibly wanting in political tact, and his military training caused him to expect too much obedience and reverence for law in frontier people."
He visited his old home in Massachusetts on his trip to Washington DC but he returned to the Mississippi Territory where he took up life as a planter and became very successful. The name of his home was Gloucester, probably in honor of his birthplace. He became one of a committee appointed by the Legislature in 1809 to receive subscriptions to stock of the Bank of Mississippi, the first banking house established in the Mississippi Territory. Governor Winthrop Sargent died in New Orleans June 3, 1820, and is buried at Gloucester, his home near Natchez.
SOURCES
The MISSISSIPPI TERRITORY ARCHIVES, p. 9-13
Encyclopedia of Alabama.
Findagrave.com # 24944020 # 94843598 # 15758331 # 16474198
Biographies of Notable and Not-so-Notable  Alabama Pioneers Volume I