EUFAULA, ALABAMA
BLOW GUNS, GREEN CORN DANCE
*NOTICE: The comments made in this article may be offensive to some today but it was transcribed from a book exactly as written in 1875 so please consider the time it was written
(Transcribed from: History of Eufaula, Alabama: the bluff city of the Chattahoochee
By J. A. B. Besson – 1875)
Indian Blow Guns
These were made of reeds about half an inch or more in diameter, and about five or six feet in length; the joints of the reed were carefully bored out, the whole interior of the gun was, by some ingenious process, made perfectly smooth and straight as a line. An arrow was then constructed of hard pine, and twisted like an augur, one end was very sharply pointed, and the other end was feathered with thistle down and made round, so that it would exactly fill the bore of the gun and offer as little resistance as possible. The arrow being placed in the gun, and then applying the gun to the mouth and giving a smart, quick blow, they could, with the greatest precision, kill a bird or squirrel in the loftiest tree. They also made various articles of bead work and buckskin for hunting pouches, and moccasins for their feet.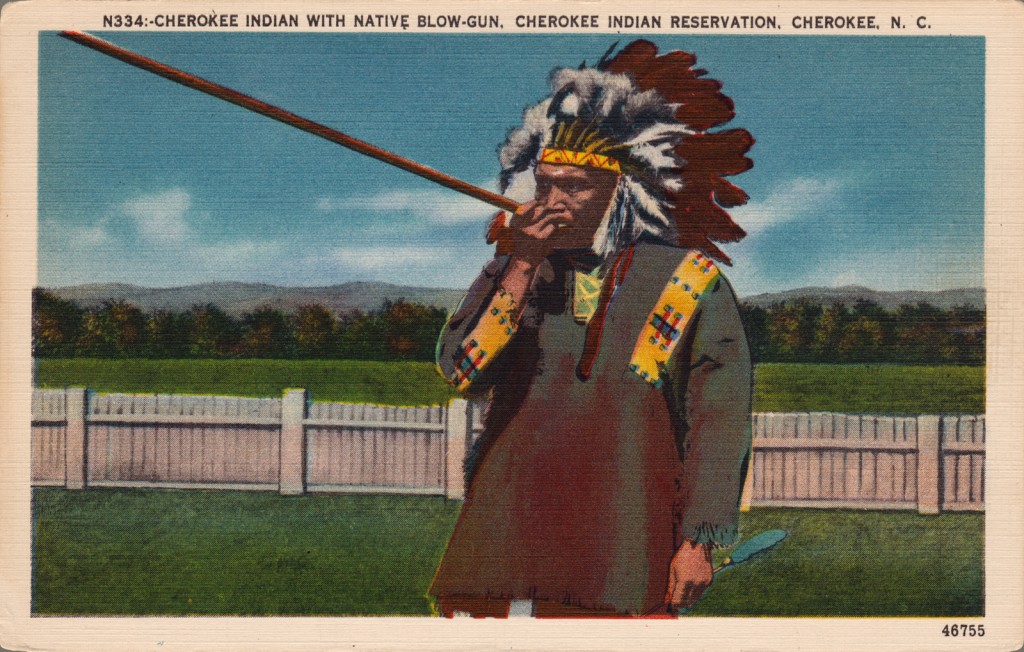 Morals and Religion of the Indian
In morals they were as degraded as it is possible to conceive, and in their religious beliefs not much better. They, however, believed in some Great Spirit, but they had no forms of worship.
The Green Corn Dance and the Black Drink
The only thing approaching to a religious rite was their Green Corn Dance and taking the Black Drink, which occurred at different periods of the year, and which events were looked for with much interest and anxiety, and required a great amount of preparation, both as to the ground upon which it should be executed, and also of the persons who were to engage in them.
The Green Corn Dance took place as soon as the corn was ripe enough to eat—when it was plucked and brought to the ground and cooked in large pots until it was very soft, and when done was called "so/kee." The men would all gather around and eat it with a wooden spoon—all using the same spoon.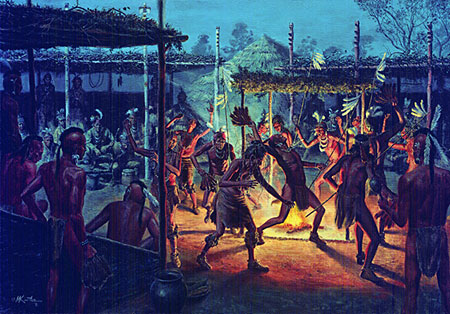 The chief presided over the festivities, sitting in the center of a circle, and after the Indians had partaken of the sofkee, they would throw off their gown, and were then demi-nude; they then took a small board about three inches wide and about four inches long, which was thickly set with iron points, and with this instrument would rake and tear the flesh on their arms, legs and breasts, and sometimes even their faces, and then in that bloody plight they would, in wild fury and gesticulating, and with songs, dance around the ground. Every male engaged in this ceremony, and even boys of sixteen and seventeen years of age. These orgies lasted three and four days.
Another ceremony was, taking the Black Drink, which was celebrated in the spring of the year, the same as the Green Corn Dance; instead of tearing the flesh, they partook of the nauseating drink, which was composed of some peculiar roots and herbs, making a decoction (sic) as black as ink, and which vomited them most terribly, and, for a short time, made them very sick.
The Indian, Unprincipled and Not Brave
In principle they were treacherous and untrustworthy, and not so brave as cunning, arid given to stratagem. The town during the day was always overrun with these dusky red men of the forest, lying around idly passing their time away. When employed by the white men (as sometimes they were) in helping cultivate patches of corn, they proved good workers, but had to be constantly watched to prevent them from stealing, and also from running away. Those who came to town were usually accompanied by their squaws, who brought with them the results of their own industries, and sold them to the traders for calico and bell buttons.
Bell Buttons and Bad Habits
These were a small button about the size of a hazel nut or filbert, and made like a sleigh bell; they bought these to sew on their garments, which were decorated with hundreds of them, and when the wearer was in motion, gave a pleasing jingling sound, which they very greatly admired. Offtimes, however, most of their money was spent for mean whisky—and when night come on, and they were ready to go home, they left town in companies;one sober one holding and leading a drunken one, all of them singing some of their rude airs, which were generally more boisterous than musical.
Start researching your family genealogy research in minutes for FREE! This Ebook has simple instructions on where to start. Download WHERE DO I START? Hints and Tips for Beginning Genealogists with Online resources immediately and begin your research today!