"The Alabama Insane Hospital was established by the legislature on February 6, 1952. Built in Tuscaloosa, it received its first patient in 1861, with Dr. Peter Bryce as director. Applying modern methods, Bryce became renowned for humane treatment of his patients. Today, the Alabama Department of Mental Health and Mental Retardation oversees multiple facilities and programs, including Bryce Hospital in Tuscaloosa." (Alabama Department of Archives and History)
Bryce Hospital Memories
by
(written in 2012)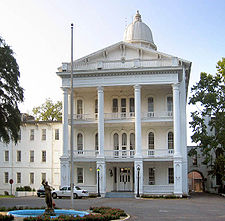 Bryce Hospital was built in Tuscaloosa, Alabama at the beginning of the Civil War in 1861. Thomas Kirkbride who was considered an early pioneer of hospital design, designed the hospital. It is a historical building located on University Boulevard.
Now, there is talk of demolishing this beautiful old building. The main administrative building is in much need of repair. (Latest news on Bryce Hospital)
Locals also knew Bryce Hospital as the Insane Asylum. Mentally ill men and women were committed there as patients either by a doctor, the state or their caregivers. By today's standard, some of these patients with medication could have lived fruitful and happy lives in their community.
My dad, Marvin Malley Champion left Wilcox County for a new life in Tuscaloosa, Alabama in about 1927 or 1928. These were the depression years. He obtained a job at Bryce Hospital as an attendant. Then it was known as the State of Alabama Insane Asylum. Life had improved slightly for him now having a full time job.
At the hospital Marvin met his future wife, Ara Ann Williams who was a Registered Nurse at the facility at that time. Ara Williams did not complete high school at Holt High School, but was accepted into the Bryce Hospital School of Nursing, where she graduated in 1930 at age 20.
The diploma reads:
The Bryce Hospital
Training School for Nurses
Miss Ara A. Williams
"Having completed a three year course of instruction in the nursing and care of the nervous and insane, having passed satisfactory examinations in the several subjects taught, and having given evidence of capability and fitness for the work of general nursing, is granted the Certificate of Proficiency."
Done at Tuscaloosa, Ala. The 15th day of May, 1930
(signed) W.D. Partlow M.D. Supt.
Mrs. Betty Finch R.N. Supt. of Nurses Wini Faulk M.D. Asst. Supt.
Iva B. Strickland R.N. Asst. Supt. of Nurses R.C. Partlow M.D.
Posie Hicks R.N. Asst. Supt. of Nurses Tombs Lawrence M.D.
F.A. Kay M.D.
J.S. Tartwater M.D.
Sidney Leach M.D.
N.V. Culpepper DDS
Marvin and Ara became secretly married August 23, 1931. They eloped, along with another hospital couple, Claude and Vera Schroeder to Columbus, Mississippi to get married. They kept their marriage a secret for about a year. Somehow, the Hospital Superintendent, Dr. J.S. Tarwater, knew they were married but kept this information private.
At that time married couples could not work in the same facility. After a year they revealed their marriage and Ara resigned her job and became a housewife. They lived in their rented white house at 820 4th Avenue, one block off University Boulevard. This house was demolished and University of Alabama buildings are located there now.
Bryce Hospital had a School of Nursing until 1947, then it moved to St. Vincent Hospital in Birmingham, Alabama.
I have fond memories of Bryce Hospital as a young child. Hospital administrative personnel, which included the families of Winters and Glass. They lived in nice homes on the hospital grounds. They invited me to birthday parties for their children on the hospital lawns. As children we played among the giant old oak trees that lined the entrance of the hospital from University Boulevard to the main hospital administration building.
One playmate was Virginia Williams whose grandparents, Mr. and Mrs. Causey lived on the grounds of the Bryce Hospital farm. I can still remember being at their house at lunchtime and seeing Mrs. Causey stirring large vats of food including dried lima beans with a wooden paddle. She prepared all of the patient farm worker's meals. Virginia Williams graduated from Druid City Hospital School of Nursing in 1957.
I graduated from the School of Nursing at Druid City Hospital in 1957. I can remember looking each spring from our dorm windows across University Boulevard at the beautiful blooming peach trees on the Bryce Hospital farm near the old water tower.
Even though Bryce Hospital was across the street from Druid City Hospital, mental health training was not available to nursing student at Druid City Hospital School of Nursing in the 1950's. The nursing students spent three months at the Massilon State Mental Hospital in Ohio for their mental health training.
The architecture of Bryce Hospital administrative building is a beautiful historical building in our state.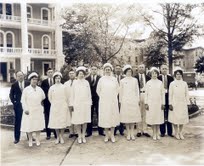 Picture of group in front of Bryce Hospital Main Building 1930
Back row L-R:
Dr. Frank Kay
Dr. J.S. Tarwater
Dr. R.C. Partlow
Dr. N.V. Culpeper, ( Dentist)
Dr. Sidney Leach
Dr. W.D. Partlow
Dr. W. Faulk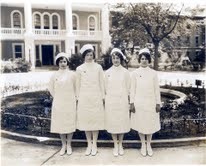 Front Row L-R
Miss Posey Hicks, Nursing Instructor
Ruby Lowley, R.N. Graduate
Miss Iva Strickland, Nursing Instructor
Miss Betty Finch, Nursing Instructor
Zena Cranford, R.N. Graduate
Ara Williams, R.N. Graduate
Gertie Littrell, R.N. Graduate
Picture of four nursing graduates in front of Bryce Hospital Main Building 1930
Left to Right
Ruby Lowery
Zena Cranford
Ara Ann Williams
Gertie Littrell
Did you know that all E-books can be downloaded immediately from Amazon.com – Read eBooks using the FREE Kindle Reading App on Most Devices?