Union Springs, the county seat of Bullock County, is centrally located and has a charming history. It was settled thirty years prior to Bullock County being created. The town was called Union Springs because of its location on the Cunnennuggee Ridge at a point where four springs form sources for four streams —the Conecuh River, Oakfuske River, Old Town Creek and Cabahatchee Creek.
Early pioneers
Pioneers to Union Springs were the Normans, Powells, Picketts, Mabsons, Farleys, Sessions, Stakeleys, McCalls, Fielders, McAndrews, Pierces, and others.
M. N. Eley, father of B. T. and F. H. Eley had settled in the area prior to majority of settlers and owned most of the land where the town of Union Springs is located today. He sold it to a land company that made a survey and proposed to call the town Bienville. Dr. Coleman built the first log home in Union Springs.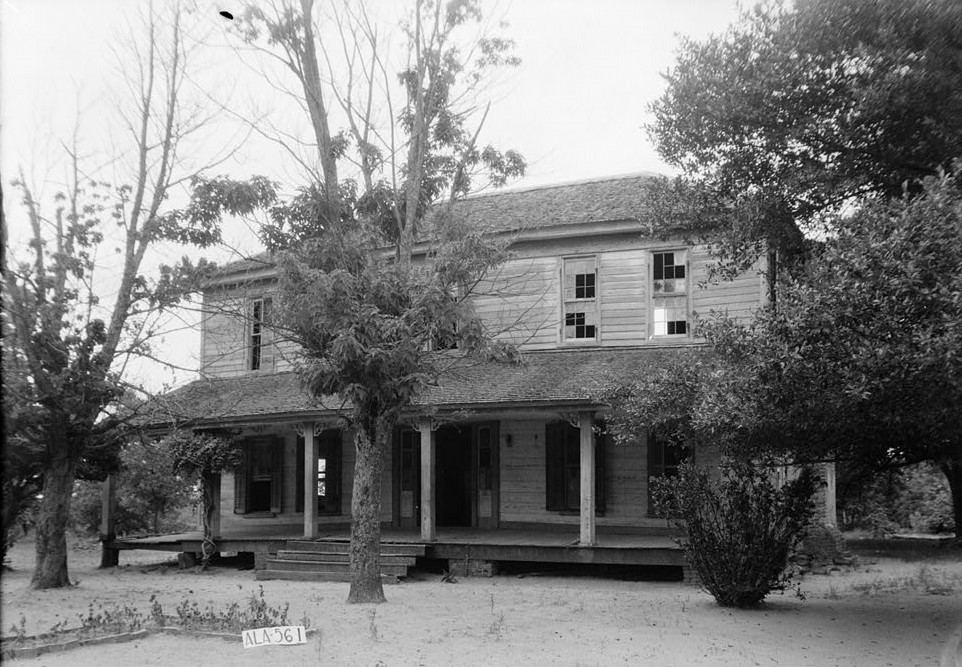 Howe-Roughton House, County Road 14, High Ridge, Bullock County, AL 1935 (by photographer W. N. Manning -Library of Congress)
Governor William Dorsey Jelks resided in Union Springs in his early life. He later lived in the town house of Sen. and Mrs. T. S. Frazer.
"The home of Hugh Foster, who served as deputy governor of the Federal Reserve Bank until his death, is in Union Springs. Dr. Sterling Foster built the home in the years 1852 to 1856. The Fosters trace their ancestry back to Lyredic, the "Great Forester" of Flanders, who lived 800 A. D., and to Sir Richard Foresters, who accompanied William the Conqueror of England in 1066. The Fosters came to Alabama from South Carolina and Georgia.."1
The landscape of the grounds around the old home is lovely with its rear garden and great oaks.1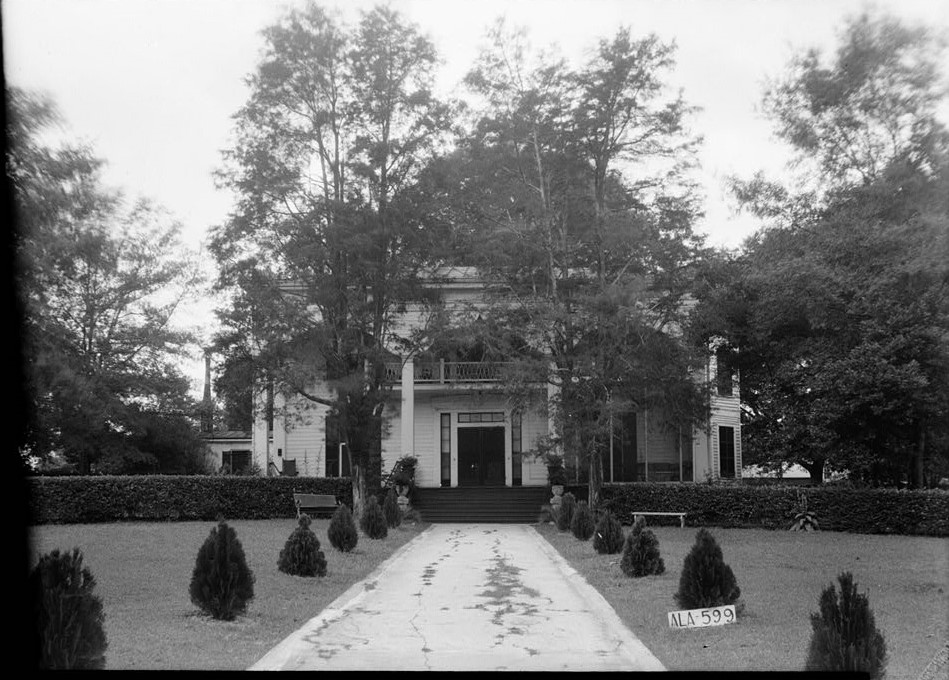 Mrs. Hugh Foster House, 201 Kennon Street, Union Springs, Bullock County, AL  Laurel Hill July 17, 1935 front view east (photographer W. N. Manning, Library of Congress)
Each room had three exposures
The brother of Sterling, Dr. James Madison Foster, built his home across town to give three exposures to every room. The daughter of Dr. Foster, Mrs. Andrew Jackson Pittman, related how the house was designed and cut piece by piece in Columbus, shipped to Suspension, and thence to the site via the wagon route. Some glass panels in the entrance transom, etc., were imported.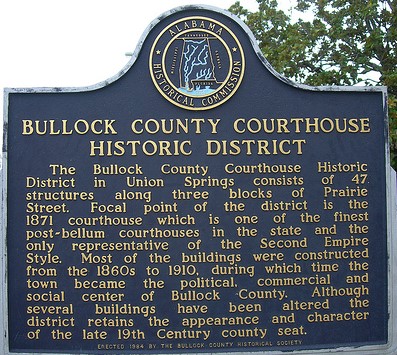 Flute and cane are in the Smithsonian
It was told that during the War Between the States, "the Yankee soldiers came to the Fosters home in Union Springs demanding food and attempting the home's destruction with fire; in later days after the War-Between-the-States, here stamped Gen. Longstreet, who carried $20-gold pieces in his heavy cane and who played fairy music on his glass flute, as a refugee, and later as tutor to the Foster boys. That flute and cane are said to be in the Smithsonian Institution today."2
The home of Captain Pickett and Mrs. Virginia Powell Pickett, Del Rosa, was typical of antebellum times with its wide veranda and beautiful garden that provided a natural setting for true Southern hospitality.
Other plantations
Along the Ridge Road near Union Springs were plantations owned by old families such as the Martins, Hooks, Vaughns, Hubbards, Childs, and Boyds. These names appear with early dates in Sardis Cemetery along with other names such as Devoe, Ruse, Worthington, Paulk, and Cade.
SOURCES
1Griswold, Elizabeth Black, History of Bullock County, (term paper written in 1937 for a class in Southern History at Alabama College, Montevallo, Alabama)
1Griswold, Elizabeth Black, History of Bullock County, (term paper written in 1937 for a class in Southern History at Alabama College, Montevallo, Alabama)
1Griswold, Elizabeth Black, History of Bullock County, (term paper written in 1937 for a class in Southern History at Alabama College, Montevallo, Alabama)
2Birmingham News, "Historic Union Springs, in Bullock" –1935
RIBBON OF LOVE: 2nd edition – A Novel of Colonial America 

 – the true story of religion in America –

Inspired by true historical events, Mary and Henry Pattenden flee to America to escape persecution –  It is almost impossible to put the book down until completion. – Dr. Don P. Brandon, Retired Professor, Anderson University