CALERA, SHELBY COUNTY, ALABAMA
The first settler of Calera was John R. Gamble from Ireland. He was a soldier of the American Revolution and one of Jackson's soldiers. Gamble bought over 100 acres of land one mile north of the present Calera. He sold a parcel of land in 1825 that was located in the present Spring Creek area to William Wilson. He later left Shelby County and became a Methodist minister residing in Walker County, Alabama.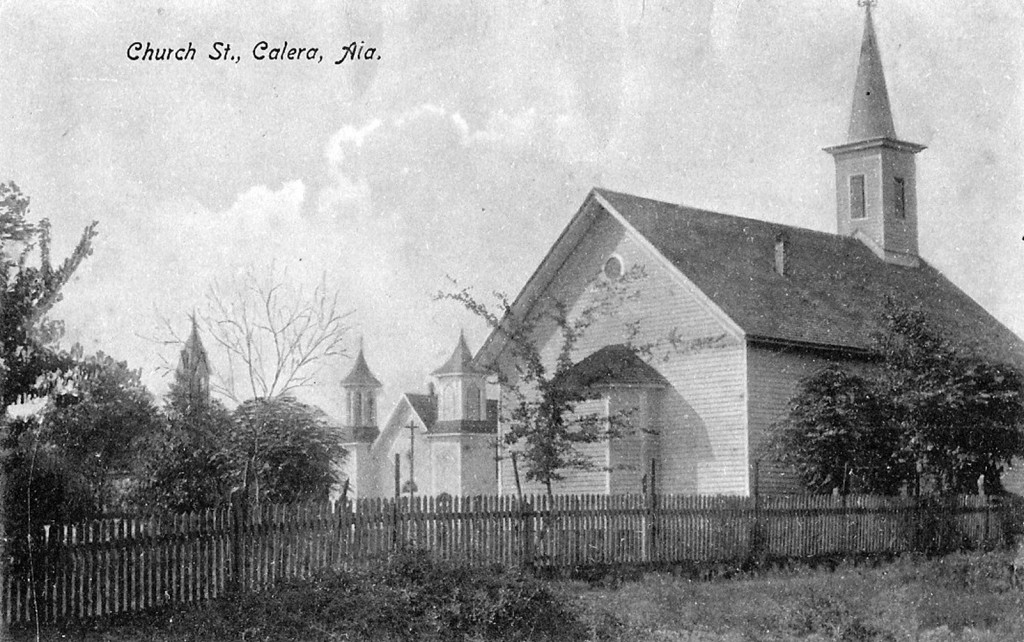 Church Street in Calera, Alabama ca. 1920s (ancestry.com)
Other early pioneers
Some other pioneers include William Watson, Richard Green, Elijah Seale, Rev. William Seale, Robert Hartley, Daniel Muse, Virgil N. Gardner, Samuel A. Wallace, Maraday Busby, William Moore, Elizabeth Fields, Thomas Crim, Hardy Crim, Robert H. Crim, Edmund King, and John Brooks.
Other early settlers include Neely, Lyde, and Wright families from Old Cheraw, SC. The first physician was Dr. J. R. Morgan. and the first preacher was Rev. William Seale.
One of the finest artesian wells in the State was located within Calera. In 1853-4, the Alabama & Tennessee River Railroad was built through Calera, and the first post office established as Lime Station. During the Civil War years, postmasters were James A. Mullins, N. McQueen, and H. V. Boyd. When the U. S. Post Office was officially established in 1869, the first postmaster was Almon B. Turner, Jr., and second postmaster Oscar Nabors.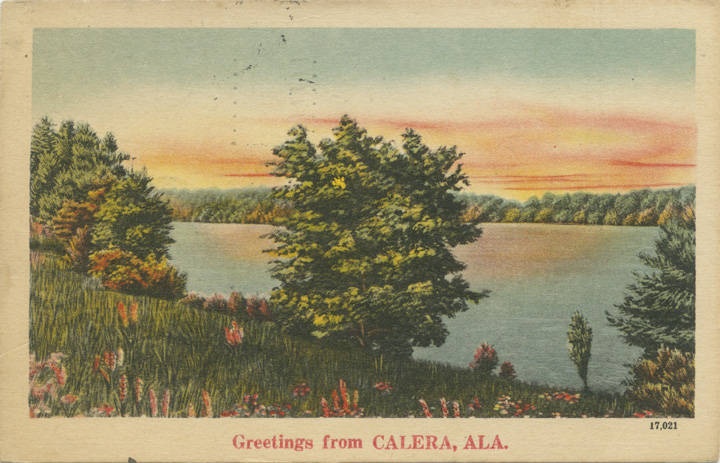 Greetings from Calera, Alabama postcard ca. 1940s Q69121
First named Buxahatchie
Calera was first named the community of Buxahatchie but when the railroad arrived March 4, 1848, lime workers began to settle in the area so it was named Limeville. The lime works were acquired in 1883 by J. R. Adams of Montgomery, later of Birmingham, and the name changed to Shelby Lime Works.
In 1887, the city was incorporated and named Calera after the Spanish word for limestone for all the limestone deposits located in the area.
The Golly Hole
One of the largest sinkholes in U.S. history opened up near Calera in Shelby County, Alabama in 1972.  Known as the Golly Hole, it measures more than 300 feet across, as wide as a football field is long. Residents reported hearing a tremendous roar as the hole opened up and swallowed trees and everything else in the vicinity, according to media accounts of the time. Today, the hole is still very much there but overgrown with tall pine trees.
Calera is the home of the Heart of Dixie Railroad Museum. The museum 2018  operating season begins March 17th with many fun family events to follow such as Day Out With Thomas, Cottontail Express, and much more!
Discordance: The Cottinghams (

Volume 1)

 – 

A novel inspired by the experiences of the Cottingham family who immigrated from the Eastern Shore of Virginia to Alabama