Excerpt from ALABAMA FOOTPRINTS: Confrontation (Story continued below)
Tecumseh expected a reward from the King of England
It's a long journey from the region round the Great Lakes where Tecumseh lived to the shores of the Alabama and Tombigbee rivers.
The great northern chief had completed many deeds by which he won a reputation for the possession of genius, both as a soldier and as a statesman; but nothing in his history so certainly proves his title to rank among really great men as his boldness and brilliancy in planning the formation of a great confederacy of the tribes which extended in a chain from the lakes on the north to the Gulf of Mexico on the south.
Join all their camp-fires
He was wise enough to learn of his foes. He saw that their strength lay in the union; that it was by joining all their camp-fires, as he phrased it, that they made themselves irresistible; and as he saw with consternation that the great tide of white man was steadily advancing westward, he understood, as few men of his race did, that there was but one possible way for the red men to ever stop the encroaching stream. Separately they were powerless because separately they could be beaten one by one. White troops who were engaged in reducing an Illinois tribe during one month could be sent the next to oppose another tribe in Mississippi or Alabama. Tecumseh realized that the secret of the white man's success lay in two facts; first that the whites were united, working together for a common purpose, and helping each other in turn; and second that the whites used the same troops over and over again to fight the separately acting tribes. Thus, Tecumseh conceived a plan to form a confederacy of all the Native American tribes from north to south to act together and oppose the advance of the white man.1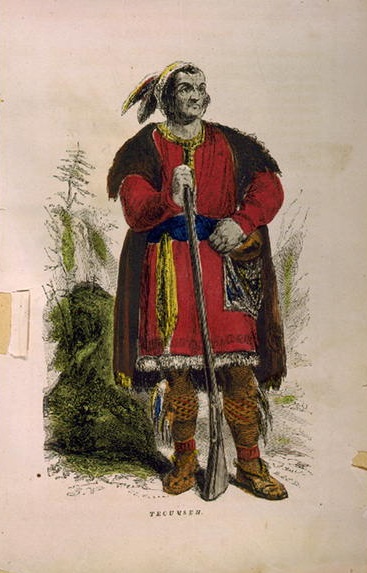 Tecumseh from a wood engraving (Library of Congress)
He was not a stranger
Tecumseh arrived in the south in 1811. He spent the first part of his journey with the Choctaws and the Chickasaws but failed to win them to go along with his scheme so he made his way to Florida where he made easy converts of the warlike Seminoles.
In October of 2011, he arrived in Creek country and he marched into a Grand Council meeting at Tookabatcha that was being held by Colonel Hawkins, the American Indian Agent. Tecumseh and his warriors "were dressed in their most impressive savage costumes, consisting of very little else than buffalo tails and other ornaments,"2 Their faces were painted black and their heads adorned with eagle plumes. They marched solemnly round and round the central square of the town.
He did not come as a stranger. The fame of his exploits in the North had reached the Creeks, and he was known to them even more favorably in another way. Nearly twenty-five years before, Tecumseh, had dwelt among the Creeks as a young man for about two years, and the stories of his feats as a hunter had lived after him as a tradition. When he came again in 1811, he was known as a great man of whose deeds they had heard stories about during their childhood.
Impressed the audience with his dignity
When he had sufficiently impressed the audience with a proper sense of his dignity, he went through the most solemn ceremonies of friendship with his hosts and exchanged tobacco with them. Most of the chiefs received him with welcome friendship, but one chief, Captain Isaacs, rejected his overtures and shook his head when asked to shake hands. "He refused to exchange tobacco; and with the frankness of a brave man convinced of his duty, he told Tecumseh to his face that he was a bad man, and added, "You are no greater than I am."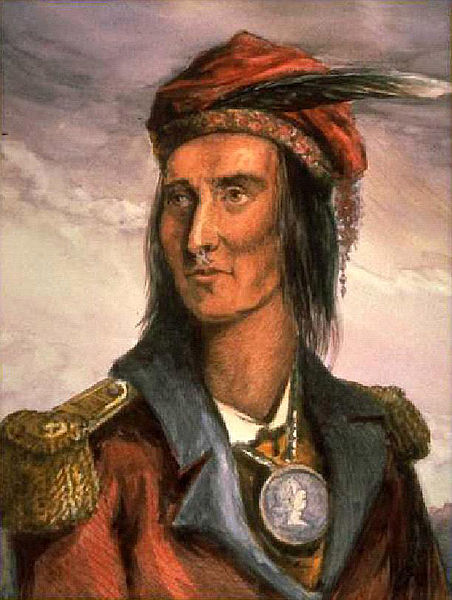 Did not talk until Colonel Hawkins left
While Colonel Hawkins was in the meeting, Tecumseh made no effort to put his plan into execution. Each day he appeared in the square to deliver his talk that all ears were anxious to hear it, but he remained silent. Instead, at the end of the day, he would say, "I will make my talk tomorrow." Colonel Hawkins prolonged the council for a few days but still, Tecumseh did not relate his purpose. Finally, Colonel Hawkins brought the conference to an end and departed. Once he left Tecumseh delivered his long speech, full of fire and vengeance.
Tecumseh informed the Creeks that they had made a fatal mistake by adopting the ways of the whites and becoming friends with them. He encouraged them to abandon their plows, looms and cast off the garments which the whites had taught them to wear; to return to the condition and customs of their ancestors, and to be ready at command to become the enemies of the whites. He told them, "The whites have turned the beautiful forests into large fields and stained the clear rivers with the washings of the soil and we would all be soon subjected to African servitude."
King of England would pay a reward
In his conclusion, he announced that the British, their former friends, had sent him from the Big Lakes, to procure their services to expel the Americans from all Indian soil and that the King of England was ready to handsomely reward all who would fight for his cause.
Next, a prophet, Tenskwatawa, who also happened to be Tecumseh's brother, spoke to the people. He had traveled with Tecumseh from Detroit. He said that he frequently communed with the Great Spirit and that the Great Spirit sent Tecumseh to their country upon this mission and declared that all those who joined the war party would be shielded from all harm and none would be killed in battle. He said that the Great Spirit would surround them with quagmires in which all the Americans would be swallowed up as they approached. He said that at a certain time they would see the arms of Tecumseh stretched like pale fire on the vault of heaven, and then they would know it was time to begin the war. (Note: It is believed that a British officer in Canada had told Tecumseh when a comet would appear, and Tecumseh used that as a sign to start the war.)
A short time before daylight the council adjourned with over more than half the audience resolved to go to war against the Americans.
1 Red Eagle; or, Wars with the Indians of Alabama By George Cary Eggleston Ward. Lock, & Company, 1881 – Creek War, 1813-1814
2 Red Eagle; or, Wars with the Indians of Alabama By George Cary Eggleston Ward. Lock, & Company, 1881 – Creek War, 1813-1814
Alabama Footprints Confrontation is a collection of lost and forgotten stories that reveals why and how the confrontation between the Native American population and settlers developed into the Creek-Indian War as well as stories of the bravery and heroism of participants from both sides.
Other stores include:
Tecumseh Causes Earthquake
Terrified Settlers Abandon Farms
Survivor Stories From Fort Mims Massacre
Hillabee Massacre
Threat of Starvation Men Turn To Mutiny
Red Eagle After The War