How do you like your grits served?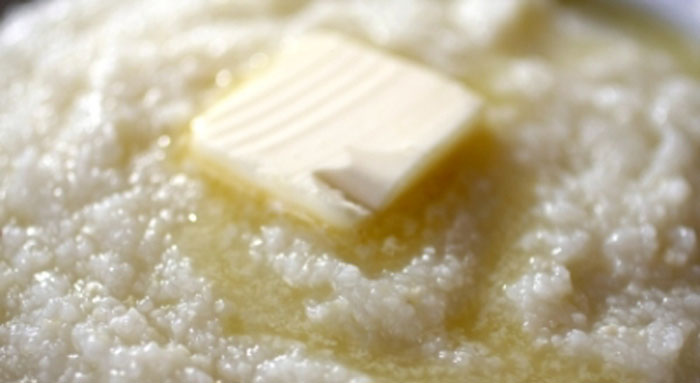 Thou shalt not put syrup on thy Grits
Thou shalt not eat thy Grits with a spoon
Thou shalt not eat Cream of Wheat and call it Grits for this is blasphemy
Thou shalt not covet thy neighbors Grits
Thou shalt only use Salt, Butter and Cheese as toppings for thy Grits
Thou shalt not eat Instant Grits
Thou shalt not put syrup on thy Grits
Thou shalt not put syrup on thy Grits
Thou shalt not put syrup on thy Grits
Thou shalt not put sugar on thy Grits either
Author Unknown
Addendum:
Jack Skipper sent me this email and I thought it should be added to the Grits Commandments
I just got the opportunity to read "The Commandments of Grits" and I certainly believe in them but as we all know Commandments are easily broken.  For example, when eggs were available they were used as a topping and thoroughly mixed with the grits.  The grits greatly improved the taste of eggs.  Fried eggs were favored over scrambled.
Our leftover breakfast grits were put in the icebox in summer or on a windowsill in winter.  There they would congeal (solidify).  Mother would then cut them into squares or slices, pour on milk, warm in winter, cold in summer, then a large spoon worked better than a fork.  So again, as we all know, when you break one commandment it's a lot easier to break another.  Grits in this form called for a sweetener so a little molasses or brown sugar was used.  
To establish my Grits bona fide, I was born in Evergreen Al., 1934 and as I remember the depression lasted a little longer in South Alabama.  I have often said I was weaned on Grits. 
I now live in Miami, Fl., married to a Chicagoan who ate cream of wheat during her younger years but now enjoys grits almost as much as I.
Remember to start with good old-fashioned grits like these: Quaker Old Fashioned Smooth & Creamy Grits, 24 Ounce
Discordance: The Cottinghams (Volume 1)

 

 

A novel inspired by the experiences of the Cottingham family who immigrated from the Eastern Shore of Virginia to Bibb County, Alabama
Filled with drama, suspense, humor, and romance, DISCORDANCE continues the family saga from the Tapestry of Love series with the children of Mary Dixon who married Thomas Cottingham. (This family's descendants was one of the first settlers of Bibb County, Alabama)
Inspired by true events and the Cottingham family that resided in 17th century Somerset, Maryland, and Delaware, colonial America comes alive with pirate attacks, religious discord, and governmental disagreements in the pre-Revolutionary War days of America.
READ THIS BOOK FOR FREE Today ON YOUR COMPUTER! Here's How.  . .