Troubles came to Birmingham shortly after it was founded. An epidemic occurred in the beginning days of Birmingham that threatened its very existence as people fled the city by droves. (continued below)
In June 1873 a cholera epidemic occurred and people fled the infant city. Before it ended, the epidemic resulted in 128 deaths and the sudden exodus plus a national economic depression threatened to bankrupt the city at its beginnings.
Early Days of Birmingham, looking down 7th Ave. from the corner of 19th Street
(Photo below created O. V. Hunt -William H. Brantley from Samford University Library)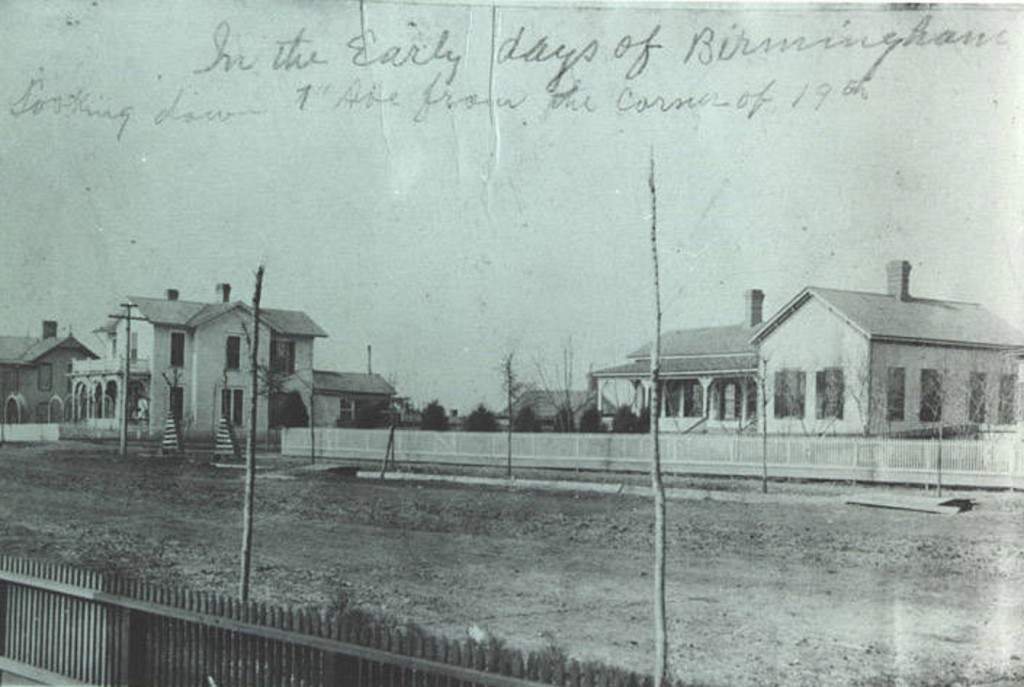 Dr. Parker's diagnosis was denied
Dr. W. T. Parker reported the first death of cholera on June 2, 1873, but his diagnosis was denied for many weeks.i This denial allowed the sickness to spread rapidly. The man was identified only as Mr. Y and had only recently moved to Birmingham from Huntsville. The city of Huntsville was suffering through a cholera epidemic at the time. When Mr. Y's belongings arrived in Birmingham six weeks after his arrival, he fell ill three days later and died within a short time. His illness was not immediately diagnosed so his bed linens and other belongings were not disposed of properly.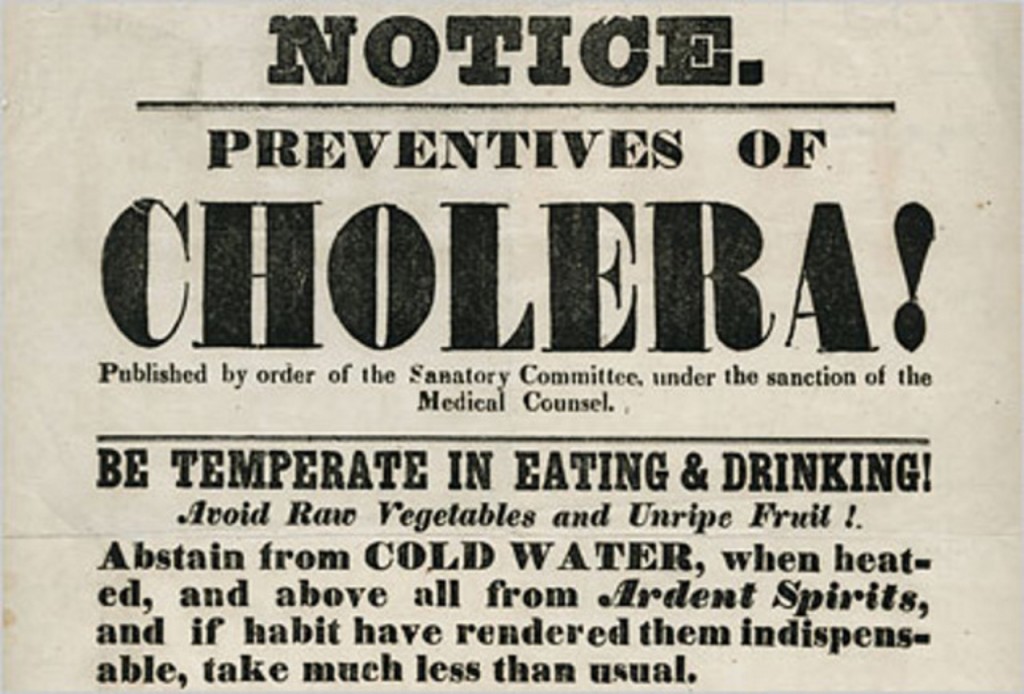 More cases rapidly develop
On June 17, his two sisters came down with the disease and died shortly afterward, but still, the disease was not correctly diagnosed and their belongings were not disposed of adequately. Since the two sisters lived on a hill above the primarily African American neighborhood called 'Baconsides', it is believed that the somehow the disposal of the sister's linens and body fluids entered the water supply for the 'Baconsides' community and the disease spread from there.
By July 1, cholera was finally the accepted diagnosis of their deaths, but at the time, doctors thought the disease was airborne so pots of tar were burned on street corners to disinfect the air. Streets were cleaned, cesspools drained and proper handling and disinfecting of the belongings of the sick began.
First Brick home built in Birmingham, Alabama
(by Col. A. C. Oxford -William H. Brantley from Samford University Library)
Many citizens stayed to help
"Defeatism met its match in Frank P. O'Brien, Brother W. L. Kennedy, Father McDonough, John T. Terry, George Allan, Brother T. H. Davenport, and Drs. James B. Luckie, M. H. Jordan, J. W. Sears, and W. P. Taylor. Lawyers, doctors, ministers, even 'fallen women' such as Louise Wooster nursed the sick, buried the dead and comforted the bereaved. Their unselfish actions proclaimed their faith in the destiny of this city."
John Henley First Mayor of Birmingham
(Photo below created O. V. Hunt -William H. Brantley from Samford University Library)
The president of the Elyton Land Company, Colonel Powell was also mayor of the city, remained at his post of duty and participated in the most active manner, by nursing the sick and maintaining order. He took available relief measure to eliminate the disease from the city.
Colonel Powell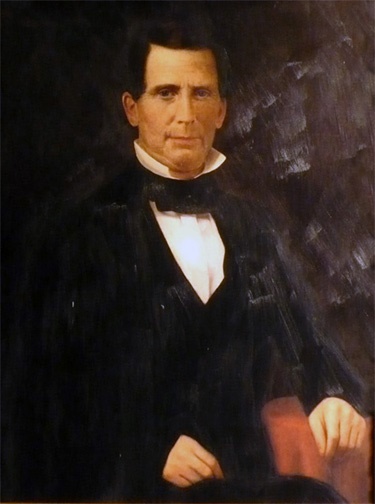 Property values declined
The rapid exodus of its citizens was a devastating economic blow to the city of Birmingham and property values declined. Additionally, a national economic depression called Black Friday took place in September 1873 which further aggravated the city's difficulties. "Originating in New York among the speculative stocks of Wall Street, at once involved every innocent commercial business throughout the Union. In Alabama, the people were almost wholly dependent for the means of paying their debts and providing means for life upon the sales of their cotton crop, then being harvested. For weeks no sales could be made. The banks were practically closed. Even the depositors could only procure a small pro rata of their cash by paying discount on their own drafts." ii
Birmingham in 1873 from top of Court-house showing
(Photo below created O. V. Hunt -William H. Brantley from Samford University Library)
Chimney of old sail
First Baptist Church 6th Ave. and 22nd St.
First Methodist Church 6th Ave. 21st St.
First Birmingham Water Works 13th Avenue and 22nd St.
T. L. Hudgins Residence 6th Ave. and 21st St.
Col. Terry's Residence, where Phillips High was later built
Birmingham Water Works Board established
The city leaders took action by improving the water and sanitary systems. The Birmingham Water Works Board was established and Birmingham recovered. The citizens of Birmingham presented Mayor Powell with a beautiful pocket knife of many blades that was manufactured in England to their order at a cost of $130 for his work during the crisis. In 1874, Mayor Powell retired from Birmingham to his cotton plantation on the Yazoo.
SOURCES
Peoples, Jared Encyclopedia of Alabama
Birmingham Iron Age newspaper February 12, 1874 – Letter to editor by Dr. W. T. Parker
Jefferson County and Birmingham, Alabama historical and biographical. Published 1887 by Teeple & Smith in Birmingham, Alabama
iBirmingham Iron Age newspaper February 12, 1874 – Letter to editor by Dr. W. T. Parker
iiJefferson County and Birmingham, Alabama historical and biographical. Published 1887 by Teeple & Smith in Birmingham, Alabama
SOURCES
Peoples, Jared Encyclopedia of Alabama
Jefferson County and Birmingham, Alabama historical and biographical. Published 1887 by Teeple & Smith in Birmingham, Alabama