SAM DALEY'S SCHOOL
Have you ever heard of Sam Daley's school in Tuscaloosa? I found two articles about it in a 1910 paper and did some additional research and discovered another remarkable story  about Delaware Jackson, a freed slave who lived to be 100 and was honored at Stillman College by both blacks and whites in 1934. Below is the result of my research:
Sam Daley opened a school with his own funds
In the difficult days for African-Americans in Alabama around the early 1900s, one young African-American man, named Sam Daley,  started a school in Tuscaloosa with his own funds.
I ran across these stories about him and his school in The Tuscaloosa News of 1910. I transcribed it exactly as written so please excuse the language which was common at the time.
Tuscaloosa News September 1910
ENCOURAGEMENT
Tuscaloosa Negro Says the Article in Saturday's News Has Already Helped Cause
Sam Daley, who conducts the negro reformatory fourteen miles southwest of Tuscaloosa, returned from Birmingham this morning with three little negroes entrusted to his custody by Judge Feagin of the Birmingham police court on probation.
Sam was very enthusiastic over the prospects for his farm and says that his trip to Birmingham was the most successful he has yet made. He states that Judge Feagin, Mr. H. F. Latimer, and others interested in his work were delighted with the account published in last Saturday's Tuscaloosa News concerning his work with the little wayward negroes. He states that he received more generous encouragement by reason of the article in the News than he has ever met with heretofore.
(Note: I have been unable to find the newspaper article from the previous Saturday.)
SAM DALEY'S SCHOOL
"I am very much interested in the industrial school for wayward negro boys which is conducted fourteen miles below Tuscaloosa," said H. F. Latimer, in the Birmingham News. "Sam, the negro in charge, is an old wartime negro, and maintains the school out of his own meagre means. He now has about 125 negro boys who have been convicted of various petty crimes. Judge Feagin of Birmingham, recently sent a number of boys to Sam, who will do everything possible to make them honest and industrious. Sam's school is young – it started with one three – and, as it grows, it is sure to attract more and more attention from people who will gladly put their money there to carry on the work. My brother, who is a student in Rochester, N. Y., recently made a visit to Sam's place and has carried back with him some pictures and data of the place. Sam's institution is a worthy one and deserves support."
Assessment of schools in Alabama
In 1915, Schools throughout the state of Alabama to survey education within the state. At the time, this school was named Daly Reformatory and was being run by Sam's wife Rachel S. Daly since Sam had died, Rachel struggled to maintain the school. Below is the report on the school.
TUSCALOOSA COUNTY" TUSCALOOSA.
DALY REFORMATORY. President: Mrs. Rachel S. Daly.
A reform school established by Sam Daly to care for the incorrigible boys of Jefferson and Tuscaloosa Counties. Children are committed by the court to the reformatory, but no provision is made for their maintenance. Since the founder's death his wife, who inherited the property, has endeavored, with very limited means, to carry on the work. About 20 boys are cared for by two colored workers, one male and one female. The school receives about $1,000 a year. A part of this is from the farm and the balance from donations. All of the income is expended for running expenses. About $2,000 is still due on the purchase price of the property. The plant, estimated value $5,000, consists of 300 acres of land, one huge frame building, four old farmhouses, and very crude equipment.
Recommendation. "That the counties care for this necessary work out of public funds.
Date of visit: February, 1915.
School in the area of Castle Hill
Evidently, this school was in the area of Castle Hill and the Daly Bottom Community as there is a historical marker N 33° 12. 35′, W 87° 32.15′ in Tuscaloosa, Alabama with the following inscription:
In 1883 the Castle Hill Real Estate and Manufacturing Company began the first eastern expansion of the original 1821 Tuscaloosa city limits. Hoping to stimulate development in the area, the company created a popular amusement park centered around and artificial lake. Portions of this property had belonged to Delaware Jackson, a freed slave who had been given the land for courage and loyalty. In 1881 Jackson organized the Bethel Baptist Church and, in 1917, he donated nearby land for the Baptist Academy, a community school. The name was changed to the Tuscaloosa County Training School for Negroes and later to the Castle Hill Elementary School. "Daly Bottom," the area at the base of the hill closest to the University of Alabama was named for landowner Rafe A. Daly. The Castle Hill / Daly Bottom neighborhood gave birth to Bethel Baptist, Tenth Street Baptist, and two Methodist churches including Tabernacle AME Zion. Many of its residents later distinguished themselves in many walks of life.
The story about Delaware Jackson who lived to be over 100 is interesting as well and is recounted by Betty Stowe in a Tuscaloosa News article entitled Delaware Jackson turns 100 on February 17, 2013.
The original article was Delaware Jackson turns 100 was in The Tuscaloosa News Feb. 13, 1934 issue. He was honored at Stillman College on his 100th birthday and spoke about his years as a slave.
Students playing badminton at Stillman College ca. 1934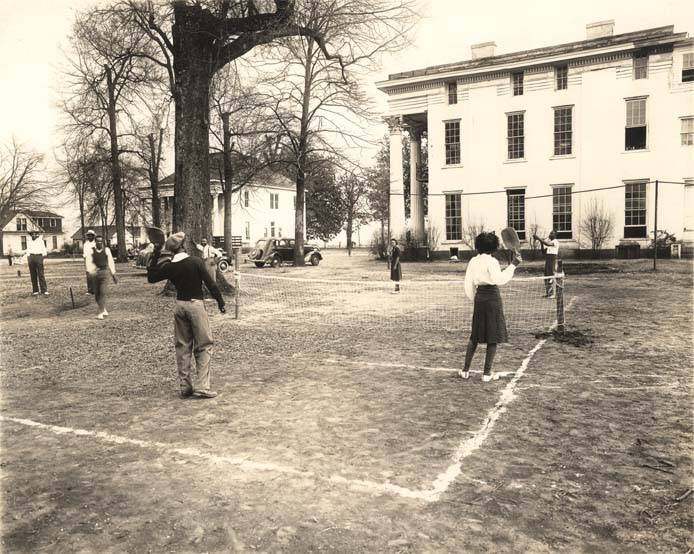 The story of Delaware Jackson is also included in the book A History of the Black Church in Tuscaloosa
by Forrest Moore
If you have photographs of these people or the school, please email them to [email protected] so I can include them with this story. 
Start researching your family genealogy research in minutes.

 

This inexpensive Ebook has simple instructions on

 

how to get started with FREE sources. Download 

WHERE DO I START? Hints and Tips for Beginning Genealogists with On-line resources 

to your computer immediately with the a FREE APP below and begin your research today!
Reviews
"This book was very informative and at a very modest price. One web site I may have missed in your book that has been very helpful to me is genealogybank.com. I found articles about several of my ancestors in their newspaper archives. Thank you for your great newsletter and this book."
"The book was clear & concise, with excellent information for beginners. As an experienced genealogist, I enjoyed the chapter with lists of interview questions. I'd recommend this book to those who are just beginning to work on their genealogies. For more experienced genealogists, it provides a nice refresher."
See all books by Donna R Causey