Conecuh Country was originally a part of the Creek Indian lands, ceded by the treaty of August 9, 1814. Its territory was later reduced by the formation of Henry and Butler Counties, both on December 13, 1819, Covington County December 18, 1821, and Escambia County December 10, 1868.
The county was created by the Mississippi Territorial Legislature, February 13, 1818, from Monroe County. As at first laid out, and before the establishment of Henry County on December 13, 1819, Conecuh included all of South Alabama east of its present western boundary line, and south of the present Lowndes County, extending as far as the Chattahoochee River.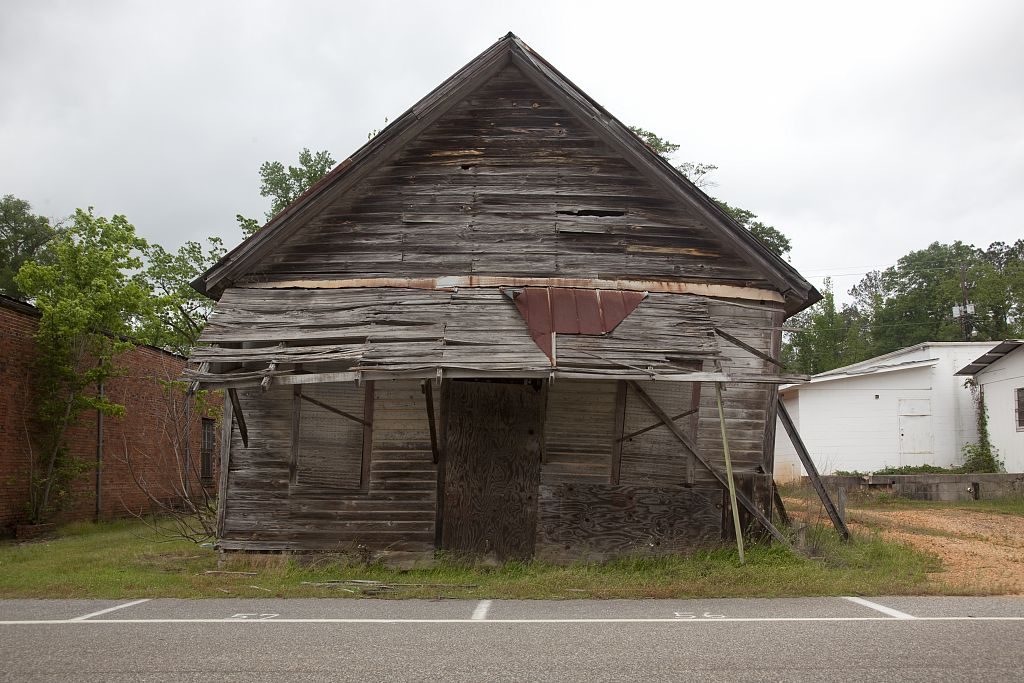 Burnt Corn, or Burnt Corn Spring, is a small unincorporated community in Monroe County, Alabama, on the border of Conecuh County (2010 photographer Carol Highsmith, Library of Congress)
Disagreement on meaning of it's name
The name of the county is a word of Muscogee origin and is said to be a corruption of Econneka, meaning"land of cane," according to Marcus H. Cruikshank. The rendering by Dr. W. S. Wyman, however, is Kono ekuh, meaning "polecat's head."
On the establishment of the county, the territorial legislature required that courts "for the time being, be holden at the house of Mayberry Thomas; but the said courts may, respectively, for the want of necessary buildings, adjourn to some more convenient place contiguous." The point so selected was on Hampden Ridge, and here all county business was transacted.
First Commissioners selected a permanent county seat
The first state legislature, December 13, 1819, named Bartley Walker, James Salter, John Speir, Radford L. Smilie as commissioners to select a permanent county seat. A sharp contest immediately arose between Hampden Ridge and the village of Sparta.The choice fell to the latter and on December 7, 1820, the Legislature formally decreed that it should be the permanent seat of justice for the county. The first court house was built of pine logs, was about 20 by 30 feet in size, and had only two doors. It served not only as a court house but also was used for religious services.About 1823 another building was erected, which remained in use until destroyed" by fire in 1868. The lodge room of the masons occupied the attic story of this building.
Courthouse moved to Evergreen in 1866
As the result of an election held on the first Monday in May 1866, under an act of February 23, 1866, the court house was removed from Sparta to Evergreen. In consideration of removal, the citizens of Evergreen erected the new court house free of charge to the county.
The first county officers were Samuel Cook, chief justice of the county court; Joshua Hawthorn, justice of the quorum; Ranson L. Dean, sheriff; Chesley Crosby, coroner and ranger;  and Charlton Thomson, Treasurer, all appointed February 28, 1818.
Three justices of the peace, Presly Scurlock, John Spear and Clark Jackson, and one constable, James Cobb, were named on the same day. The first clerk of the superior and the county courts was Peter A. Steele. After the formation of the State, 1819, the officers were James Caldwell, sheriff, Ransom L. Dean, clerk of the circuit court, Murdock McPherson, clerk of the county court and John E. Graham, surveyor. William Lee was major commandant of the county militia, with Washington Cummins, Edwin Robertson, and John Hobson as captains, all appointed May 20, 1819.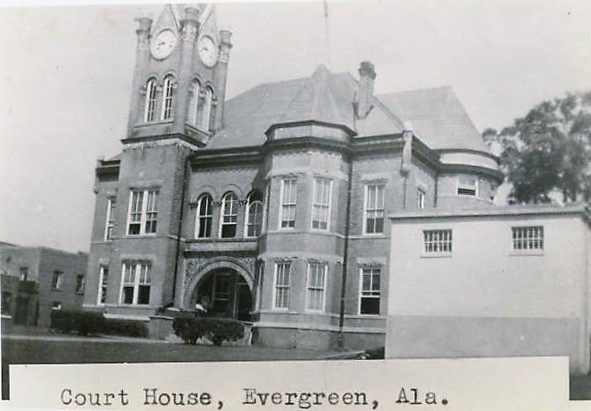 Court House, Evergreen, Ala ca. 1930s (Alabama Department of Archives and History)
Places for elections to be held
The first elections were doubtless held at the house of Mayberry Thomas, which by the act of establishment was made the place of holding courts. On December 13, 1819 "in addition to the places heretofore designated," provision was made for elections at the house of William Brewer. By the act of December 7, 1820, this was discontinued, and in its place, one at Cumming's Mill was fixed. On June 13, 1821, a precinct was established at the house of William Blackshear; on December 3, 1821, another, at the house of David Hendrick; and on December 26, 1822, others were established at the house of George Constantine, at Brooklyn, at Rabb's Store, at the house of John Bell, and at the house of James Grace; and those heretofore established at the houses of James Caldwell, William Blackshear and David Hendrick were discontinued.
Few inhabitants in prehistoric times
From the absence of ancient remains, it would seem that the territory included in the county had few inhabitants in prehistoric times. It lay wholly within the original domain of the Creeks, but the only Indian town known to have existed within its limits seems to have been a village found by the early settlers on Old Town Creek in the eastern part of the county. This was probably a modern settlement, made by Red Stick fugitives after the defeat at the Horse Shoe Bend.
The Burnt Corn fight, which marks the beginning of the Creek Indian War of 1913-14, took place July 27, 1813, near the Conecuh County line, at the crossing of Burnt Corn Creek by the old Pensacola Trail. This was one of the most noted of southern trails and was sometimes called the Wolf Path. It extended from Pensacola north into the Upper Creek Nation, and was the great trading path used by the Indians, white traders, and English and Spanish emissaries long before, during and after the RevolutionaryWar.
It is said that Capt. Joseph Shomo, sometime after the Burnt Corn engagement, made an excursion into this section of the county, and attacked the Indians at Battle Branch, eight miles south of Bellville. Local evidences of the conflict were long pointed out.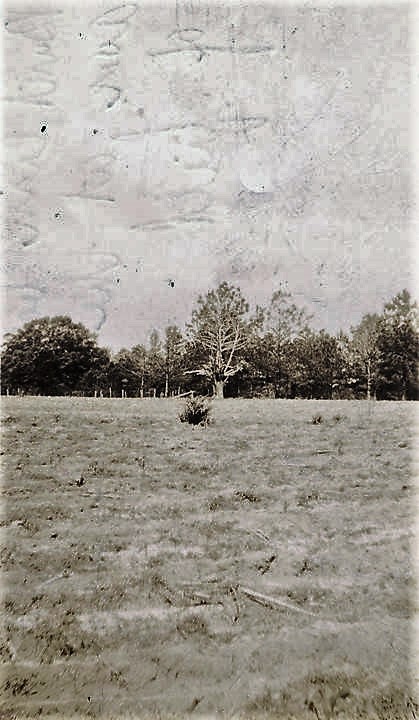 Field where the battle of Burnt Corn was fought in Conecuh County, Alabama (present-day Escambia) ca. 1930s (Alabama Department of Archives and History)
Confrontations with Indians
Following their defeat and the cession of their lands at Fort Jackson, August 9, 1814, the Indians were much disorganized, and from time to time throughout the territory, they committed many depredations. The Indians in Conecuh gave the few early settlers much trouble by killing their cattle and hogs, breaking into their houses, and taking provisions and corn, and threatening their extermination.
In July 1817, a Mr. Glass, living near Burnt Corn Spring was killed by an Indian belonging to a party camped on Pine Barren Creek in the present Wilcox County. These Indians were pursued by a small force under Capt. Sam Dale, but their camp was found deserted.
For protection, three rude forts were erected—one near the home of Alexander Autrey, one at the head of Bellville Branch, and one in the vicinity of Burnt Corn. The resolution of the settlers deterred the Indians from further trouble.
It appears that there was an understanding between the settlers on Hampden Ridge and the Indians in the village on Old Town Creek, in which Murder Creek was considered the boundary between them. In time, however, the Indians again began to commit depredations, and the settlers became so exasperated that they marched to the village, drove out the inhabitants and burned their cabins. The Indians then disappeared from the county and settlements soon began to be made on the eastside of Murder Creek.
Samuel Buchanan built first white man home
The first white man to build a home in Conecuh County was Samuel Buchanan, who in the latter part of 1815 located on Hawthorne's Mill Creek, about a mile and a half west of Bellville. The second settler who came was Alexander Autry, an emigrant from Georgia, who, after living a few years in Monroe County, moved into Conecuh, and settled west of Murder Creek on the range of hills, to which he gave the name of Hampden Ridge.
Very soon afterwards Thomas Mendenhall, Eli Mendenhall and Reuben Hart from North Carolina, settled in the vicinity of Bellville. Contemporary with these settlers were Thomas Crosby, Robert Savage, Mayberry Thomas and Alexander Donald, all from Chester District. S. C., who made their homes near Hampden Ridge.
With the gradual influx of other settlers in 1816 and 1817, Bellville and Hampden Ridge became the rival communities of the county. Bellville was first known as "The Ponds," but received its present name from several brothers named Bell who settled there about 1818.
In the Hampden Ridge community, perhaps in 1817, was born Richard Baggett, the first white child in the county. Burnt Corn settlement followed close upon Bellville and Hampden Ridge. Its first settler, early in 1816, was James Grace of Georgia. During the next two years it received many others.
Malachi Warren erected the first house on the site of Sparta. About 1818 settlements were made on Ard and Bottle Creeks, and about two years later on Old Town Creek, and at Evergreen. The first grist mill in the northern part of the county was built by Captain Cummings, and soon after another, by Bartly Walker on Mill Creek, near Bellville.
More early settlers included a robber
Some of the early settlers of the county, coming between 1817 and 1822, excluding those already mentioned, were Dr Milton Amos, Jesse Baggett, Major Bowie, John Brantley, Richard Curry, Aaron Feagan, George Feagan, Eldridge S.Greening, Dr. Houghton, Thomas Hodge, John S. Hunter, Asa Johnston, Caleb Johnston, John McCloud, Murdock McPherson, George Stoneham, Rev. Alexander Travis, Thomas Watts, Rev. David Wood. The last named was a blind Baptist minister, who preached the first sermon in the county.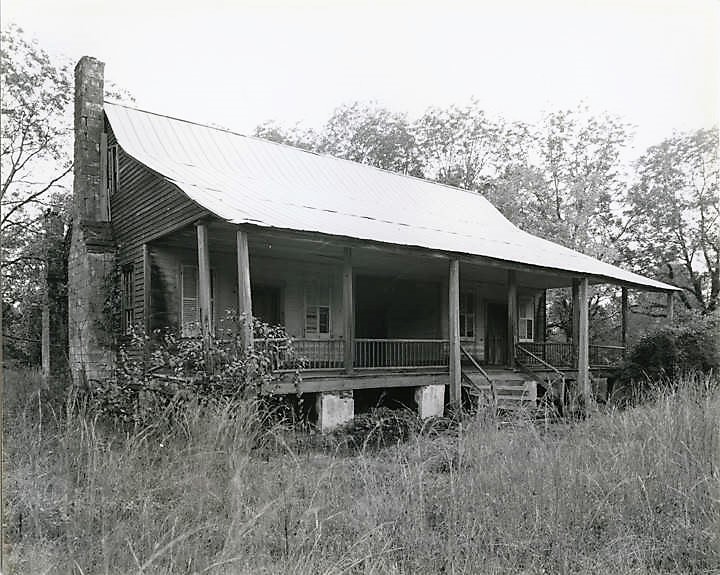 Front (southwest) elevation and west side of the Asa Johnston House in Johnstonville, Alabama. ca. 1988 (Alabama Department of Archives and History)
A picturesque point in the county is Turk's Cave, near Brooklyn. From the remains, it must have been a favorite bird roost. Shortly after the settlement of the county the highwayman, Joseph T. Hare and his accomplices made this their rendezvous, or place of resort. From this point, they went forth from time to time to rob and kill the traders from Pensacola to the Indian country, and here they stored their Ill-gotten treasure.
During the Civil War
Conecuh County experienced one Federal raid during the war. On March 21, 1865, Col. A. B. Spurling, in command of three brigades of cavalry, advanced from Milton, Fla., by way of Andalusia toward his work of destruction in Conecuh County. A little before midnight on March 23, he struck the Alabama and Florida Railroad five miles above Evergreen. Here at 4:30 on the morning of March 24 he captured and destroyed the train coming up from Pollard. At 7 o'clock, in like manner, he captured and destroyed the train coming from Montgomery, taking 7 commissioned officers and 100 soldiers.
Thence he proceeded to Evergreen where he arrived at eleven o'clock. Here he destroyed some stores and the rolling stock at the depot. The destruction of Confederate government property at Evergreen was certainly an act of legitimate warfare. But the amenities of war were grievously violated by Spurling's men while in Conecuh county in their shooting at defenseless citizens, and in Evergreen in their despoiling families of their silver plate and jewelry.
From Evergreen the raiders went on to Sparta, arriving there at 4 o'clock. Here a clean sweep was made in burning the depot, the rolling stock, and some trestle work. An indefensible act in Sparta was the burning of the county jail. Col.Spurling spent the night in Sparta, and the next day proceeded southwest out of the county. His official report gives as the spoils of this Conecuh raid, 120 prisoners, 200 negroes, 250 horses, and mules. Non-official spoils, such as silver plate and jewelry were not included.
Confederate Commands from County.—The commands listed below were made up in whole or in part from this county.
Infantry.
Co. E, "Conecuh Guards," 4thRegt.
Co. D, 16th Regt.
Co. D, "Cary Rifles," 23dRegt.
Co. H, 23d Regt.
Co. I, 29th Regt.
Co. E, "Miller Guards," 38thRegt.
Co. E, "McCulloch Avengers," 42d Regt.
Co. F,"Conecuh Reserves," 65th Regt.
Miscellaneous.
Co. F, 23d Battalion of Sharp Shooters.Farm, Livestock and Crop Statistics, 1917.
Delegates to Constitutional Conventions.—
1819—Samuel Cook.
1861—John Green.
1865—William A. Ashley.
1867—Augustus W. Jones.
1875—J. C. Robinson, John Greene, Sr.
1901—John D. Burnett, J. M.Foshee.
Senators.
1819-20—John Herbert.
1821-2—John W. Devereux.
1825-6—William Jones.
1828-9—John Watkins.
1830—William Hemphill.
1833-4—William Hemphill.
1836-7—Samuel W. Oliver.
1837-8—Herndon Lee Henderson.
1839-40—S. S. Andress.
1842-3—John Watkins.
1845-6—John Morrissett.
1847-8—John Morrissett.
1851-2—William Perry Leslie.
1853-4—William A. Ashley.
1857-8—Daniel H. Horn.
1861-2—D. C. Davis.
1865-6—William A. Ashley.
1868—William Miller, Jr.
1871-3 –William Miller, Jr.
1874-6 E. W. Martin
1876-7 J. H. Dunklin
1878-9 David Buel
1880-3 G. R. Farnham
1884-5 J. K.Henry
1886-7 J. C.Richardson
1888-1891 Nicholas Stallworth
1892-3 R .E. Steiner
1894-5 P. M. Bruner
1896-9 A. W. Deans
1900-03 Dempsey Monroe Powell
1907-09 C. E. Reid
1911 W. C. Crumpton
1915 C. F. Winkler
1919 J. Morgan Prestwood
Representatives
1819-20 William Lee; Thomas Watts
1820-1 Samuel Cook; Thomas Armstrong
1821 (called) –Samuel Cook; Thomas Armstrong
1821-2 Eldridge S. Greening; John E. Graham
1822-3 Samuel W. Oliver; John S. Hunter; Taylor,
1823-4 Samuel W. Oliver; John Fields; James Salter
1824-5 Samuel W. Oliver; Nathaniel Cook; John Green
1825-8 Samuel W. Oliver; Eldridge S. Greening
1828-9 Joseph P. Clough; James Salter
1829-30 John Green; Henry E. Curtis
1830-1 Joseph P. Clough; Samuel Dubose
1831-2 Samuel W. Oliver; John Watkins
1832 (called)Samuel W. Oliver; Julian S. Devereux
1833-4 Samuel W. Oliver; Watkins Salter
1834-5 Samuel W. Oliver
1835-6 Wilson Ashley
1836-7 JepthaV. Perryman
1837- (called) –Jeptha V. Perryman
1837-8 JepthaV. Perryman
1838-40 James M. Bolling
1840-1 W. A. Bell
1841 (called) W. A. Bell
1841-4 Churchill Jones
1844-5 A. W. Jones
1845-8 James A.Stallworth
1849- 50 William A. Ashley
1853-4—Andrew Jay.
1855-6—Andrew Jay.
1857-8—John D. Cary.
1859-60—John D. Cary.
1861 (1st called)—John D. Cary.
1861 (2d called)—William A. Ashley. 1861-2—William A. Ashley.
1861-2—William A. Ashley.
1862 (called)—William A. Ashley.1862-3—William A. Ashley.
1862-3—William A. Ashley.
1863 (called)—William Green.1863-4—William Green.
1863-4—William Green.
1864 (called)—William Green.1864-5—William Green.
1864-5—William Green. 1865-6—F. M. Walker.
1865-6—F. M. Walker.1866-7—F. M. Walker.
1866-7—F. M. Walker.
1868—J. Yates.
1869-70—J. Yates.
1870-1—J. W. Etheridge.
1871-2—J. W. Ethridge.
1872-3—Nicholas Stallworth.
1873—Nicholas Stallworth.
1874-5—N. Stallworth.
1875-6—N. Stallworth.
1876-7—A J. Robinson.
1878-9—Eli Clark.
1880-1—A. J. Robinson.
1882-3—J. D. Burnett.
1884-5—J. D. Burnett.
1886-7—W. B. Shaver.
1888-9—Robert A. Lee.
1890-1—R. A. Lee.
1892-3—James F. Jones.
1894-5—T. J. Brown.
1896-7—Frank Simmons.
1898-9—P. M. Bruner.
1899 (Spec.)—P. M. Bruner.
1900-01—James F. Jones.
1903—Dr. Andrew Jay; (died and vacancy filled by Richard T. Holland.)
1907—J. D. McCrory.
1907 (Spec.)—J. D. McCrory.
1909 (Spec.)—J. D. McCrory.
1911—Edwin C. Page.
1915—F. L. Riley.
1919—G. W. Salter, Jr.
SOURCE
The above excerpt has been transcribed from History of Alabama and Dictionary of Alabama Biography, written by Thomas McAdory Owen, was published in 1921 by the S.J. Clarke Publishing Company.