A CONTROVERSY SURROUNDED THE CITIZENSHIP OF THE FIRST GOVERNOR OF ALABAMA
(From the National Intelligencer of October 13, 1819)
ALABAMA – We furnished our readers some time ago with a synopsis of the Constitution of the new state of Alabama. There was one feature of it, however, which we overlooked at the time, and which we now notice with no satisfaction. None but a native of the United States can ever be governor of the state.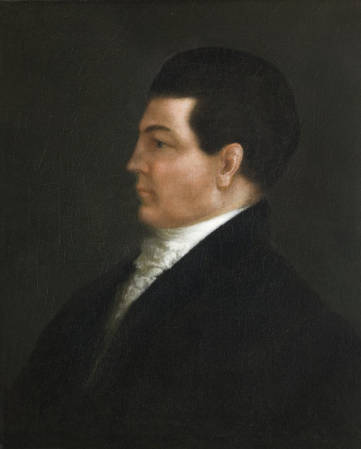 Governor William Wyatt Bibb – first governor of Alabama
Original inhabitants barred
One may have lived in America and have been a citizen longer than one half of the people of the United States; may have children and grand-children innumerable born within the limits of the country; may have all his property, all his interest, all his attachments, all his hopes, centered within those limits; yet, inasmuch as he has been guilty of the original sin of being born in Europe, he never can be Governor of Alabama. All the original inhabitants of the state are thus excluded from the honor of bearing even the empty title of Governor– the powers of the Governor being so circumscribed as to leave him little more than a nominal authority.
W. W. Bibb
The first election for officers of the state of Alabama took place about the middle of last month. We have heard only from Monroe county, in which W. W. Bibb had a majority of 90 votes over Marmaduke Williams, for the officer of governor.
Faith and Courage: 2nd edition -A Novel of Colonial America 

Inspired by real people and actual events, the family saga of colonial America continues with Ambrose Dixon's family and their life during

 Pre-Revolutionary War days of America, intertwined with a love story.