North Carolina honored him as Songwriter of the Year in 2005
[In September 2005, 84-year old Curtis L. Stewart, native Alabamian, traveled to North Carolina where he was honored as Songwriter of the Year at the 30th annual Gospel Music Festival and Old Time Singing Convention. Curtis L. Stewart wrote and published many gospel songs in his lifetime but his most famous song was Lord, Build Me A Cabin in Glory. "At one time it was said that Stewart's Lord Build Me A Cabin and I'll Fly Away written by Albert Brumley were the two most famous gospel songs in America." (Daily Mountain Eagle 2005). The following is a story submitted to Alabama Pioneers by his grandson.]
I'm not much of a writer, but if you will hang in there, you will hear a great story about an Alabama man that did a lot, with a little. I'm Heath Stewart, of Jasper, Alabama. I am a web designer and a truly blessed individual. Not many people have seen and done the things that I have been blessed to see and do in my life. For that, I am truly grateful. I am thankful to Alabama Pioneers page for reaching out to me and offering me this opportunity.
Business owner in Jasper, Alabama
My grandfather, Curtis L. Stewart, was a business owner in Jasper, Alabama, and Walker County for over 40 years. He served in World War II in the South Pacific. He held the public elected office of coroner with nothing more than a 6th-grade education (if that). He was, also, a great songwriter and had over 200 songs published. His songwriting career lasted from 1935, until he passed away in 2005. He was writing melodies near the day he died. Shortly before he passed away he had me compile all of the unfinished work onto tapes to give to a fellow author to carry on the writing.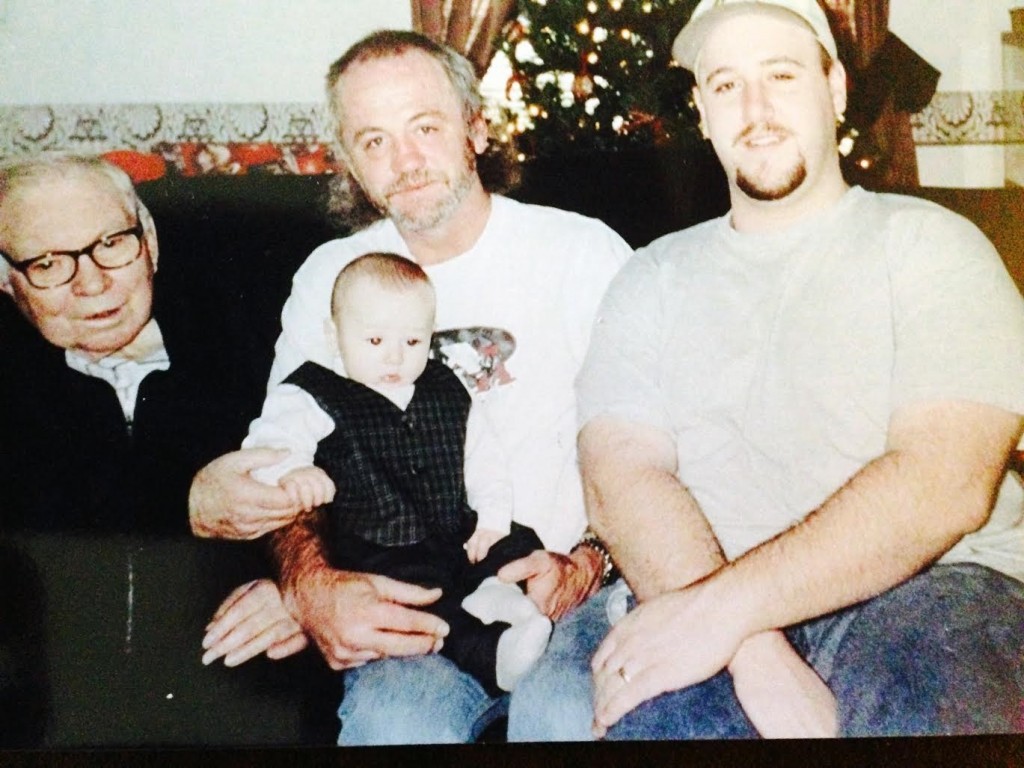 Curtis L. Stewart with his family
Lord, Build Me a Cabin in the Corner of Gloryland
His most popular song was "Lord, Build Me a Cabin in the Corner of Gloryland." That song was recorded in over 19 different languages, and was recorded by great professionals of the time like: Hank Williams, Porter Waggoner, Roy Acuff, Charlie Pride, Bill Monroe, The Blackwood Brothers Quartet, The LeFevre Family, and many more. Sadly, due to the copyright laws of the time, he lost the copyright for a number of years. Thus much of the royalties that would have made him very wealthy, like the royalties from the song "I'll Fly Away" written by Albert Brumley around the same time, were lost. At one time these two songs, Lord, Build Me a Cabin In the Corner of Gloryland and I'll Fly Away, were the two most popular Gospel songs in America. In the early '80s with the help of a music industry lawyer, he was able to once again secure the copyright to that song. Even to this day, my grandmother, his widow, still receives small royalty checks for sales of the song.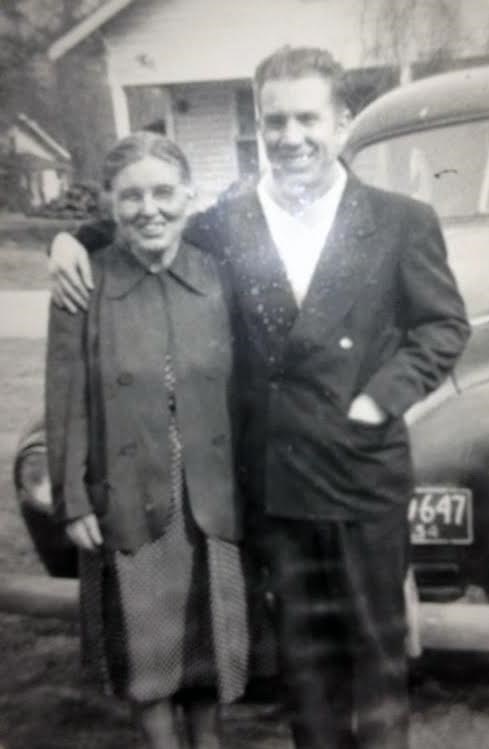 Curtis L. Stewart with mother Mary Francis Stewart
A simple Google Search of the title will give a lot of perspective on the song, and Youtube is a good source to find videos of different performances. We share a few of them on our page www.facebook.com/CurtisStewartSongs. I have been in countless churches where the preacher would get up and say things like, "There won't be any cabins up there. That song is a lie and deceptive." However, they miss the point of the lyrics. Pop was only stating that he didn't deserve the great gift that was offered to him. He was saying, if you'll just build me a cabin, that's more than I deserve from you.
She was a bit of a 'pot stirrer'
There was one time that I was in a sermon, and a girlfriend I had got the preachers goat, so to speak. It was our first date, in 1993 (one of only a few), and it was to church. Her church, no less, and the preacher was on "Lord, Build Me a Cabin," hard and heavy. I leaned over to her and whispered, "What's funny, is that my grandfather wrote that song." Her eyes got big, and I wasn't sure what she was thinking. I knew that she was a bit of a pot stirrer, but I had no idea what was in store, next.
After church that day was a lunch in the church basement. So, we went downstairs and the girl's mother wanted me to meet the preacher. As soon as introductions were made, the girl I was with looked at the preacher and said, "His grandfather wrote that song you were preaching against." We all sat there stunned, speechless. The preacher's face showed signs of shock, and he stuttered out, "Well, I, uh… I… Uh…" I just smiled and said, "It's really not a big deal." Those kinds of things eventually did me in with that girl, and a few months later, we split up.
I'm just glad to be invited
Pop always overlooked the things that people would say about the cabin and mansions. He said, "I know the Bible says mansions. I am not going to take that away. Really, according to the original Greek, it says 'rooms many'. Now, I don't really care where he puts me, I'm just glad to be invited." What kind of world would we live in if we all had that outlook on grace?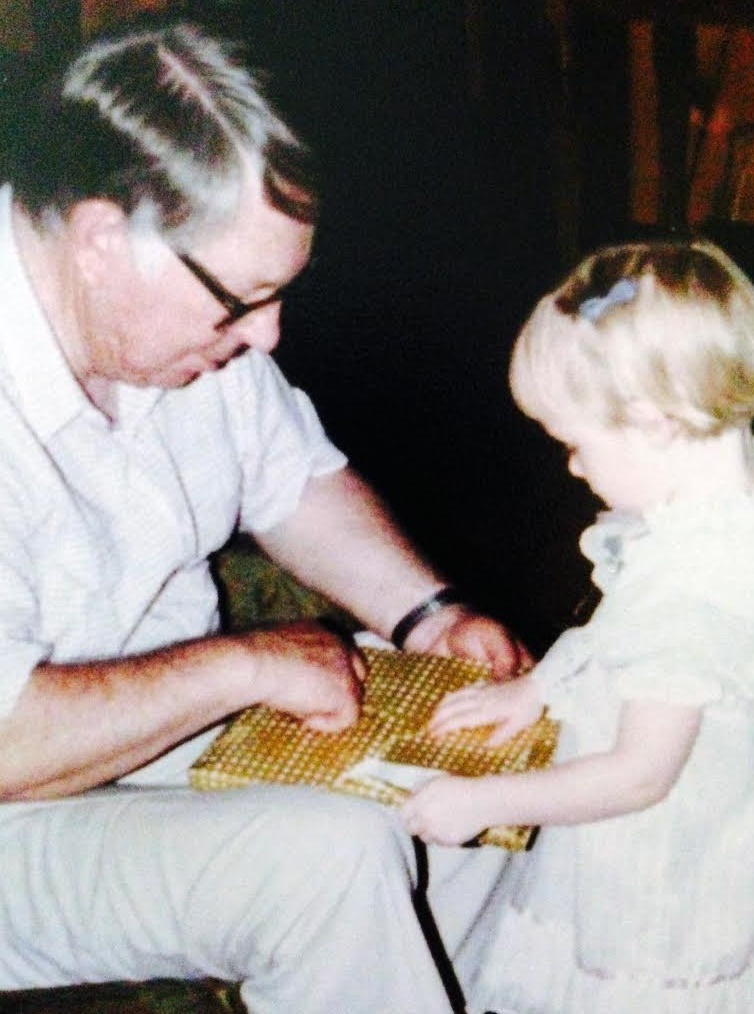 Curtis and Stephanie Bijolle granddaughter
He tried to set the story straight
It was always rumored that Big Pop (as his great-grandchildren knew him) wrote "Lord, Build Me a Cabin" while in a foxhole. He would always chuckle and say," I guess people just made up a story that sounded good since I was a Corporal in the Signal Corp." "Really, he said, "I was stationed in southern California, near Pasadena on that Sunday. I've tried to set the story straight ever since."
He did serve in WWII in combat areas of the South Pacific. He told many tales of being on transmission poles/towers and hearing bullets whiz by him. He talked about requisitioning clippers and setting up shop in their camps as a barber (haircuts are hard to come by in war, I assume). He talked about trading supplies to get lumber to build a makeshift shower stall for the enlisted men. He talked about taking a shore leave and meeting up with my grandmother's brother, or close cousin, and they rented bikes and toured the island that they were on that day. Then, shortly after that, he got word that the other man had been K.I.A.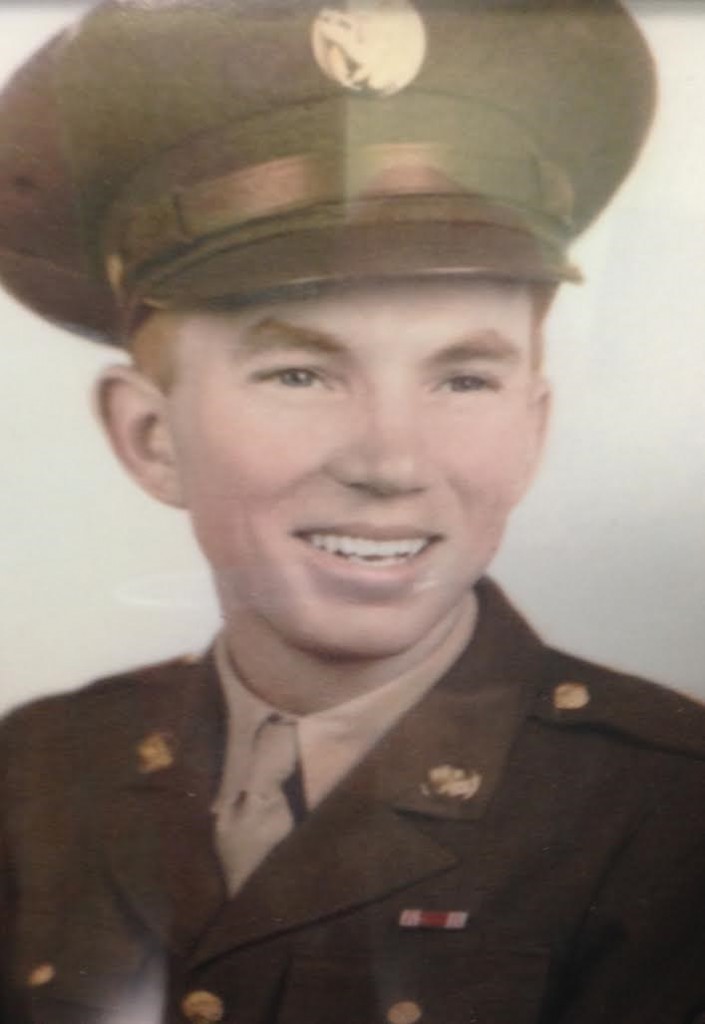 Curtis L. Stewart WWII
His camp rigged up an alarm.
One of the stories about the war that he told more than any was about a night at camp. He said that back then, the Japanese had a reputation of being very sneaky and quiet. There was news coming in from other camps that they would sneak in at night and kill some of the soldiers in their sleep. So, his camp had a system rigged up that would sound an alarm, if the camp came under attack.
One night, a critter had gotten in the sack with one of the soldiers and he panicked and set off the alarm. Of course, with the fear of an attack at any moment, people jumped to arms and waited for movement. A few good men lost their lives that night. By the frequency of him telling that story, and his straight face when you thought he might be about to tell you a funny, I couldn't help but think that he was telling of a time that he lost a friend.
Curtis was not the only one in the family with musical talent. His late brother, Thomas Stewart, played guitar on a few albums back in the 50s, I believe. He was listed as Tom Stewart on the albums that I used to have. Sadly, they were destroyed by my ex-wife.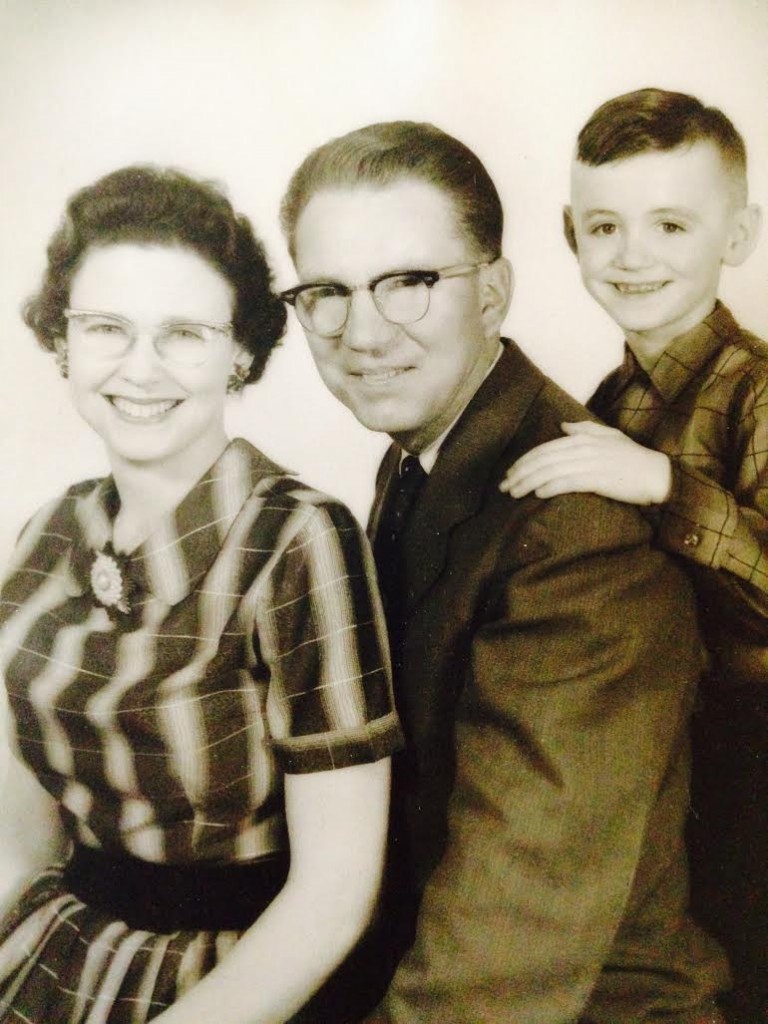 Lenar, Curtis, Kevin Stewart 1960s
Meeting the Father of Bluegrass
On many occasions, I would get to meet with some of the musicians that Pop knew or performed with on stage. The best time that I recall was the meetings with Bill Monroe, the Father of Bluegrass, himself. Every time he came to a location to perform, he would sit and talk with Big Pop for hours at the record table. I have one picture that he addressed to Curtis Stewart at a show in Hamilton, Alabama. My grandmother has one that says, "To Curtis, Thanks for the wonderful song." Looking back now, I think about how fortunate I was to meet that man. He was the symbol of a whole musical genre, and he recorded and performed my grandfather's song. You don't always have that relationship with a person that defines an era.
It would be worth a lot of money now
As a young man, Curtis, always spoke about how he'd leave to work early before sunrise and return at sunset. His mother, Mary Francis, would cook supper and he would light a candle to play the pump organ. This was their entertainment. He said that he once traded a transistor radio for a guitar, but the thing would cut his fingers up when he attempted to play it. So, in a moment of anger, he flung the guitar across the hollow behind the house. He laughed when he told me this story and said, "20 years later, I realized that it was a Dobro that I had traded for, and it would be worth a lot of money now."
Worked many jobs
Big Pop worked in many fields, for fifty cents a week, trying to make ends meet and find his place. He sold Wearever Brand aluminum pans and pots, encyclopedias in Florida, drove to Chicago to sell watermelons from a pickup truck, hewed out crossties for six cents each in Jasper, ran a country store in Pineywoods, and worked for Forbes Supply in Birmingham, Alabama. There, he learned to repair pianos and tune them. In 1955, the year that they adopted my father (Kevin Stewart, deceased), he started a piano repair shop in downtown Jasper, Alabama.
Curtis Stewart was a great man of the community. He loved his church, his town, and his county. He never desired to be anywhere but the Pineywoods Community in Northeast Walker County, also seen on maps as Powellville. His piano shop turned into a full-line music store and he ran it until retiring in 1991, and Kevin came back to town and ran it until 1998. I worked there from 1988 (officially, but 1985 unofficially) until 1994, and again from 1995 to 1996. Those were the best years of my life, beyond the shadow of a doubt. My hope is to one day being able to offer my kids the opportunity of working together as a family in that fashion, although times have changed.
Music Hall of Fame
I have contacted the Alabama's Music Hall of Fame on occasion, requesting that Curtis be inducted in, as his contribution to music, although mostly Gospel and Convention Singing styles, was just as important as any of the people that are represented there today. However, they continually say that they are not interested in songwriters, as much as they are interested in performers.
In my opinion, that is not doing justice to the musical heritage of the State of Alabama. Most of the people in the HOF had left Alabama, and many didn't care as much about this state as a man that fought for its freedom, serviced the musical instruments needs of thousands, held an elected public office (with little education), and wrote songs that the fine men above recorded and performed live in front of hundreds of thousands. As a matter of fact, it is not uncommon to go to the Grand Ole Opry and hear his song playing before a show. That is, exactly, what happened with my father back around 1988, in Ryman Auditorium.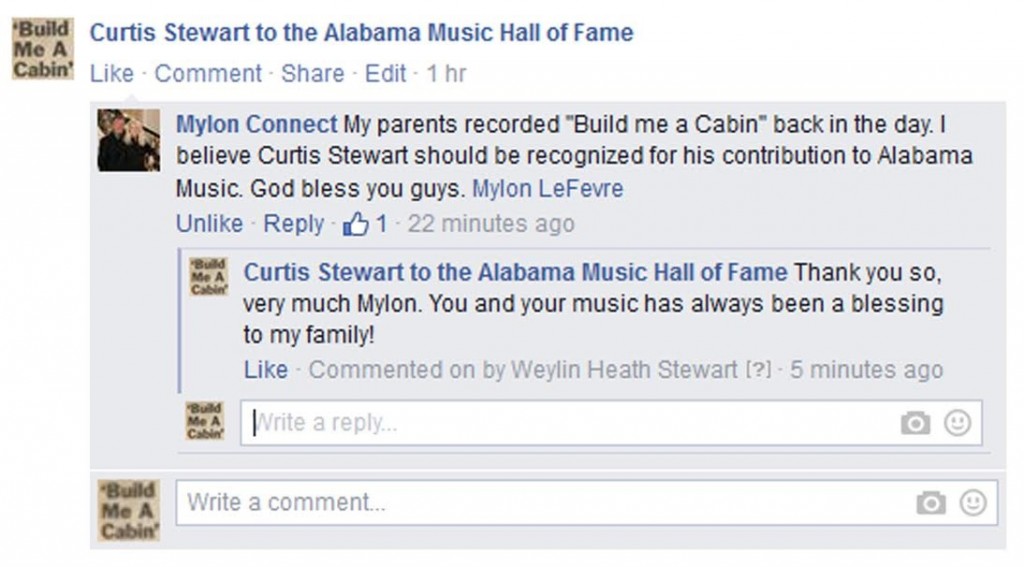 I would appreciate it if you would consider helping us to petition the AMHOF to consider including Curtis Loren Stewart in the Hall of Fame. They have a box with records and various sheet music that I carried up there in the late '80s. This would be a great honor to our family. Even though my grandfather has passed away, as has his son, his 3 grandchildren and 8 great-grandchildren would love to see our "Big Pop" remembered for the talent that he shared with the whole world.
Visit my facebook page at:
www.facebook.com/CurtisStewartSongs
for more information and details on how you can help.