DALE COUNTY AND ITS PEOPLE DURING THE CIVIL WAR
(Reminiscences of Mary Love (Edwards) Fleming)
Part III
HOME INDUSTRIES, SPINNING AND WEAVING
Within a few months after the war began our supply of cloth began to give out. We lived far from the cities and large towns, and the country stores never kept large stocks on hand. All cloth that was suitable for the use of the soldiers was used up at once and more could not be purchased except by sending quite a long distance and by paying very high prices. So very soon our people had to return to the old way of making cloth at home on home-made handlooms. This was slow work, and it was the most tedious of all of our home duties, and it kept nearly all of the women and girls busy, for all of them had to do something connected with cloth and clothes making.
None of our relatives were wealthy enough to have all of this work done for them. The Crittendon and Ardis girls did not have to spin or weave, but they did much of the family sewing. There were no white servants.
Occasionally a poor orphan girl was given a home in a family that had no slaves, but she always lived as one of the family, received no regular wages, and would have felt insulted if considered a servant.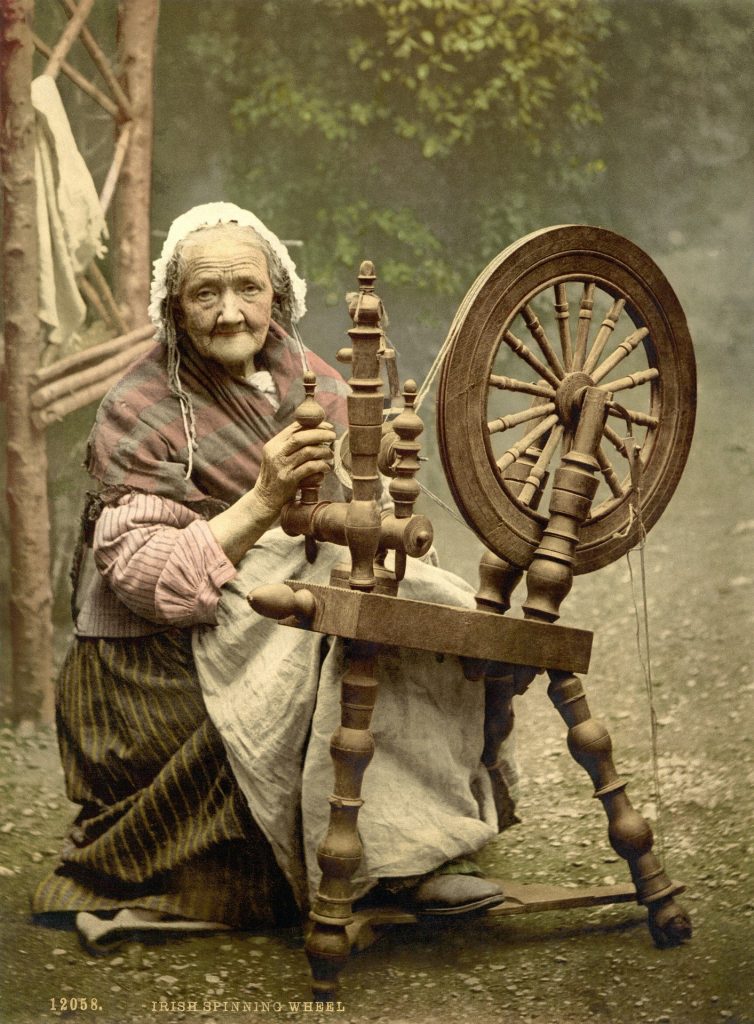 The older women taught the younger women how to spin and weave
At first few knew how to spin and weave. But my aunt, Mrs. Bennett, and some of the older women in the Byrd, Martin, and Johnson families had learned to spin and weave long years before, and they now gladly taught relatives and all others who wished to learn. Women from all over that section of the country went to them to learn how to manage the spinning wheels and the looms.
Most of these wheels and looms were made at Westville by a wood workman named Merritt, an old man who had moved there about the time the war began. He made spinning wheels, looms, reels, and other wooden ware. He made very nice small tubs and buckets of cedar. The small tubs were often used in place of wash bowls, and the little buckets to milk in. He also made our wooden churns.
Wool from our sheep was sent to Eufaula, forty miles away to be corded into rolls, but the spinning was done at home. We later sent some of our wool to be carded to Munn's Mill (or Frazer's Mill, as it was afterwards called), located twelve miles away on Pea River and now owned by my husband. This will was not fitted up for carding at the beginning of the war. Thus enough cloth was made for all to have good clothes, and much was sent to the husbands and sons in the army Mother sent all of my father's clothes to him, for ours was one of the few farms in that section that kept enough sheep to supply the family at home with woolen clothes for the winter wear, and to send woolen things to our soldiers. My older sister and I spun thread to make cloth, and we soon learned to knit stockings and gloves for our own use.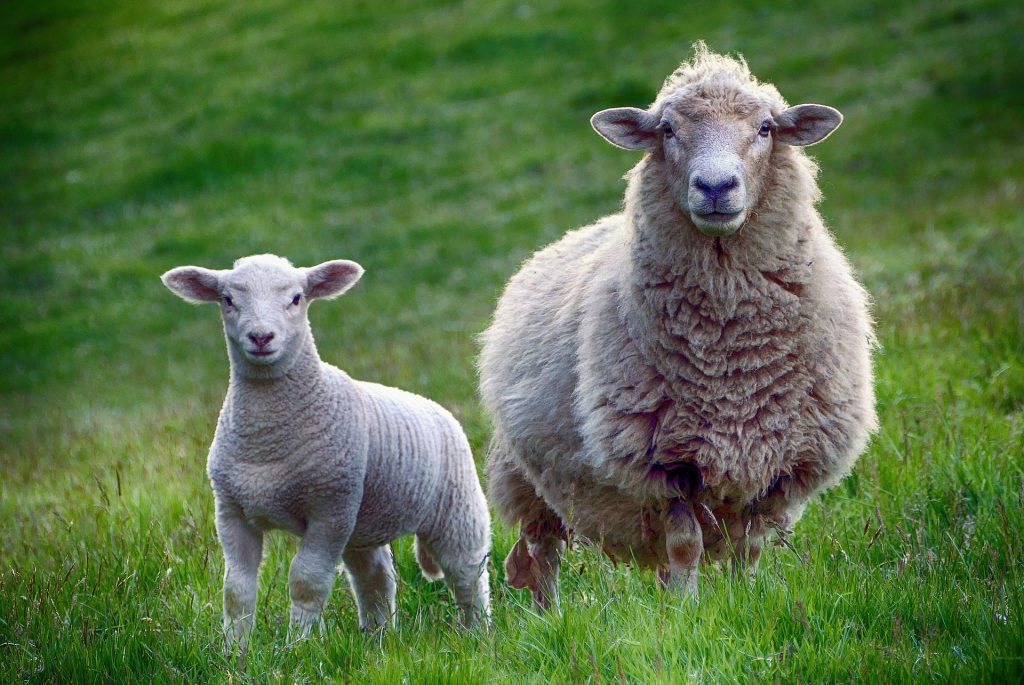 Everyone worked
My two older brothers, Willie and Archie, although only twelve and eleven years old at the close of the war, had to do light work on the farm along with the negroes. Before the close of the war my little sister, Emmie, was large enough to spin her daily task, and so all of the children on the farm worked except Ambrose, the youngest, and the smallest negro child. There were none in our community too rich to work; all worked who were not too small, or too old, or too sick.
During vacation, my older sister and I had certain tasks of carding rolls and spinning every day. These allotments were enough to keep us busy nearly all day, if we worked well. But I did not enjoy this regular work every day. The same system was used with the negro women and girls. They, too, had tasks assigned to them that would keep them busy the greater part of the time from day=light until dark, and if these tasks were not completed by day-light they were finished by candle-light after supper. But most of the negroes were cheerful and industrious, and just as respectful and obedient as they had been before the war began.
Our negro woman, Mary, and her daughters, with the help of my sister and myself, did practically all the carding and spinning of the cotton, while Mother spun the wool, wove much of the cotton and woolen cloth for herself and the children, and for Father away in the army. There were six of us children and herself and Father and the six negroes to be clothed, and Mother, with the help of the negro woman, Mary, and occasionally of my aunts, made all the clothes worn by all the family. Mother not only spun the wool, and did much of the plain weaving, but did most of the dyeing and much of the sewing besides the knitting, except what knitting, was done by Sarah and myself. I have often wondered since I grew older how she could do so much, for she was not a strong woman and her health was not good.
She paid her widowed sister, Aunt Polly Bennett, to weave jeans cloth, counterpanes, and other heavier cloths. Aunt Polly had been left a widow with six children—three boys and three girls —before the war began. Her two older sons went into the army, but she had a younger son and two daughters at home. These girls were very industrious and were the most expert spinners and weavers in the country. They could spin and weave more cloth in a day than any of their neighbors. They very often did such work for other families and relatives, and earned enough to live comfortably except for the long, hard work. Soon after the close of the war the Bennett family moved to Texas, except Mary, who married and went to Georgia.
The wealthiest families had some of the negro women and girls do the carding and spinning, and others do the plain sewing. Some of these negroes could weave well, but few if any of them could do the double weaving such as was needed in making jeans cloth, dotted goods, and homespun muslins.
Many white women spun pretty muslins. They wove the cloth thin in warp and filling, striped it or checked it, or put dots in it mad of bits of bright colored cloth. They spun doubled and twisted their sewing and knitting thread.
Our reels, wheels, and looms, besides those made by Mr. Merritt at Westville, were made in the country and usually by white men who were exempt from army service. When many negroes belonged to a family there would be negro seamstresses, who did sewing for the negroes and plain sewing for the whites. So all wore good clothes and had plenty of quilts, which were usually made from the strong parts of old clothes, except those quilts that had been made before the war began.
Usually, a room was set apart in which the spinning, weaving, reeling, and spooling was done. The warping was done out of doors on "warping bars." The spinner ran the thread on broaches, then it was reeled into hanks on the reel, then dyed (when color was wanted), then the hanks were put on the winding blades and run onto spools made of the branches.
When these large reeds could not be procured, long corn cobs were used instead. The spools were then placed in the "warping bars" so that the thread ran off easily. Enough of them were put in to make the warp of the cloth. This was done by taking a thread from each spool and carrying them together through the hand, placing them on the pegs of the bars and making the threads the length desired for the finished piece of cloth. This was continued in this way until there was sufficient number of threads to make the width.
This was then carried to the loom, wound on the thread beam, then each thread was put separately through the harness by hand, then on through the sleigh in the same way, then tied to a rod which was fastened to the cloth beam All was now ready to begin weaving.
The warping was, I think, the hardest to learn of all the preparations, and for me, at the time, was very difficult. I learned to weave plain cloth about the time that the war closed, and I helped to weave one piece. The working hours for most of the white families and their negroes was from about four or five o'clock in the morning until dark in the evening, with short intervals for rest. In winter nearly all of the families had finished breakfast, and the housework, and were ready to begin other work soon after daylight. Then some went to the fields, some to the other chores, some to the spinning wheels and looms, and others to their sewing and knitting.
The men's clothing
To make jeans cloth for Fathers suits, Mother would dye half of the wool black and leave the other half white, then she sent instructions to have the wool mixed in the carding. After the cloth was woven she would have it made into a uniform for Father—overcoat and all.
My Aunts, Adeline and Jane Mizell, were expert makers of dresses, coats, and hats, and of almost everything else that required skill with the needle. They often made suits for Father and for other soldiers. Mother dyed wool bright colors and made pretty dresses for herself and for her daughters, and nice looking suits for her boys. She sent to Eufaula and to Columbus, Georgia, and bought the warp for all of her cloth except some of the coarse cloth for the negroes' clothes. This coarse warp was made for us at home by a negro.
My brothers, Archie and Willie, looked like little men in their homespun, home-made suits.
My older sister, Sarah, and I were about the same size, and we had the same tasks to spin every day. We usually rested a little at noon and finished before dark. But sometimes I would get tired of being so confined to work and would be idle; then I had to finish my task after supper, which I thought was very hard. I thought then that I was lazy and idle, but I wonder now that we girls worked as much as we did when I see how little, work girls of our age do now. But we lived in the country with little to distract our interest from our work. I remember how tired I used to get sitting so still and knitting so long with he gnats flying around my face and eyes, but I could not stop until Mother gave me permission.
Most of the grown women, when they did not sew or spin, would knit at night until bedtime. We girls did not have to work at night, and the negroes worked only at night when they failed to finish their work during the days.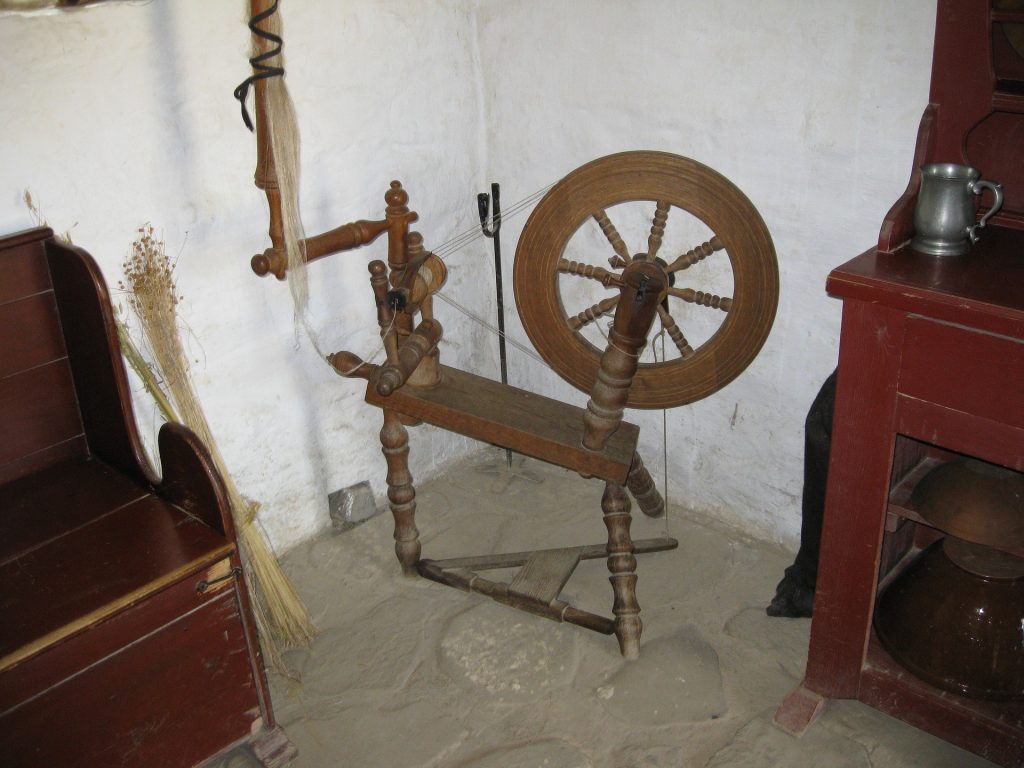 Some families in our community continued to weave for two or three years after the war, and some poor people much longer. Mother kept her wheels for years though she did not use them, but along with the looms they were finally destroyed, burned, I suppose. When my husband's mother died her wheel was brought to our home and we kept it and sometimes used it until a few years -ago. But when we moved from our home in the country, it was left on the farm, I intended to send for it, but did not do so and it was lost,
SOURCE
Excerpt Transcribed from The Alabama Historical Quarterly, Vol. 19, No. 01, Spring Issue 1957