(Transcribed and unedited story from a WPA (Works Projects Administration – This house at 1256 O'Donnell Street in the historic district of Oakdale, Mobile, Alabama does not appear to exist anymore according to Google maps. It appears to be a vacant lot but the houses next to it still exist along with the church across the street. Oakdale has been designated as a historic district in Mobile and some houses are being renovated.  (Click to check out this website that is preserving and restoring Mobile)
LIFE STORY OF MRS. EMMA SHELNUT
1256 O' Donnell St. Oakdale, Alabama
Written by
Josephine F. Patterson, writer
Mobile, Ala.
March 31, 1939
After walking from Ann and Alba Streets down to O'Donnell Street in Oakdale, a suburb of Mobile, I stopped at No. 1256, which house is nearly hidden by trees and bushes. The front of the yard is approximately seventy-five feet. To one side in the front yard was a small bed of flowers and along the path representing sidewalk was a hedge. To the right was a brickwalk leading up to the steps and on the other side was a large rose bush, in the neighbor's yard was a wisteria vine growing all over a large tree and the vine climbing over into the yard and onto the house where I was visiting, and I have seldom seen such beautiful bunches of flowers. Mrs. Shelnut said the yard was not in good order, as she was not able to attend to it and her brother had just got up from a long spell of sickness. The north side of the house was covered with honeysuckle vines.
Sitting on the gallery were Mrs. Emma Shelnut and her brother Charles Rabby, and when I came up to them a young woman, a niece of Mrs. Shelnut, came from the house and brought a chair and I was asked to sit down. When I was seated, a little girl about five years old, whose name was Cecile, came and eased herself into my lap. Her hair was soft and wavy and so light that it was almost white. She was a friendly little thing. Her home was next door. A pretty plain gray cat with white nose, collar, shirt and boots, came and laid down on the steps.
When I asked Mrs. Shelnut if she knew any old legends, sayings or stories she said she did not remember any, so I tried to get her own story, and she said she had not much to tell, however, she told me she was born right here in Mobile and had lived here all her life. She was born in June 1861. Her father, a seaman, died when she was very small and her mother was left with five children.
Mrs. Shelnut's mother was a dressmaker. Mrs. Shelnut said she had attended the Broad Street Methodist Church since she was "just about as old as the little girl visitor, and her name is the oldest on the church book now." She went to School at Barton Academy. Her life as child and young woman was very pleasant and she did not have anything worth telling.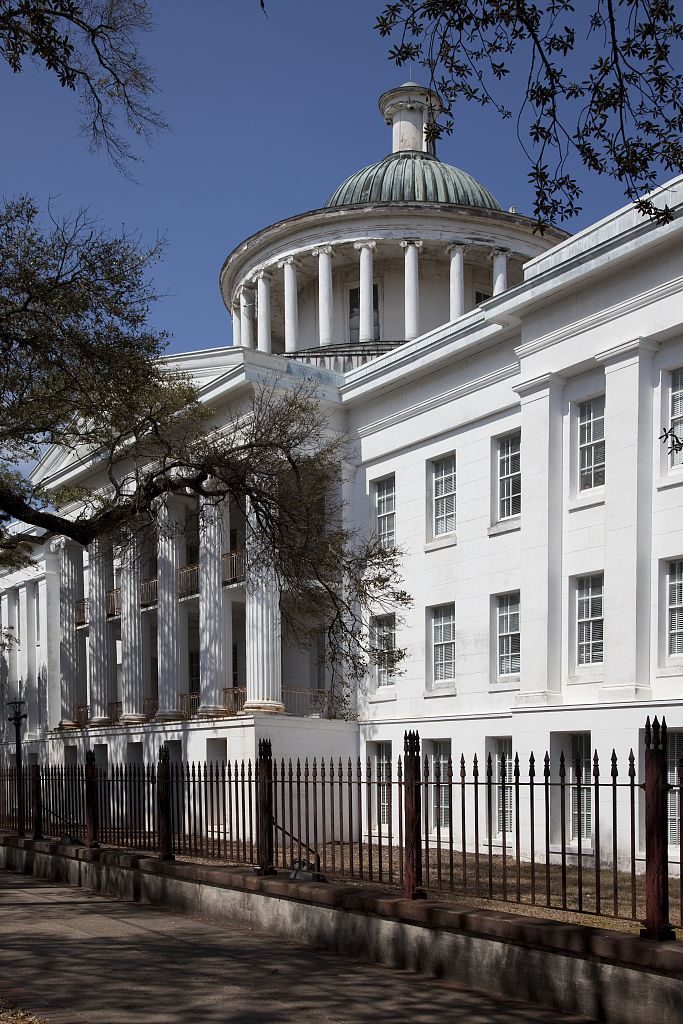 Historic Barton Academy, Mobile, Alabama by photographer Carol Highsmith 2010 (Library of Congress)
In 1882 she married a Mr. Graham, who was a sailor. They had been married eleven years when he was drowned in 1893. She married again in 1898, Mr. A. D. Shelnut, a Civil War Veteran, who was a well-educated man. His trade was interior decorating and he and his wife also kept a rooming house. Both of them were prominent in Lodge work, and well-liked. Mr. Shelnut died in 1934 at the age of eighty years.
The Shelnut house is a one-story building containing two good size rooms, kitchen and front gallery. In the front room were two beds, one large and one small. There was also an odd sofa, age not known, which looked as if two chairs were put side by side, the backs curving, rounded at the top and finished with a carved border. This room also contained a large double-door wardrobe with mirrors.
On a shelf under the table was an old Bible, about nine by five inches, which was more than four inches thick, and had very fine Latin type with this notation on the back of the Title page. "Bible entered according to the Act of Congress in the year 1857, by O. R. Kingsbury in the Clarks Office of the District Court for the Southern District of N.Y." About one fourth of every page was filled with notes and explanations on the chapters above, but the print was so fine that it was very hard to read. The furniture is old fashioned and somewhat crowded, but clean and orderly. Over the mantel is a large picture of Robert E. Lee, painted by Mr. Shelnut. It is quite a good picture of the General. The frame is heavy and gilded. There is also a crayon picture of Mrs. Shelnut's first husband.
The second, or backroom, also contained two beds, one large and one small. In these two rooms sleep Mrs. Shelnut, her brother, her niece and husband, and two children, who were at school. They are pretty well crowded, but are comfortable.
On the mantel in that room was an old clock about twenty inches high, which had two faces, one above the other. The top face was smaller than the lower one and showed the hours. The lower one showed the name of the weekdays, but that part does not function. It showed the name of the month "MARCH" in another space, and placed around the edge of the face were the dates of the month from One to Thirty-one. These two parts are in working order. On the lower part of the face above the dates were painted.
H. B. Horton's Patents
April 18, 1865 August 28, 1866
Ithaca Calendar Clock Co.,
Ithaca, N.Y.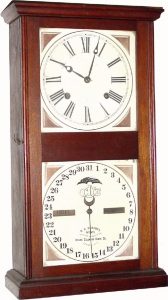 An Ithaca Calendar Clock
Mrs. Shelnut does not know how old the clock is. It was given to her about forty years ago as a wedding present and it was old at that time, "but" she said, "it still keeps good time".
She then took me out in the kitchen, where her niece, Nell Rabby was preparing dinner, to show me the back yard, which is about 125 feet deep, one part is fenced off for the chickens and in the other part were a Japanese Persimmon tree and a fig tree, beside oak trees and shrubbery, which make the place look like a little place in the country.
Asking Mrs. Shelnut what she thought about Hitler and the condition in the world at present, she said that she did not bother her old brain with those things and she does not like politics, because there is so much wrong done, but she would like to see Mr. Hartwell Commissioner again.
Mrs. Shelnut is very kind-hearted and friendly, and she does not talk about people unless she has something good to say about them. Her sight and hearing are good, but she has to use glasses when reading, her eyes are gray, her hair is gray and cut short. She said, "I had very little hair anyhow, so when my niece suggested to have it cut off, I said 'yes,' and I am not sorry as it is much easier to wash and comb."
Mrs. Shelnut is getting a small pension – $20.00 from the Government. She said, "It is not much, but my brother has some property, and with what he has we are getting along. If I live until I am eighty I will get Thirty dollars a month. The old veterans receive Fifty dollars a month, but there are only two more left in the Mobile District."
The neighborhood is good, most of the houses need some paint, but the trees and shrubbery hide the deficiency. Across the street from the Shelnut home is a large modern church built by the Baptist Congregation, which has a Sunday School attendance of about five hundred children.
Mrs. Shelmut suffers from Rheumatism and it is very hard for her to walk, otherwise she seems to be in good health. Sometimes she gets a taxi to take her to her own church and she just can walk to the taxi. Someone of the congregation usually takes her home.
"We soon have Easter here again", she said. "To me it does not make much difference, as I can not get around, but the young people like to fly high at Easter time."
Noticing that she was a little tired, I took my leave, promising to come again.
J. F. P.
Prior to statehood, Alabama was a vast wilderness with a large Native American population. It is only natural that when new immigrants from other states arrived, conflicts over the land would arise. Soon, these small conflicts exploded into war.
Alabama Footprints Confrontation is a collection of lost and forgotten stories that reveals why and how the confrontation between the Native American population and settlers developed into the Creek-Indian War as well as stories of the bravery and heroism of participants from both sides.
Some stores include:
Tecumseh Causes Earthquake
Terrified Settlers Abandon Farms
Survivor Stories From Fort Mims Massacre
Hillabee Massacre
Threat of Starvation Men Turn To Mutiny
Red Eagle After The War