Dueling occurred everywhere in the United States, including Alabama from its earliest history until about 1861, notwithstanding stringent laws against it as a way of defending a man's honor.
On of the most famous duels in the United States was the one between former Secretary of the Treasury Hamilton and the then sitting Vice-President Aaron Burr on July 11, 1804.
Dueling was so popular at the time that if ESPN had been around at the time, Hamilton and Burr's duel may have been on TV like this:
However humorous this film makes it, dueling was serious and usually resulted in one of the men's death as was the case with Secretary of the Treasury Hamilton. His wound was a mortal one and he died the following day. Dueling was illegal at the time and Burr was charged with murder in New York and New Jersey.
Burr was charged with murder in New York and New Jersey but the charges were never brought to trial. He completed his offices as Vice-President after fleeing to his daughter's home in South Carolina, but his political career was over so he fled west. Reports reached Washington D. C that he was conspiring against the U. S. Government and attempting to establish a new independent empire carved out of the Louisiana Territory. A manhunt was set in motion to find him. Aaron Burr was captured in Washington County, Alabama.
Laws against dueling enacted
Around this time in the early 1800's, dueling was beginning to  fall out of favor throughout the United States, especially after the Burr- Hamilton duel. The earliest legislation on the subject was an act of the Mississippi Territorial Legislature, originally passed November 11, 1803, and re-enacted November 11, 1804, with this preamble, "whereas, from a false sense of honour, the inhuman, injurious, and detestable practice of dueling has been too often and unhappily resorted to as a mode of adjusting or settling differences of small magnitude between individuals; and whereas, this barbarous and savage conduct has of late obtained a great degree of prevalence, to the destruction of the lives of some valuable members of society, and involving the feelings of others, who from principle, and respect for the laws of their country, will not engage in this pernicious practice. . . ."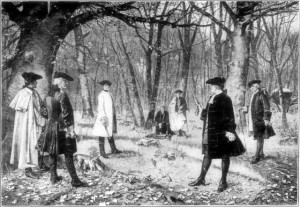 Act made dueling a felony in 1803
The Mississippi Territorial Act made the sending or receiving or bearing of a challenge to fight a duel, a felony punishable, if neither combatant was killed, by a fine of  1000 lbs and imprisonment for 12 calendar months and ineligibility for holding "any office of honour, profit, or trust under the government of this territory, for and during the term of five years" from the time of conviction; and if either party was killed, the survivor and all persons who had aided or assisted in the duel, were held guilty of "willful murder," and on conviction, should suffer death.
The provisions of the act were made equally applicable to the fighting or the promotion of duels, whether the combats took place within the territory or elsewhere. The act also recognized and undertook to meet the difficulty of securing evidence in such cases….Neglect or refusal of officers of the law to carry out these provisions was made a misdemeanor, punishable by removal from office and debarment from holding any office for a period of two years.
First Alabama State Legislature enacts a law against dueling
The first State legislature enacted a law, December 17, 1819, which was similar in most of its provisions to the Territorial legislation, but contained additional provisions that every member of the legislature and all other State officers and functionaries, whether elected or appointed, before taking office, should subscribe to an oath, in addition to the oath prescribed in the constitution, that they neither had been since January 1, 1820, nor would be during their term of office, in any way concerned in promoting or fighting a duel; and that "if any person or persons shall in any newspaper or handbills, written or printed, publish or proclaim any other person or persons as a coward, or use any opprobrious or abusive language for not accepting a challenge, or fighting a duel; such person or persons so offending, shall, on conviction, be sentenced to pay a fine not exceeding five hundred dollars, as the court may order and direct."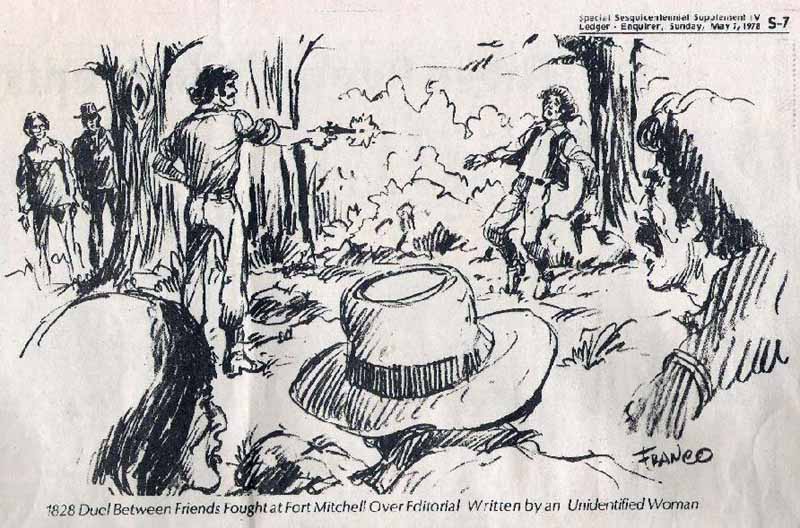 Amendments made in 1831 – Repeal of Act?
At the session of the legislature of 1831 a bill was introduced to amend the dueling act, to which an amendment was offered, proposing an entire repeal of that act. The adverse report or a select committee of the Senate on the subject is preserved in the journals of that body. It contains a masterly discussion of the evils of the practice.
"Your committee," the report declares, "conceive there is no absurd custom, no criminal practice, no irrational prejudice that requires more strongly the interposition of the correcting hand of legislation, than that of dueling. Deriving Its origin from the darkest and most barbarous ages, when power and violence gave law, and religion and learning were unknown or maintained but a precarious and uncertain existence. It has maintained its tyrannic sway, and been handed down, generation after generation. . . . How often is it resorted to on the most frivolous pretexts, for causes that would hardly create a serious difference, the gratification of some quixotic humor, or some fancied slight or insult, fanned by sickly and ridiculous notions of honor."
Below by Henry Dacre Approximately 1820 – Robinson, Henry R. – Library of Congress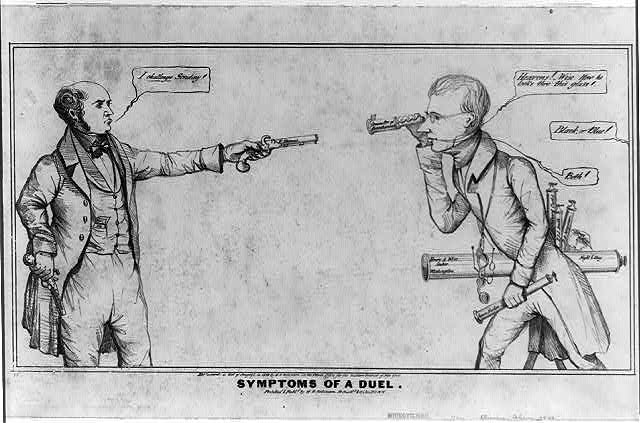 Dueling was murder in the second degree
When the first penal code was adopted in 1841, the killing of a person in a duel was made murder in the second degree; and giving, accepting, or knowingly carrying a challenge in writing or otherwise, to fight a duel, either in or out of the State, was made punishable by imprisonment in the penitentiary for two years. The provision of the new code with respect to disqualification of duelists from holding office was more sweeping and more stringent than those of the old laws, namely, "Every person, who shall hereafter, in this state, or in any other state of the United States, or in any territory or district thereof, give or accept a challenge to fight with any deadly weapon in single combat, shall be disqualified from holding or being eligible to be elected or appointed to any office whatever, under the constitution and laws of this state, and it shall not be necessary, in any indictment under this section, that a previous conviction for giving or accepting the challenge aforesaid shall have been had."
Code of Honor
The "Code of Honor; or Rules for the Government of Principals and Seconds in Duelling," which prevailed among gentlemen in Alabama during the vogue of the duello consisted of about 11 or 12 printed pages, and was divided into 8 chapters of several sections each, covering the following topics:
 "The person insulted, before challenge sent," and "second's duty before challenge sent;"
 "The party receiving a note before challenge," and "second's duty of the party receiving a note before challenge sent;"
"Duty of challenged and his second before fighting;"
"Duty of challengee and second after challenge sent;"
 "Duties of principals and seconds on the ground;"
 "Who should be on the ground;"
 "Arms, and manner of loading and presenting them;" and
 "Degrees of insult and how compromised."
Historic Duels
Notwithstanding these constitutional and statutory inhibitions and penalties, a number of duels have been fought by Alabamians, both within and without the State. Some of the most prominent and influential men in the entire State had incurred the penalties for dueling; and the legislature found it expedient from time to time to pass a special act to relieve a leading citizen of the disabilities thus incurred, in order that he might be elected or appointed to office.
Probably the best known of such special acts was the one for the relief of William L. Yancey and of Daniel Sayre, passed over the governor's veto on January 31, 1846. With reference to Mr. Yancey, the act provided that thenceforward in all cases where it might be necessary for him to take the oath against dueling, it should he administered "in reference to time," from July 1, 1845; and further, that he should not, "in any manner be liable to the pains and penalties prescribed in sections eleven and twelve, chapter three, of the Penal Code, for any act or thing which have been done" by him prior to the date mentioned.
There have been several duels fought upon Alabama soil, and several others in which one or both the combatants were residents of the State. There are no records of many of them except in contemporary newspapers, and doubtless no records whatever of a number of others, particularly where there were no casualties.
Among the more famous may be mentioned those between William Rufus King and Maj. M. J. Kenan; ex-Gov. Gabriel Moore and Callier; and William L. Yancey and T. L. Clingman, of North Carolina.
"When the "code of honor" ruled the antebellum South—or at least its upper classes—the slightest insult might give rise to a pistol duel at twenty paces, conducted with elaborate politeness." (Dueling in the Old South: Vignettes of Social History Jack K. Williams Texas A&M University Press, Jun 1, 2000)
Fort Mitchell Dueling Ground
The most famous dueling ground in the State was probably near Fort Mitchell, in Russell County, about 10 miles southwest of Columbus, Ga., and just across the Chattahoochee River, which forms the boundary between the two States.
At least three combats with fatal results are said to have been fought there. Of two of them there are somewhat full accounts extant, namely, the Crawford-Burnside duel in 1828, and the Camp-Woolfolk duel in 1832.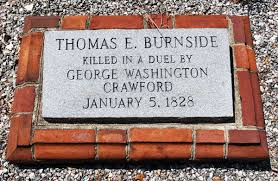 The participants in both were Georgians. In fact, most or all of the duels which occurred at Fort Mitchell, so far as is now known, were fought by men from other States. It was customary for gentlemen to conduct their "affairs of honor" outside of their home States, partly to gain greater security from interruption, and partly, no doubt, to avoid the law of their own States, particularly in the event of fatal results.
Fort Mitchell afforded a convenient and appropriate scene for such encounters among Georgians, being within easy traveling distance from Columbus, and on a United States Government reservation, which, in a sense, with respect to the civil officers both of Georgia and of Alabama, was neutral ground.
The fort had been built by the Georgia Militia in 1811, on the old Indian trail from Augusta, Ga., to St. Stephens, Ala., and had been the site of a United States Creek Indian agency for many years. During the period when it was most popular as a dueling ground, it was the headquarters of Col. John Crowell, the Indian Agent, who was noted for his lavish hospitality and chivalric manners.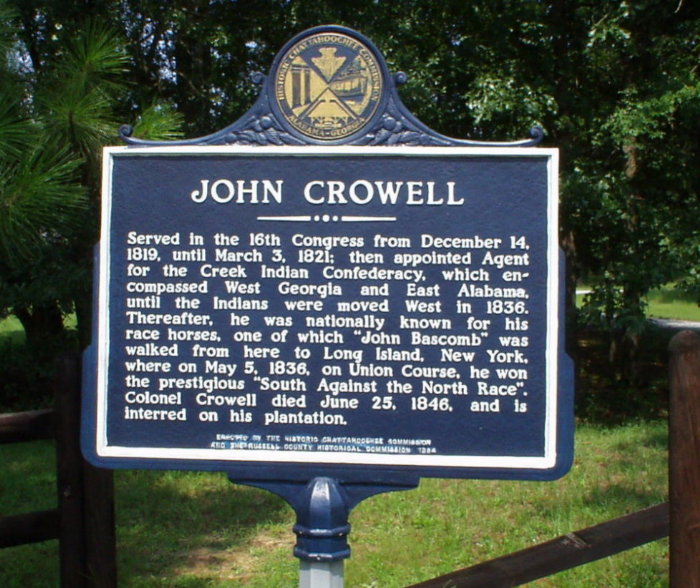 This may have had something to do with the popularity of the place among gentlemen of similar tastes, who may have spent the night preceding a meeting at sunrise as the colonel's welcome guests.
Crowell – Whitaker Cabin ca 1840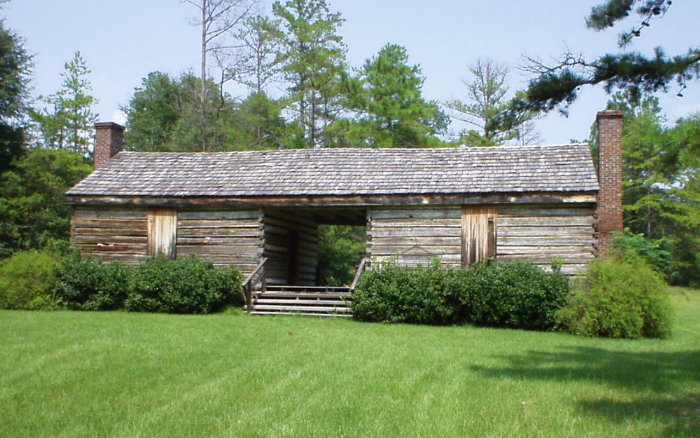 In any event, one of the vanquished combatants was laid away in the family burying ground about a hundred yards from the long avenue of magnolia trees, leading from the trading post to the Crowell residence. And the grave of still another duelist is in the old military cemetery at Fort Mitchell. These graves are still to be seen by the curious traveler.
SOURCES
History of Alabama and dictionary of Alabama biography, Volume 1 By Thomas McAdory Owen, Marie Bankhead Owen
Family Surname Books – use the Search box to find your ancestor
New Historical Series on Colonial America
ALABAMA FOOTPRINTS: Settlement: Lost & Forgotten Stories  is a collection of lost and forgotten stories of the first surveyors, traders, and early settlements of what would become the future state of Alabama