A Toilet by Any Other Names
by
Inez McCollum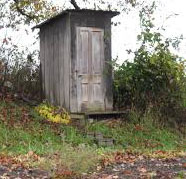 The toilet has been the butt of many jokes and has quite a variety of names. Some names are: outhouse, loo, privy, latrine, commode, pit stop, the john, the throne, restroom, bathroom, as well as toilet. Then later came the porta-potty, porta john, rent-a-john, or portalette You probably know of more to add to the lists.
When I was a child, we had a toilet, or outhouse, at the back of our house. My earliest memory is of a neighborhood boy peeking in the "facility" while I was inside. I must have been around four years ago. That stirred up some neighborhood excitement! Another time, we awoke to find that our pit toilet had tilted during the night.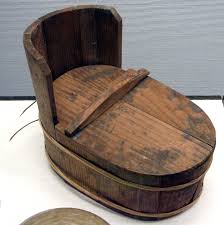 Then there were the containers for night use; chamber or potty to name two. During my days of working at V.J. Elmore 5 & 10 Store, the inventory sheet listed those as combinettes.
When we finally moved to a house with a flush toilet, it was located on the back porch. I guess it must have been an addition to the house.  It was so cold in that little room during the winter that ones visit was very brief. We later moved to a house with a real bathroom, located inside the house. That was a memorable day.
When my sons reached the age to play little league ball, we were introduced to the portalette. Being portable, those really suffered from mischief makers. Early one morning when I drove my sons to the local high school, there was one on top of the school building. It was Senior prank day and that was the joke for the year. A few years ago I was having my bathrooms updated. The contract firm had a portalette delivered to my home for their employees' use. I was out of town and arrived home to find it at the front of my house on the driveway. It didn't take long for me to get in touch with the job superintendent and have that corrected.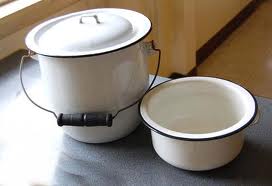 There was an article in the Birmingham News recently about portable potties. Near famously crooked Lombard Street in San Francisco, they were the victim of pyromaniacs. Someone had been torching the portable potties at a construction site. At least twenty went up in flames.
My most unusual experience was at a public restroom in Cuba. A lady sat outside the restrooms selling sheets of toilet tissue. Then there are the Turkish toilets. I won't even go there! Both of these really make us appreciate the pit stop in America.
Family Surname Books – use the Search box to see if we have a book on your ancestor
 Inspired by historical events and people, Discordance is a story filled with drama, suspense, humor, romance that takes the reader back to colonial days, When tragedy strikes and threatens their family. Will they prevail amid all the dangers?