Isaac Abercrombie was a pioneer of Perry County, Alabama (born 1748 Scotland – died 1825 Alabama) This book is a compilation of six generations of his descendants. It includes, sources such as wills, deeds, Bible records, etc. Many descendants moved west to Louisiana, Missisippi, Texas, and Arkansas.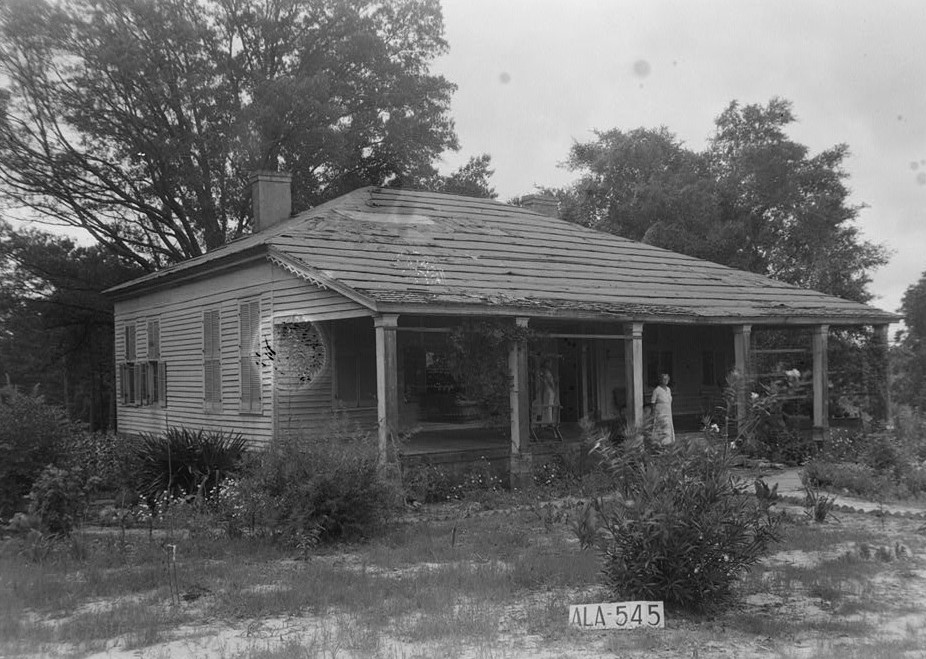 The Birds' Nest, U.S. Route 43, Vilula, Perry County, AL (Library of Congress)
In my personal genealogy research, I often spent days in courthouses, libraries and cemeteries, as well as considerable expense copying, records only to discover that I was following in another researcher's footsteps. I could have saved myself time, effort and a lot of money if I'd only known of this research earlier.
Don't waste time and money completing genealogy research others have done!
Download and read ISAAC ABERCROMBIE, ALABAMA PIONEER, Six Generations of Descendants on your computer or smartphone for

FREE

with FREE APPS! Use the Search/Find feature on your computer, or other electronic devise to will assist you in finding names or places in this E-book. Click below to see how.
Some of the Descendant surnames include: ALEXANDER, ALLEN, APPERSON, ARNOLD, BAIN, BARNES, BEATY, BEECH, BELL, BILLINGSLEY, BILLINGSLIE, BOLLING, BOONE, BOUNDS, BUCK, BURROUGHS, CHANCELLOR, COLEMAN, COOK, COTTINGHAM, CROTWELL, CUMMINGS, DERDEN, EASTMAN, EPPING, FAIR, FULLER, GOODWIN, GULLEY, HAMMOND, HAYES, HOGUE, HOLLIFIELD, HOLSUMBACK, HOPPER, HOWELL, HUDSON, HURT, KILLINGSWORTH, KIRK, LONG, LOWERY, MATTHEWS, MCGOWEN, MCHUGH, MCKINNEY, MCLEOD, MEBANE, MEDDERS, MITCHELL, MOORE, MORRISON, NALLEY, NALLY, NIX, OSBURN, OTT, PARRISH, PERRY, PILGREN, POLLY, POPE, POTTS, POWERS, PRATT, PUCKETT, RAGSDALE, RAMSEY, RAWLS, REDMAN, REYNOLDS, RICE, SANFORD, SEYMOUR, SHERMAN, SIDERATOS, SMITHERMAN, SNEAD, STEPHENSON, STEVENS, STEWART, TAYLOR, TEPPER, THOMPSON, THROWER, WALKER, WALLACE, WALLS, WEATHERFORD, WEAVER, WITHERS, WOOLEY, YARCHIN, YORK, YOUNG
READ THIS BOOK FOR FREE ON YOUR COMPUTER!
THEN SIGN-UP FOR THE 30-DAY FREE TRIAL BELOW: