FIFTY-FIVE ELK FROM YELLOWSTONE NATIONAL
PARK BROUGHT TO ALABAMA BY THE
DEPARTMENT OF GAME AND FISH
Here is what happened to them afterward
In Alabama's early years, elk roamed the forests as much as deer. Due to over-hunting and disease, they disappeared. Around, 1910, the State Game and Fish Commissioner of Alabama made an attempt to restore elk in the forests of Alabama. This is the transcribed story about their effort from the Biennial Report, Department of Game and Fish of the State of Alabama Alabama. Dept. of Game and Fish The Department.
(Most of the following was transcribed from articles written in early 1900's)
Alabama Legislature must enact a law for protection of the elk
The State Game and Fish Commissioner of Alabama was informed by the Bureau of Game Preservation, Department of Agriculture, at Washington, that if the Alabama Legislature would enact a law providing for the adequate protection of elk, the Department of the Interior would accord this State an allotment of these animals from the National Preserve in Yellowstone Park, Wyoming.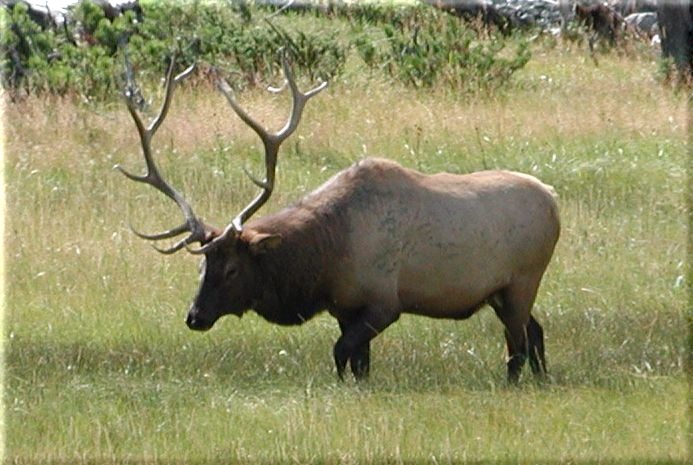 Bearing this constantly in mind, the Commissioner prepared a bill looking to the protection of elk, which was passed by the Legislature, in 1915, which act provides "That anyone be and is hereby authorized and empowered to bring into, or permit to be brought into the State, elk and to place said animals upon suitable propagating grounds, or game preserve, that is best suited to the habits of such animals, and that no person shall pursue, hound, take, wound, capture, kill or destroy any elk during a period of ten years after the approval of this act." A violation of the law is punishable by a fine to be paid in cash of not less than $25.00 nor more than $100 for each offense.
Secretary of the Interior contacted
After the passage of the act, the Commissioner took up the matter of securing elk with the Secretary of the Interior at Washington, and on October 30, 1915, that official accorded an allotment of these animals to this State in the following language:
"Authority is hereby granted to the State of Alabama, Department of Game and Fish, to take from Yellowstone National Park, fifty elk on-condition that all expenses of capture and transportation shall be paid and shall otherwise conform with the regulations of the department in the matter."
Wild Elk at Yellowstone National Park -(Detroit Publishing ca. 1910- Library of Congress)
Elks captured at Jackson's Hole, Wyoming
During the winter months when the snow is deep in the Rocky Mountains, elk come down into Jackson's Hole, Wyoming, for protection where, for the time being, they are fed by agents of the Government to keep them from starving. There are experts in capturing, crating and shipping elk, in close proximity to the office of the superintendent of the Yellowstone National Park, and these experts charge $5 a head for capturing the elk and in transporting them about forty miles in sleighs to Gardiner, Montana, where they are loaded on cars. The Government also required that an attendant accompany all elk shipped by freight in carload lots.
Elk at Jackson's Hole in Yellowstone National Park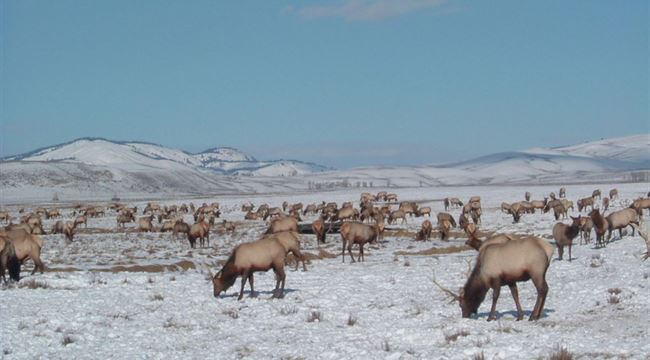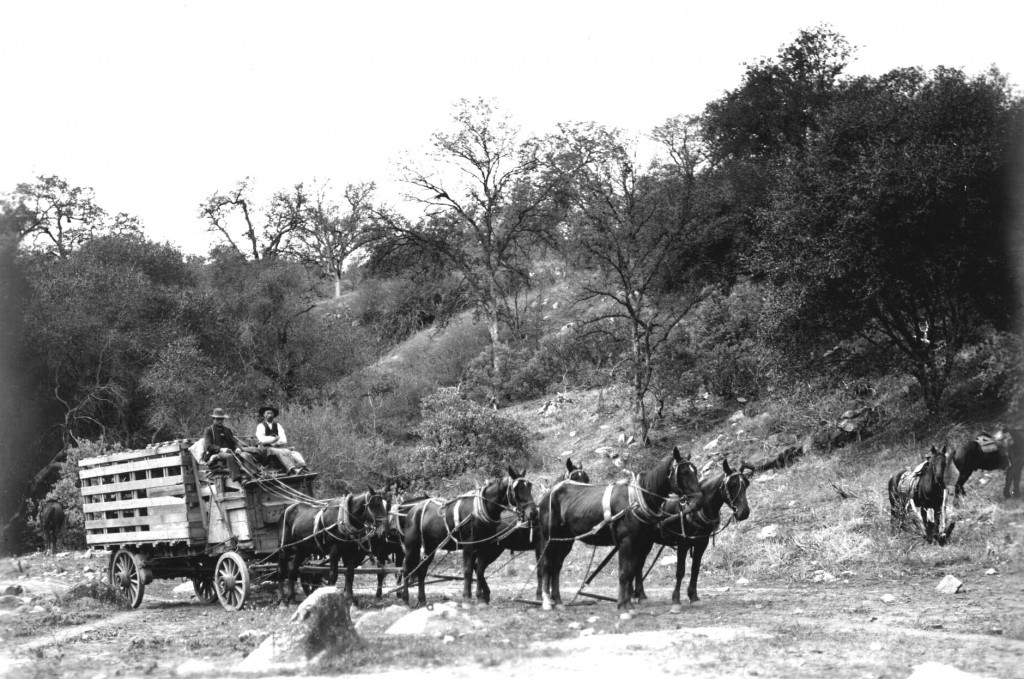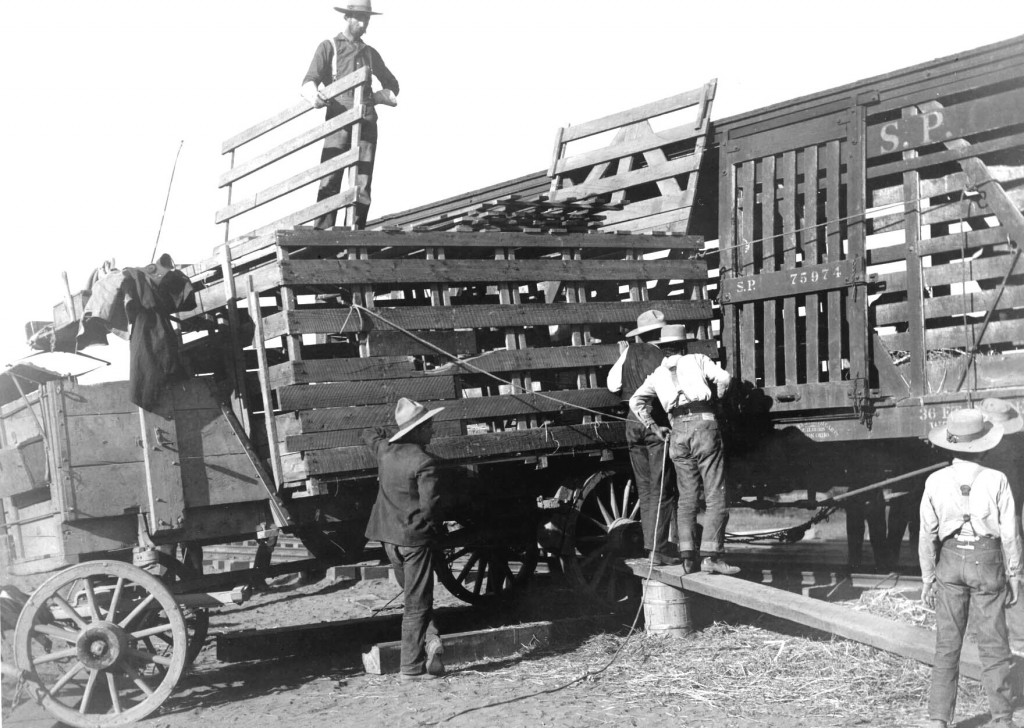 Free Transportation was provided
Since the act protecting the elk provided that the State could not pay any of the expense incident to bringing these animals into Alabama, it became necessary, if the Commissioner expected to succeed in his purpose of stocking this State with elk. to arrange free transportation for them.
"He therefore went to Washington and took the matter up with the vice-president of one of the great railroads that operates and controls many lines running through Alabama, and through his advice and assistance the Commissioner was enabled to secure free transportation for the elk from Gardiner, Montana, the shipping point, to their various destinations in Alabama."
Elk were originally found as far south as Chilton County, Alabama
The Commissioner is convinced that the best efforts directed toward the propaagtion of game is in restoring those species that originally abounded in any particular zone, and not by endeavoring to propagate birds and animals which nature in her wisdom has made indigenous to another climate. Elk were found originally in Alabama as far south as Chilton county, and the Commissioner was delighted at bringing them back to the State.
The Commissioner apportioned these elk to four thoroughly responsible gentlemen, not as their individual property, but to hold them as trustees for the people of Alabama. They were kept in temporary enclosures for a period, properly fed and watered, and in time released to wander.
In appealing to the pride of the State to protect these elk, to refrain from slaughtering them, to permit them to multiply, so that elk will be found generally in our forests, the Commissioner felt that his request would not be in vain.
Shipment took place February 12, 1916
The shipment of fifty-five elk was received on February 12th, 1916. The following gentlemen received them in nearly equal allotments:
Hon. A. E. Going, Gordo, Pickens county.
Hon. John L. Kaul, Tuscaloosa, Tuscaloosa county.
Hon. A. L. Kenyon, Anniston, Calhoun county.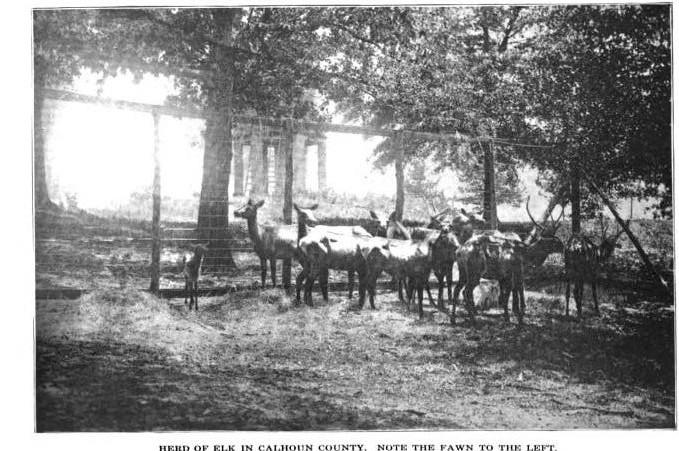 The American Elk is as tall as a horse
(excerpts transcribed from newspaper accounts) The American elk, or wapiti, is much larger than our native deer; it is as tall as a horse, gracefully formed; wears a beautiful mane, carries its head proudly, and is crowned with a beautiful pair of superb antlers. The elk has even a more regal presence than the moose.
The Benevolent and Protective Order of Elks is said to have taken its name from the many splendid qualities of the elk.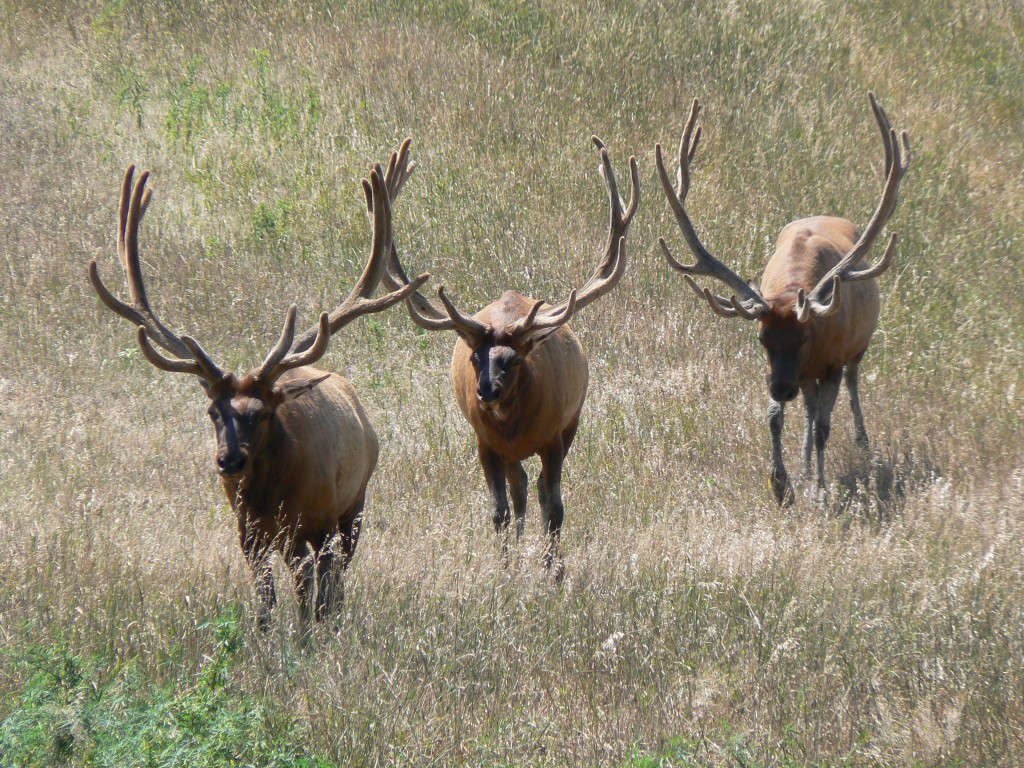 Elk habits are similar to our native deer
"Elk are both grazers and browsers, their habits being very much similar to those of our native deer. Will they increase in Alabama? you ask. Yes, and rapidly, too. About twelve years ago, Hon. E. F. Allison told the Commissioner that there were known to be only six or seven deer upon his preserve; he has preserved them well. Under the law a person is forbidden to hunt on his lands without his written permission, thus his preserve is automatically posted. Mr. Allison recently informed the Commissioner that he estimated that there were now on his holdings in Sumter county approximately four hundred deer.
If the fifty-five elk brought to Alabama increase in proportion to the six deer found twelve years ago on Mr. Allison's lands, in ten years they will multiply into numbers that will stagger the imagination.
People who arranged the shipment of elk are acknowledged
The Commissioner desires to acknowledge his obligation in the matter of perfecting the chain of arrangements through which the elk could be brought into this State to the following gentlemen, all of whom have rendered him material assistance: Hon. J. M. Gulp, vice-president of the Southern Railroad; Hon. Hale Holden, president of the Northern Pacific; Hon. J. M. Hannaford, president of the Chicago, Burlington and Quincy; Hon. R. V. Taylor, general manager of the Mobile and Ohio; Senator John H. Bankhead; Hon. Franklin K. Lane, Secretary of the Interior; Col. L. M. Brett, superintendent of the Yellowstone National Park; Hon. B. M. Allen, past grand exalted ruler of the Elks, who kindly acted as treasurer; and to each of the gentlemen, Messrs. Allison, Kaul, Going and Kenyon, all of whom have co-operated with him in an enthusiastic and whole-hearted manner. There were many details to be effected, the absence of any of which would have been failure, and each of the gentlemen referred to has nobly done his part.
The following reports have been received from the gentlemen to whom the elk were allotted:
Statement by A. E. Going, of Gordo, Pickens County
Opinion that little or no trouble will be experienced
"I received twelve elk on the 12th day of February 1916. in fairly good shape. I put them in a park of about ten acres and fed them on chopped corn, peas, and oats, with alfalfa and Johnson grass hay, up to the 15th of May: since that time they have lived on grass.
"The bucks shed their antlers about the latter part of March; new ones are growing out and are in what we call 'the velvet stage,' and are about twenty-four inches in length.
"There has been no increase in these animals. I lost two that were taken with acclimation fever about the latter part of March. I think the does were last year's fawns and were too young to breed.
"The hot weather was very trying on them, although they had good shade and the advantage of a small fish pond in which they would wade about and stand for hours with the water up to their bodies.
"I am of the opinion that little or no trouble will be experienced with them in the future."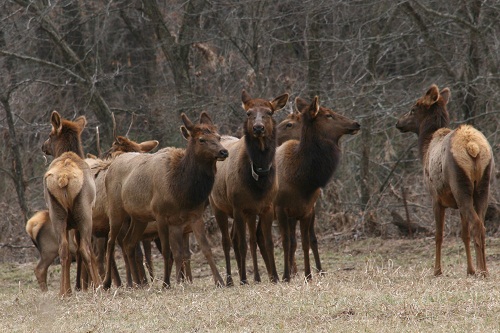 Statement by John L. Kaul, of Tuscaloosa County
They are not very wild and one can ride up within a hundred and fifty yards of them with a horse
"We originally received seventeen elk, consisting of five bucks and twelve does. The first night the herd made a rush on the fence and ten of them broke out. This herd has been loose in our woods ever since. Three of the elk have died; two of them were in the lot that got out. I believe they died from eating mountain laurel or poison ivy. One buck died in the pen. Two of them have been killed by citizens in our territory, both parties having been fined for the offense. When we went to remove the remaining ones to our pasture, we had an overstock of bucks and turned two of them into the open forest, leaving two bucks and two does to go to the pasture containing 2,880 acres, where they still are.
"The elk on the outside are seen frequently and apparently are in fine condition. Those in the pasture are seldom seen, but are seen often enough to know that they are still there. So far as we know there are five young ones which arrived this season. These young ones are fully developed and are apparently in first class shape. They seem to be great rangers and have covered our entire territory of 100,000 acres, returning from one part of the territory to another.
"They have grown out full sets of antlers which the citizens describe as looking like a chair turned upside down.
"I was advised last week that three of them were sleeping in an old house on our property. One of the farmers promised to close them up in there, and if successful, I will load them up and put them in our pasture, where they will be protected.
"They are not very wild and one can ride up within a hundred and fifty yards of them with a horse before they will leisurely trot off. There seems to be no question but that they will do well in this territory."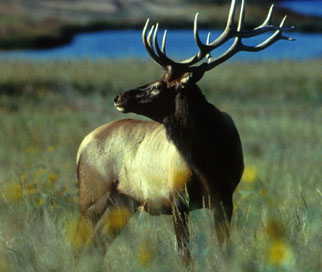 Statement by A. L. Kenyon, of Anniston, Calhoun County
We are very sorry they have not increased more than they have
"The twelve elk that you were so kind as to send us arrived safely, were transported in specially constructed wagons to our park, where we had a ten-foot enclosure of several acres for them. We fed them some small grain to start with, together with hay, and had running water within their reach, and they are doing very well this season.
"The elk shed their hair along in the middle of the summer and are now looking fine. We have five bucks and seven does. One of the does has a young one, born this season. The bucks have new antlers and are of great interest to the public. We are very sorry they have not increased more than they have, but I presume it was due to the change and that they will do better next year.
"We have removed a part of the herd to our preserve at Lock 12, in Chilton and Coosa counties, in the southern part of the state. I enclose herewith a photograph of the elk and wish to thank the Commissioner very much for the good work you are doing toward the propagation of this game animal. I think it is only a question of a few years when it will have its effect all over the State and will be a great benefit."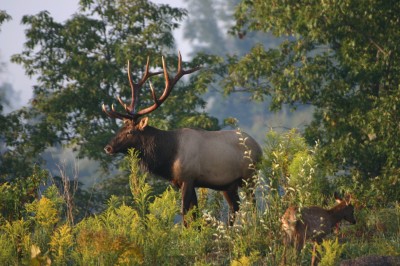 Statement by A. L. Kenyon, of Bellamy, Sumter County
It has been a month or more since I have seen them myself, but I hear through others that they are still in fine shape
"I kept the elk in a small pen until about the first of May. We then turned them into an enclosure of one hundred and sixty acres; since turning them into this large enclosure they have found plenty to eat and apparently have done well. They are wild but can be seen very easily by going to the pen between daylight and sun-up or between sun-down and dark, as they come out into the open to graze during these periods.
"The bucks have now a pretty handsome head of antlers. Three of the does brought young. The young ones have done well. It has been a month or more since I have seen them myself, but I hear through others that they are still in fine shape. I watched them pretty closely during the hot summer weather for the reason that I was more fearful the heat would injure them than any other condition; however, they stood the hot weather without material inconvenience and, up to the time I saw them last, had continued to fatten.
"It is my intention to keep them in the same enclosure for perhaps another year; in doing this I suppose it will be necessary to supply them with some feed this next winter."
The elk brought to Alabama were only one and a half years old, and it is indeed remarkable that they have propagated so rapidly. It is a marvel that, having been removed from a very high altitude and a much colder climate and released in a territory where the vegetation is totally unfamiliar to them, a much larger loss was not sustained than has been reported.
When the elk shall again roam our forests we must conserve them, so that future generations may enjoy the thrills in pursuing these noble animals, experienced by our primeval Nimrods.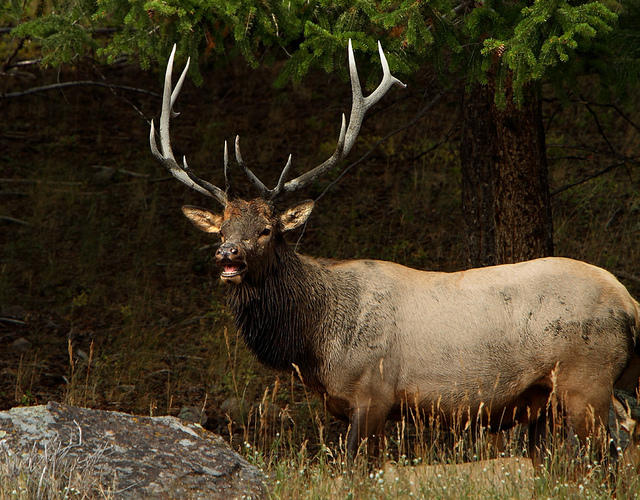 The program was not successful and few if any elk roam freely in Alabama forests. Auburn University recently issued a statement saying that "a program to reintroduce elk into Alabama on private, federal and state-owned lands is recommended  once potential problems with chronic wasting disease CWD is resolved."
There is an Elk farm located in Blount County, Alabama with mixed Rocky Mountain and Roosevelt Genetics where elks can be bought.
SOURCE
Biennial Report, Department of Game and Fish of the State of Alabama Alabama. Dept. of Game and Fish The Department (Alabama State Archi
FreeHearts: 2nd edition A Novel of Colonial America
 Col. John Washington (ancestor of President George Washington), Randall Revell, Tom Cottingham, Edmund Beauchamp ward off Indian attacks and conquer the wilds of Maryland's Eastern shore in 17th century colonial America in this historical novel, inspired by true events.