Finding a beaux Early Days of Alabama was sometimes difficult
(Lawrence County, Alabama)
by
Col. Edmond Saunders
written ca. 1890s
So you see, when the country was first settled that we had the charm of novelty in everything; new land, a new literature and new girls. Hence the attacks of love (like the fevers) were inflammatory.
Did not see each other until grown
They are apt to be so, when the parties have never seen each other until grown up. It is unfavorable to the grand passion, for boys and girls to grow up together. especially in the same school. Attachments thus contracted may be very sincere, and if the parties marry, they may pull very steadily under the marriage yoke, but the feeling entertained for each other will be a sort of a Pelagian love, the beginning of which it would be impossible to specify.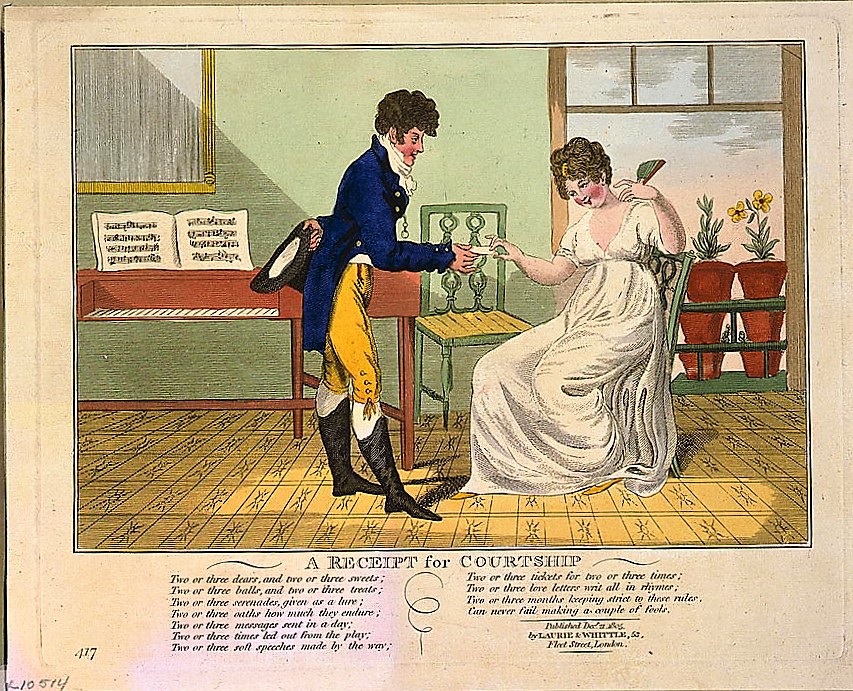 A Receipt for Courtship 1805 London: published by Laurie & Whittle, 1805.(Library of Congress)
But in old times, when a young man saw, for the first time, the girl just budding into angelhood, the shock was absolutely electric. No past recollection of her as a school girl, with imperfect features, chewing slate pencils and gum, with disheveled hair and disordered dress, eclipsed the bright image imprinted 'on his imagination.
Girls were often left behind to be educated
In those days a large number of enterprising young men came to the country, while many of the girls were left behind to be educated, hence the former greatly preponderated in numbers. It was no uncommon thing for a young lady to marshal in her train a half dozen gallants at the same time.
Girls! you would have been sorry for your grandmothers could you have witnessed the heavy work in this line which they had to perform; so many beaux to be entertained at once, and their favors to be distributed so impartially, that no offense should be given to anyone.
This was a great wear on the vital energies, and you would have been truly sorry for them! The burden was too heavy, and they generally, from sixteen years of age, had to succumb, and to select someone of their persecutors as partner, and take their revenge by persecuting him the rest of his life!