The circus cured him from fighting
(Lawrence County, Alabama)
written ca. 1890s
by
Col. Edmond Saunders
George McMahon occupied a large old house (Hotel) on the northwest corner of the square. (In Moulton, Lawrence County, Alabama).It was from this quarter that all disorder seemed to proceed. From here the "Bulls of Bashan" started to storm the courthouse, when John Gregg knocked the leader' down. When old McMahon was brought to account for these disorders, he would declare, with the most innocent face, that " he couldn't imagine what made the boys act so, and that it was ' diametrically agin ' his will." Many people believed the old man was sincere, and that the uproar was owing to the meanness of his whiskey.
Martin McMahon was "spiling" for a figh"t
After all, there may have been another cause. He had a nephew, named Martin McMahon, who was fond of a rowdy crowd, and had more reputation as a bully than any man then around Moulton. It is true he was of medium stature only, but he was built both for activity and strength, and " wore the belt." He had been some time without a fight, and seemed to be "spiling" for one, and I will tell you how he was cured.
A Circus came to town
There came a circus to Moulton. Not a paltry imitation, but a real live circus, with fine horses well trained, splendid actors, and all the requisite furniture. I am a pretty good judge of a circus, for during my life I have frequently attended them; not that I cared anything for them myself, you know, but simply to give the young ones a chance to see them.
Well, such an excitement as this circus stirred up was never witnessed before. It was kept up from day to day, for the convenience of the country people, and from night to night, for the pleasure of the city people.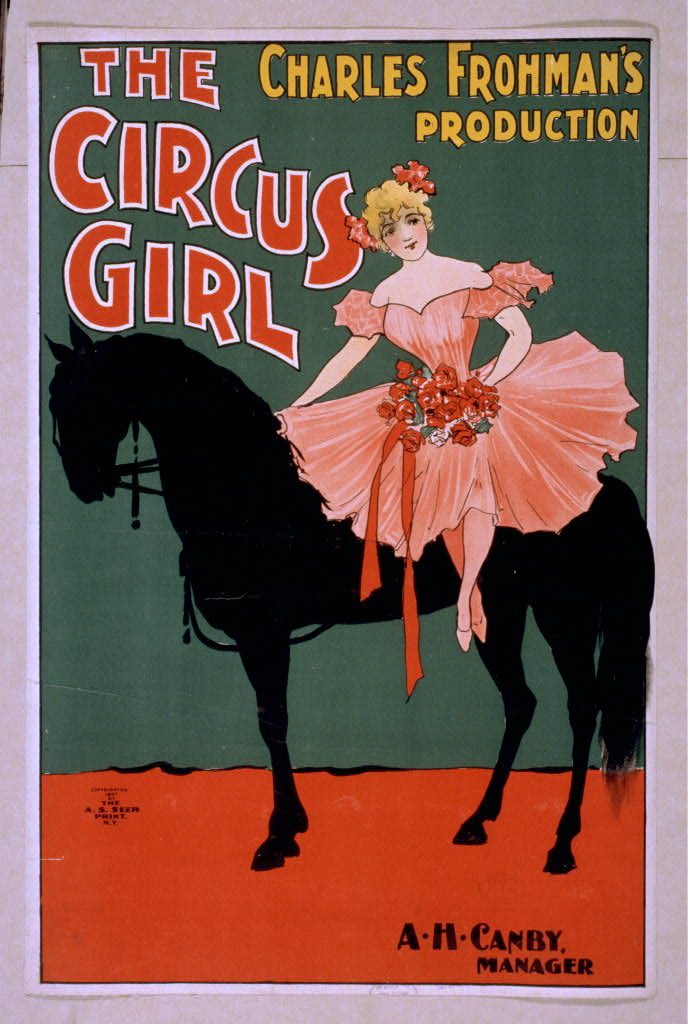 The Circus Girl, Charles Frohman's production, 1897 (Library of Congress)
It was not a success
At length Mr. Wise, the manager, who was a man of experience in his business, saw signs of falling off and was preparing to wind up, when Martin McMahon proposed to rent his circus for so many days, paying all expenses, and so many dollars per day.
The enterprise failed to meet the expectations of Martin, and it became evident that he had no idea of paying the money but intended to pay off the debt by giving Wise a whipping. The play actor seemed very reluctant to close the account in that way; but Martin forced it upon him, and a ring was formed.
The ring grew smaller and smaller
Martin put in a blow, but somehow it glanced off on Wise's left arm, and Wise answered by one which knocked Martin down. The same thing occurred twelve or fifteen times, except that his friends closed around and made the ring smaller so that Martin might not fall on the pavement but against his friends. At last his proud heart gave way, and "he spoke to the bystanders." When Wise was examined it was found he had not been hit a single blow.
Never engaged in a fight again
I never heard of Martin being engaged in another fight. Wise seemed to have "taken all the starch out of him." The McMahon family moved to the rich lands of Texas and did very well. Many of them are said to have joined the Methodists, and if Martin was among them it may be that he owed his salvation to the play-actor.
To the young men who may read this article I have this advice to give: Never fight an athlete, play cards with a professional gambler, or get into a newspaper controversy with its editor—in short. never play with a man at his own game. If he offers to bet that he can swallow his own head don't you take him up!