Excerpt about early days of Auburn, Alabama transcribed from The Alabama Historical Quarterly, Vol. 07, No. 03, Fall Issue
EARLY HISTORY OF AUBURN
(Through the courtesy of Miss Mary E. Martin, long while librarian of Alabama Polytechnic Institute, this history of early Auburn has been copied by her from an out-of-print pamphlet. Mrs. Frazer has been dead for some years, but we are indebted to her for both the "Early History of Auburn," herewith published, and also "History of the Auburn Baptist Church," which will appear in a later issue. Editor.)
In the autumn of 1836, a small colony of people left Harris County, Georgia, in quest of new and better surroundings. Prominent among these people was one John J. Harper and his son, a young man fresh from college. I am told that the father and son rode horseback from Harris County, as that was the most convenient mode of travel at that time. The distance was too great to make in a day so they spent the night in the home of a Mr. Taylor of Jones County, Georgia. Miss Taylor, a daughter of their host, was just home from college, the Wesleyan. She was a most beautiful girl of fifteen. Our young man, Tom Harper, was very much infatuated with her beautiful face and charming manner, consequently, a mutual friendship sprang up between them, of which I will tell you later.
After a short stay in the home of Mr. Taylor, Judge Harper and his son bade the Taylor family good-bye and proceeded on their way to this part of Alabama, which was claimed by the Creek Indians. Judge Harper was so pleased with this section that he made a treaty with these Indians, and in a friendly way traded with them. I am told that Judge Harper was a very clever man, just in all his dealings, for the Creeks immediately gave him possession and moved toward Loachapoka, Notasulga and Tuskegee; We will say, according to these facts, Judge Harper was regarded as financier and founder of our little village.
After the sales were made and moneys paid, Judge Harper secured the services of Mr. Sim Perry1, a young civil engineer. Mr. Perry afterwards moved here, where he lived to a ripe old age.
John Harper was a man of means and generosity. He gave to the town the Methodist and Baptist Church lots. The lot where the Kappa Sigma house now stands was given for the purpose of building a female college.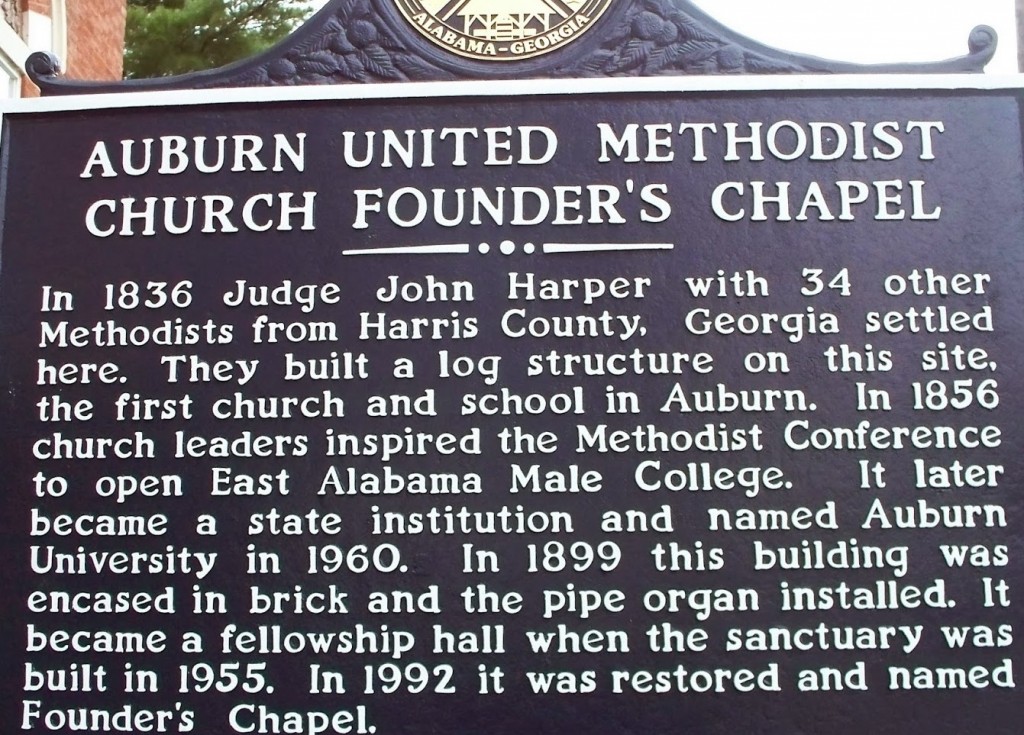 Our cemetery was also a gift of this good man. It was for a long time called "Pine Hill Cemetery." A singular fact, the first person buried there was a negro owned by Judge Harper. The next was a Mr. William Harper. This was in 1838.
How Auburn was named
I had to digress a little, but will now go back and tell how the name of our fair city was chosen. After some months of hard work and much thought, the town was surveyed, as I before mentioned, by Mr. Simeon Perry.
Cauthen House, home of Mr. Simeon Perry, W. N. Manning, Photographer, March 30, 1934. EXTERIOR (FRONT). – Cauthen House, East Drake Avenue, Auburn, Lee County, AL (Library of Congress)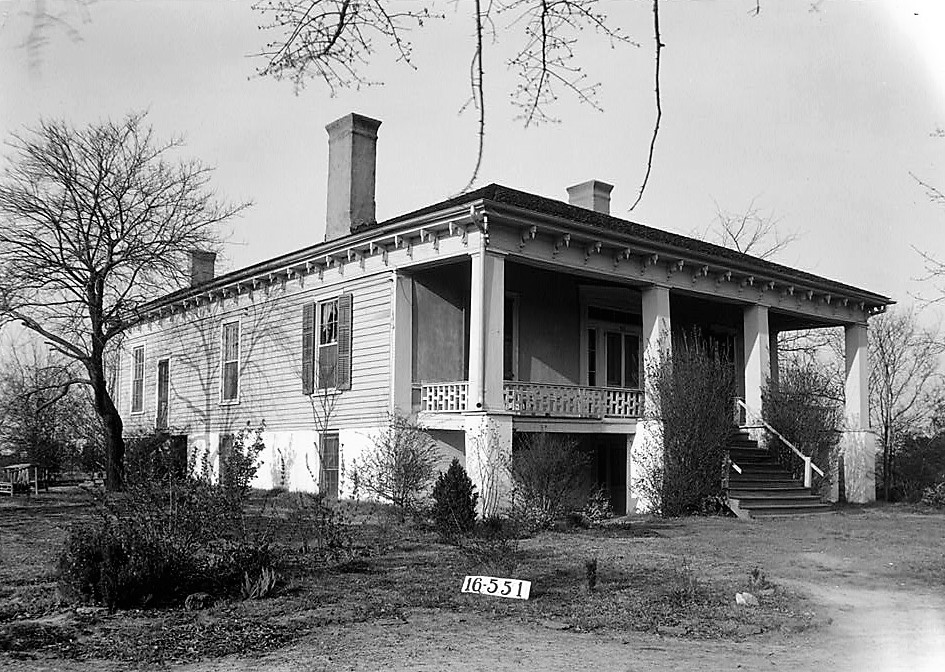 People hearing of the new and wonderful city that was to be, and that it was proposed to be an educational center, also, came in from several states, North and South Carolina, Georgia, and others. A Mrs. Freeman moved in and to her surprise, the town had no name. She proposed the name of Geneva. Our young Tom Harper and several others did not accept the name but waited a while. So, when the town was well under construction, Judge Harper and young Tom returned to their former home to bring their family and caravan of negroes. They again stopped at the Taylor home, and young Tom in the meantime had not forgotten this beautiful Miss Taylor. He said to her, "We have settled in East Alabama, and are returning to move our family and negroes. Our new town has no name; will you propose one?" She enthusiastically exclaimed, "Name it Auburn, Sweet Auburn, loveliest village of the plain." She was reading Goldsmith's "Deserted Village." Straws were drawn for the two names which had been proposed, Geneva and Auburn, and Auburn was chosen,—hence our little city was named by Miss Lizzie Taylor.
The friendship of this young couple soon ripened into a warm affection, and in 1837 the two lives were made one. Tom brought his young bride here, and they lived in the first frame house erected in this city. It was where the Thomas Hotel now stands and was known as the tavern. This couple had two sons born unto them; Swep and Jack. Tom Harper in a few years died with the fatal disease, consumption. Mrs. Harper afterwards married Judge Flanagan, a teacher. She then lived where the Gilberts now live. This woman retained her beauty to the end of her life.
Masonic Female College
Building of all kinds were soon erected. Store houses, dwelling houses and a factory, etc., were scatteringly put up with room for gardens and patches.
The female college, known as the Masonic Female College, stood where the Kappa Sigma House now stands, a large two-story frame building where many young women were graduated. Among the number, I will mention Miss Mollie Reese, my cousin, and Miss Mianda Jordan, afterwards Mrs. Swanson, the grandmother of our Mrs. Gilbert. These two ladies graduated many years before the war.
I am told that a Professor Douglas was the first president of the college, and Professor Darby was chemist. There was a chapel here where the Kappa Sigma have their tennis court, and in the basement of this building Professor Darby had his laboratory. Professor Darby wrote his own chemistry and botany, and his wife who was a fine artist illustrated his botany. This chapel mentioned, like the old building, went to pieces, and so was moved over on another lot, was brick veneered, and today we have the same building as Langdon Hall.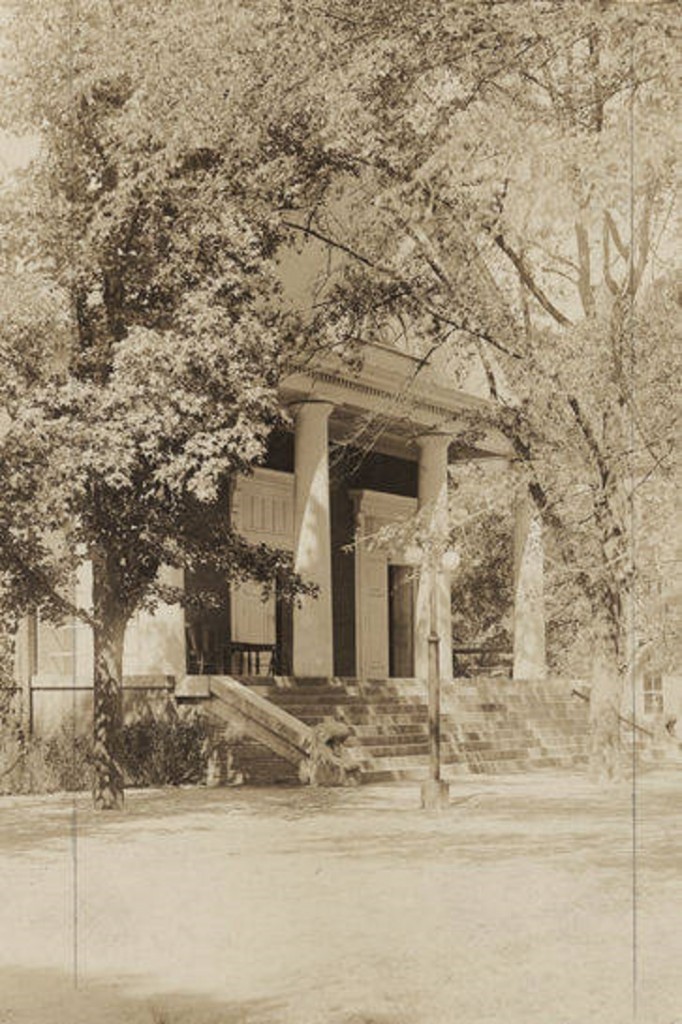 From what I have learned, quite a number of Masons lived here, and in 1848 built a Masonic Hall. This hall was on the lot where Jolly's store now is. Among the number of prominent Masons were: Major White, uncle of Dr. Drake and Mr. Mitchell Drake, Mr. Ben Johnson, who was for forty years depot agent at this place, Mr. Wallace Drake, who later became Royal Arch Mason, Dr. John Hodges Drake, father of our Dr. Drake, Mr. Sim Perry, Hon. William Samford, Mr. F. M. Reese, and Mr. Thomas Slaton, who was Royal Arch Mason.
Mr. Slaton was a first cousin of our late Major William Slaton of Atlanta, Ga. Major Slaton lived in Auburn for a number of years and was at one time principal of the Boys' Academy. This building was on the same lot where our Grammar School now is. Major Slaton moved to Atlanta, where he was Superintendent of all public schools and was active in this work up to the time of his death, which occurred a few years ago.
First cousin of Robert E. Lee married Thomas Slaton
Just here I will tell you a bit of interesting history, at least it has always been so to me. Among the early settlers of Auburn was a family of Lees who moved here from Georgia, but were originally from Virginia. This family owned the property from where the canteen now is to beyond the Veterinary Department. Their home was on the lot where the Veterinary Hospital is. Mr. Thomas Slaton married one of the Lee sister, Miss Sarah Jane Lee, who was a first cousin of our Robert E. Lee. Mr. and Mrs. Slaton were the parents of my friend Mrs. Eva Smythe and grandparents of our Miss Birdie Smythe.
Mr. Crawford built a very pretty cottage on the lot where the main college building now stands. He was a very enterprising and industrious man; he owned a factory where he manufactured carriages, buggies, wagons, etc. His factory was where the Meadows-Lamar Garage now is. Quite a number of skilled workmen (sixty in number) were employed by Mr. Crawford, but for some reasons, he was not very popular among all of them, and one night, to the horror and dismay of the little town, this building was set on fire and burned down. Mr. Crawford lost very heavily, became discouraged, sold out and moved away. Mr. Wallace Drake, father of Mr. Mitchell Drake, bought Mr. Crawford's house for the purpose of using the material to increase the size of his own residence. He wanted the house moved, and a Mr. George Foster said that he could move it without tearing it down, and proceeded to put wheels under it, and had mules from several plantations hitched to it. At the first move, the house fell to pieces, and "great was the fall thereof"' Mr. Drake had the timbers hauled to his place and used them in adding rooms to his house. It was the most beautiful place in Auburn; the yard was one bower of beauty and taste; the fragrance of many flowers perfumed the air. This house still stands, long known to us as the Boykin home, but now owned by Prof. Albert Thomas. The Mr. Foster who moved the house lived in a small cottage located where the Chemical Laboratory stands today.
Mr. Wallace Drake was a very esthetic man; a poet, artist, and musician. He designed his wife's tomb, a most beautiful shaft, which you will see in Pine Hill Cemetery. He also wrote the verses engraved upon the monument, of which the following is a specimen.
"We met, 'twas in life's genial spring,
Our hearts, our hopes, our joys were one;
Twelve years have passed on time's swift wing,
And lo! thy work of love is done.
We part beside the cold, dark grave,
But trust in Him who came to save;
Soon I shall leave the walks of men,
Good-night, my love, we'll meet again."
1 Simeon Perry, a Civil Engineer was engaged to lay out the town and he was so "pleased with the location that he decided to build and bring his family to Auburn. His home was later the residence of the Cauthens.
(continued)
https://www.alabamapioneers.com/ghost-marion-county/