Firsts in Greensboro, Hale County, Alabama1
Ribbon Cane
The first genuine ribbon (or sugar) cane ever successfully planted in Hale county was cultivated seven miles Northeast of Greensboro by Rev. A. R. Ramey. In 1873 he brought fifty stalks from Citronelle, Ala., and planted it. The next year he had a quantity of stalks to sell to his neighbors, and from this small beginning the molasses crop of the farmers, especially of Northeast, West and North Hale, has grown to be quite a profitable one, —the Greensboro market being supplied to a large extent with the home-grown article.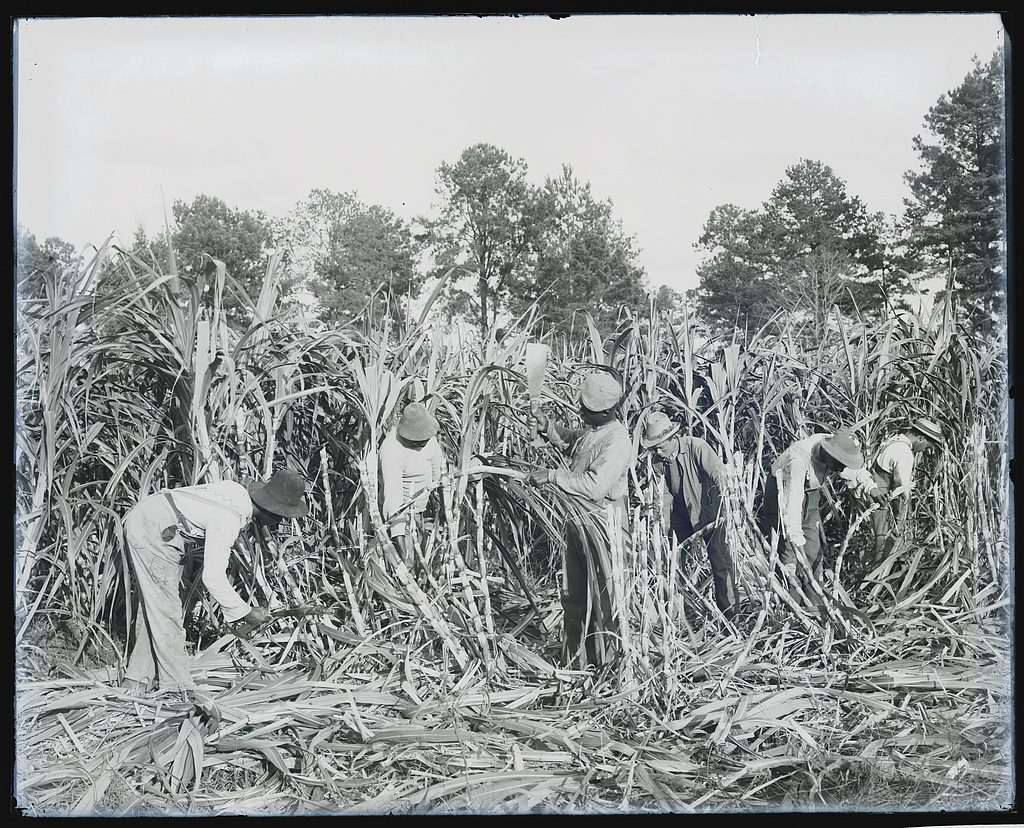 Photograph shows students from Tuskegee Institute harvesting sugarcane at the Marshall Farm, Tuskegee, Alabama 1902 (Frances Benjamin Johnston Library of Congress)
Cherted Street
For a long number of years, during the winter season, the Main street of Greensboro from the cemetery to the depot was almost as bad as the average country road. Teams were frequently stalled in the mud—particularly on the small hill just before getting to the depot, and also in front of the Lightfoot place. In the business portion of the town in rainy weather, the street would get in an almost impassable condition, and the odors eminating (sic) from the mud were very offensive.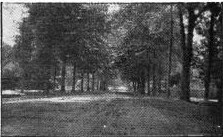 Main street, Greensboro, Alabama (HISTORY OF GREENSBORO, ALABAMA From Its Earliest Settlement by William Edward Wadsworth Yerby, Montgomery, Alabama)
In 1900, this was remedied by the Mayor and Council making a contract to have the street cherted from the depot to the cemetery. G. M. Burkhalter & Co., of Birmingham, were the contractors, and the work cost a little over $10,000. The town, in July 1900, issued $10,000 worth of bonds to pay for it. The indebtedness bears 6 per cent interest, payable semi-annually. Said bonds specify that on July 1st, 1921, one thousand dollars of the principal is to be paid, and one thousand dollars each Succeeding July until the entire debt is liquidated.
Cotton Oil Mill
The Greensboro Cotton Oil Mill was established near the depot in 1902 and was exempted from taxation for a period of ten years by the town authorities in order to induce the promoters to locate it here. It is owned by local capitalists and has prospered.
FreeHearts: 2nd edition A Novel of Colonial America
Col. John Washington (ancestor of President George Washington), Randall Revell, Tom Cottingham, Edmund Beauchamp ward off Indian attacks and conquer the wilds of Maryland's Eastern shore in 17th century colonial America in this historical novel, inspired by true events.
Did you like this post? We have thousands more lost and forgotten stories, biographies, old recipes, and other fun articles only available to our Patreon/Patron members.
Click to see how to Become a Patreon/Patron of www.alabamapioneers.com and receive messages when new material is posted on the website as well as, FREE books, participate in contests, and receive prizes.
All ONLY accessed by our Patrons!
Click and Learn how to Become a Patron today!