From an 1881 newspaper:
Father's Rules for Governing children:
Cultivate a love of giving fair play. Everyone, of course, likes to receive fair play, but no one ought to imagine, therefore, that he loves fair play.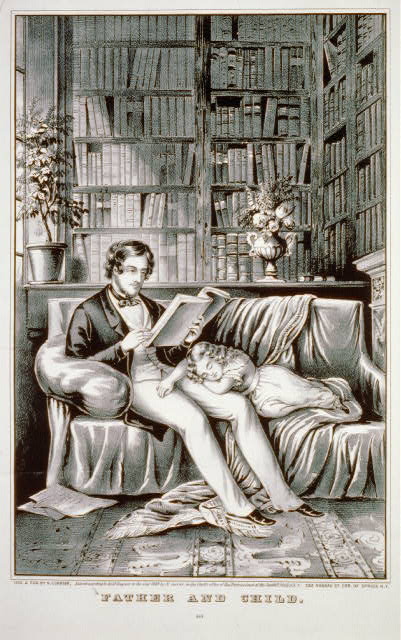 Father and child lithograph New York  Published by N. Currier, c1849. (Library of Congress)
Teach from the very first, from the infancy capable of sucking a sugar plum, to share with neighbors. Never refuse the offering a child brings you, except you have a good reason, and give it. And never pretend to partake, that involves hideous possibilities in its effects on the child. The necessity of giving a reason for refusing a kindness has no relation to the necessity of giving a reason with every command. There is no such necessity.
Allow a great deal of noise– as much as is fairly endurable; but the moment they seem getting beyond their own control stop the the noise at once; Also put a stop at once to all fretting and grumbling.
Favor the development of each in the direction of his own bent. Help him to develop himself, but do not push development. To do so is most dangerous.
Mind the moral nature; and it will take care of the intellectual. In other words, the best thing for the intellect is the cultivation of the conscience, not in casuistry but in conduct. It may take longer to arrive, but the end will be the highest possible health, vigor, and ration of progress.
Discourage emulation, and insist on duty- not often, but strongly.
Inspired by true historical events, Mary and Henry Pattenden flee to America to escape persecution –  It is almost impossible to put the book down until completion. – Dr. Don P. Brandon, Retired Professor, Anderson University