Some funny, clean stories stand the test of time like these: 
A little girl wanted to say that she had a fan, but had forgotten the names, so she described it as "a thing to brush the warm off you with."
A new bustle (for women), highly approved, is made of cork, says Jennie June. Consider the unfortunate situation of that bustled woman if she should fall into the water.
A school teacher in DeWitt County, Illinois, has introduced a new method of punishment into his school. When one of the girls misses a word, the lad who spells it has permission to kiss her. The Clinton Public says: "The consequence is that the girls are fast forgetting all they ever knew about spelling, while the boys are improving with wonderful rapidity."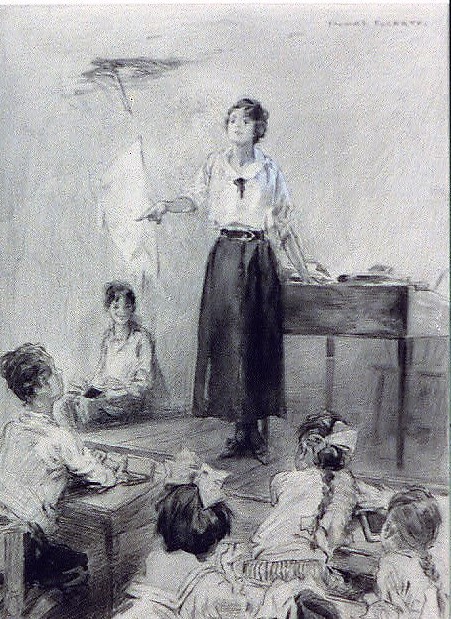 Little Red Schoolhouse Artist Thomas Fogarty (Library of Congress)
A boy eleven years old was recently received at the express office at Springfield, Massachusetts, duly labeled and tagged, from Danville, Illinois, the charge being $12.70.
Quin believes in cremation for the benefit of the soap trade. He knows lots of people whose ashes would make splendid lye.
"What would you do if grandma should die?" asked a lady of her little three-year old girl. "Well, mamma, I suppose I should have to spank myself," was the melancholy reply.
The Evergreen Star says a store in that place was broken open a few nights ago, but the burglars found the goods marked so high they could not afford to take them.
The latest curiosity in our city is a dog that was seen on 3rd avenue, last Sunday —he had two tails! One of them, however, was an oxtail and the dog carried it in his mouth.