(This article has been exactly transcribed (with misspelled and grammar mistakes) from FIFTY-FIVE YEARS IN WEST ALABAMA that was printed in the Tuscaloosa Gazette August 12, 1886)
FIFTY-FIVE YEARS IN WEST ALABAMA
CHAPTER THREE
by
By HON. E. A. POWELL
But leaving, for the time, the wild animals and such, let us look at the political aspects of the country. The first Senator from Fayette County was Jesse VanHoose. The District was then, 1827, composed of the counties of Marion and Fayette.
He had no desire to fill public stations
Mr. VanHoose seemed to have served but one session. He never would run for the position any more. He was afterwards elected Judge of the County Court, but he only served in that capacity for a short time. He seemed to have no desire to fill public stations. In my travels through life I have met with few such men as Jesse VanHoose. He was universally regarded as the friend of the poor. He was an excellent business man, and everybody went to him for advice, and to get their business done, and no one was ever turned away. The business was always well done, and the advice always correct. To say he was universally respected would but tamely express the sentiment: he was loved by all who knew him. I do not think, in all my acquaintance with mankind, I have ever met a better one. I was a boy when I first made his acquaintance, and I can only say that the respect of the boy simply ripened into veneration as manhood developed. In the latter part of 1840 he moved to North Port, where, in 1852 or '53, he died. He was buried by the Sons of Temperance, of which Order he was a bright ornament. The largest concourse of citizens that ever followed the funeral of any one from that town, made up the funeral procession. But I must stop: no pen can do justice to the subject. It is simply impossible to put Jesse VanHoose on paper. His praise was in the hearts of all who knew him. Mr. J. M. VanHoose, an eminent lawyer of Birmingham, is one of his sons now living.
Samuel Parker was the first Representative
The first Representative from Fayette county was Samuel Parker. He served but the one session, that of 1828. I cannot tell why he was never returned, He was succeeded by John Ship, in 1829. Mr. Ship had also been Judge of the County Court, but only for a short time. Like his predecessor, he served but one session. He was several times a candidate, but was never afterwards successful.
Judge Ship was beaten in two straight races for the House by Jas. K. McCollum, 1830 and 1831. Mr. Cullom will be noticed more at length hereafter.
I come now to the first general election I ever attended. It was in 1832 . There was a Senatorial election for the District, composed of the counties of Fayette, Pickens and Marion. Fayette was the centre county and had no candidate in the field. Pickens county brought out Col. Rufus K. Anderson, while Marion marched under the banner of James Moore. It was conceded that each candidate would come into Fayette county with nearly a solid vote from his own county, and the strength of the two counties being nearly equal, of course Fayette became the pivotal county, and was consequently the battle ground in the contest. I have since witnessed many exciting elections— but never one of the same magnitude, that produced more. The excitement extended to the boys in the country, and every one from ten years old and upwards arrayed himself on one side or the other of what they conceived the great contest. "Hurrah! for Anderson!' — 'Hurrah! for Moore!" was heard in almost every crowd of boys for several weeks before the election.
Fayette county divided almost equally
Fayette county divided almost equally between them,—giving Anderson eighteen majority. This of course threw the parties back to their respective counties. Anderson received a few more votes in Marion than Moore did in Pickens,—winning the race by about "a length"—one hundred and twenty eight in the contest. I was an Anderson boy, but long before I grew to manhood I became satisfied that Moore ought to have been elected.
The parties had both served in the Legislature previous to that election. To show how far men will let their prejudice carry them in such matters, it is only necessary to say, that the chief charge brought against Mr. Moore was, that while in the Legislature, he had voted for a bill making an appropriation of fifteen hundred dollars to pay the expenses of bringing the remains of Gov. Israel Pickens from Cuba to Alabama for interment. This charge was pressed upon the people just as if it was an enormous wrong, imposing that burden on each citizen, even though he only paid a Poll Tax.
Gov. Israel Pickens from Alabama State Archives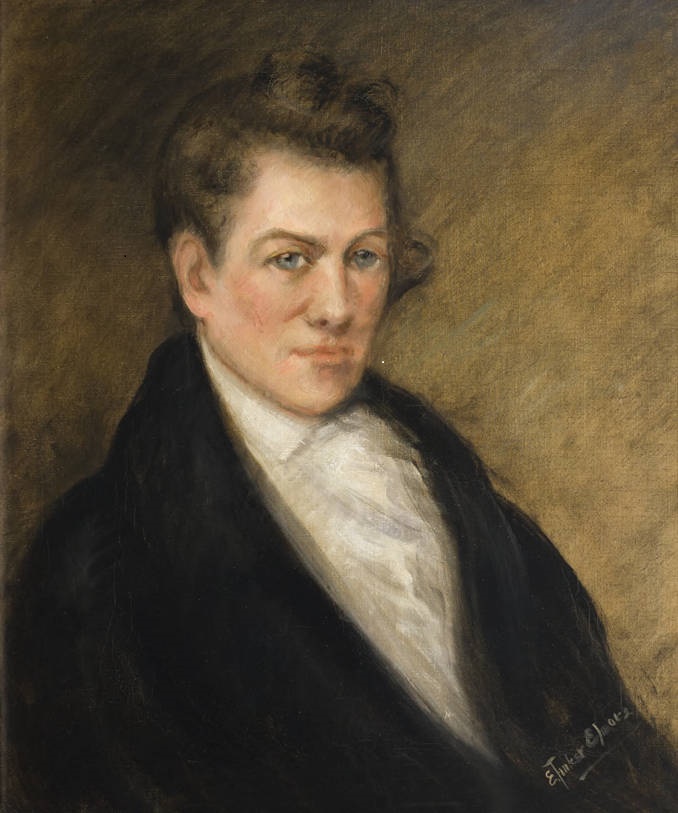 On the other hand, the Moore men kept the fact that Anderson had killed his brother-in-law in Tennessee, sounding in the ears of the people until after the election, when both subjects was dropped, and I suppose were rarely, if ever mentioned It may not be amiss to say a few words about each of the candidates:—Mr. Moore was a farmer, well to do in life. A man of extraordinary good sense;—in every respect qualified to make just such a representative as the people of that day needed. He was never a candidate for any office after that election,—except, that in 1836 he was put on the Electoral Ticket for Judge White against Martin VanBuren. Upon the organization of the old Whig and Democratic parties, he took the Whig side, although all the counties around him were overwhelmingly Democratic; showing that he was seeking the right, and not the popular side.
He afterwards removed to Monroe county, Miss., where he died just before the war,—respected by all who knew him. His family were men and women high above the ordinary rank. One of his two sons represented Monroe county twice in the Legislature. His youngest son, Hon. L. Moore, to day occupies a very prominent position in Texas politics.
He was killed in a street encounter
Mr. Anderson was a very small man, of rather brilliant talents, very impulsive in his nature. He could not brook the slightest semblance of insult. Before the expiration of his term he was killed in a street encounter by Gideon B. Frier son,— a man nearly three times his physical size. So strong was the opinion that Mr. Frierson acted in self-defence, I do not think the Grand Jury ever indicted him for homicide. In Garretts' Reminiscences of Public Men in Alabama may be found a full account of the difficulty.
I have said this was the first general election I ever attended. I saw one thing at the election which should be noticed; In a dry-goods store there was improvised, outside the regular counters, a board reaching clear across the room. On that board was ranged along in regular order, fine decanters filled with Whiskey, Brandy, Wine, Rum, etc.,—each handsomely labeled, "Col. James K. Anderson," —"Major James Moore,"—and so on through the entire list of candidates. Some of the voters were very liberal. They did as they said Charles Crowley did at the Camp Meeting on Sunday: it is said he ate all around the encampment.—These voters drank all around the board.
He moved to Tippah County, Mississippi
In 1832 Charles C .Thompson defeated James K. McCollum for the House, after a rather heated contest. Mr. Thompson had served three years as Sheriff, and was quite popular. He ran again in 1834, and was elected with Gen. Wm. S. Taylor, it being the first time Fayette county was entitled to dual representatives. Gen. Taylor was elected to the House in 1833, defeating Col. James Wilson, by a considerable majority. He was elected each year successively from 1833 to 1839. In 1840 he was not a candidate, but was again elected in 1841. This was the last year he was a candidate. The next year he removed to Tippah county, Miss., and as soon as he was eligible, was elected to the Mississippi Legislature, and was continued in that position until he removed to Texas somewhere in the highup forties.
As soon as eligible to a seat in the councils of "The Lone Star State" he was elected to the House and became Speaker of that body. General Taylor was rather a remarkable man: possessed of only a limited old-field-school education,— he nevertheless worked himself into the several positions he filled, and became to a considerable extent distinguished. He was a man of fine address-ready speech, and quick to reply to any remark or question that might be made to him. He had a large relationship in the county, of which he was the idol. This, combined with his genral popularity, made him almost invincible; and although he encountered strong opposition, he was never defeated. In 1836 he raised a Volunteer company and served three months in the Florida War. He died at Larissa, Cherokee county, Texas, sometime between 1856 and 1860.
The colleagues of Gen. Taylor in the Legislature were as follows, 1st: Caswell C. Thompson, who has already been noticed; 2nd: Burr W. Wilson; 3rd: Charles Brysel; 4th: Lawrence Brashur; 5: Robert J. Morrow; 6th: Wilson Cobb, and last, (1841) Elijah Marchbanks. Some of these deserve more than a passing notice.
He retired from public life for a time
Burr W. Wilson was a native of Tennessee. He studied law in early life. He came to Fayette county before 1830. He was elected County Judge in 1830, but held the office but a short time, when he resigned, as was said at the time, in order that he might fill the office of Justice of the Peace in the Town Beat,—which was far more lucrative than the office of Judge at that time. Judge Wilson was the first lawyer I ever saw. His first appearance before the people was in 1834, There was quite a number of candidates for the Legislature, but the Judge was defeated by a small majority. The next year he was elected by a decided majority. He served but the one session in the House. Was not a candidate in 1836. In 1837 he was elected to the Senate for the District composed of the counties of Fayette and Marion, over Henry Burrough (who was the incumbent) by a very decided majority, and in 1840 was re-elected over the nominal Whig opposition of B. L. Shankle.
After serving out his term he retired from public life, until 1851. He was then a candidate for the Senate, but was defeated by E. P. Jones. In politics Judge Wilson was a Democrat of the Andrew Jackson school,—the corner stone and pole star of which was, his love for the UNION. He could not look with any degree of patience upon any policy that even tended to a severance of the union of the States. He continued in retirement until the storm of 1860 burst upon the country. In 1855 he had simply, as a private citizen, united himself to the American (K. N.) party, and in 1856 supported Mr. Filmore for President; and in 1860 he supported the Union party nominee, John Bell, for President. After the election of Mr. Lincoln, he was elected to the Convention called by Gov. Moore, in accordance with a resolution of the Legislature at the preceding session. In that Convention he opposed the adoption of the Ordinance of Secession, and refused to sign it after it was passed. In 1865 he was again elected to the Convention called by Gov. 'Parsons.
In every public station Judge Wilson was upright. He suffered from an impediment in his speech, which he felt, and this defect no doubt caused him to remain silent when otherwise would have spoken. He closed his public career by filling the office of Probate Judge, under the reconstruction measures. In 1883 he died at his home near Fayette Court House. His entire life from early manhood was spent in that community, highly respected by all who knew him.
Sons of Judge Burr W. Wilson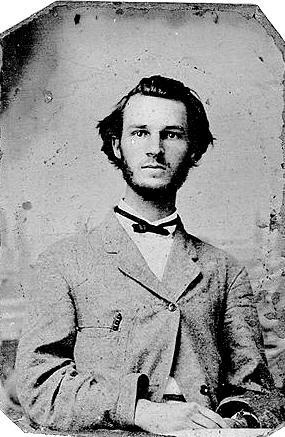 Robert J. Morrow was the best educated man in the county
Robert J. Morrow was regarded as the best educated young man in the county. It was said that he was educated for the ministry in the Presbyterian Church; but he did not take that course—but turned his attention to politics. In 1833 he was elected Clerk of the Circuit Court of Fayette county over Reuben F. Box, a very popular young man. The contest was close; the friends of each doing their utmost to achieve the success of their friend. The young men were intimate friends, and the canvass did not interfere with their friendly relations. Morrow was elected by six majority.
After serving out his term as Clerk, he several times sought a seat in the Legislature, but was never successful but the one time. He was what the people of that county regarded, a fine speaker, and he had many ardent friends in the county.—But, alas! as with many others of similar prospects, King Alcohol asserted his power over him. He was tempted,—he yielded,—tasted,—drank, and fell. After many ineffectual, spasmodic attempts at reformation, he finally yielded to the morbid appetite, and years ago death threw its dark mantle over the scene, and the world loses sight of that promising young man; and now but few, perhaps, remember that he ever existed. And yet, to day we are told if we try to remove the temptation from the young that we are 'FANATICS!' Would to God that the whole land should, to day, swarm with such 'fanatics:'—would to God the time would come when our Legislators would only ask, "is it right," and do the right instead of asking, "Will the people approve it?"
Wilson Cobb served in South Carolina
Wilson Cobb had been in the Legislature of South Carolina. He was elected to the Alabama Lower House in 1839, and again in 1840. He was defeated in 1841; and was again a candidate in 1842:—but "man proposes—God disposes." The week before the election, going from one Precinct to another;—riding along the road, a big limb fell from a dead tree and killed him instantly. There was not a breeze stirring at the time.
Elijah Marchbanks was a colleague of Gen. Taylor
Elijah Marchbanks was the last of the colleagues of Gen. Taylor. He was elected to the House in 1840 and in 1841. In 1843 he was elected to the Senate and served three years. These services began and ended his public life. A few years afterwards he moved to Mississippi where he died. He was of medium talent, a well-to-do farmer, and highly respected.
(This article has been exactly transcribed with misspelled and grammar mistakes from FIFTY-FIVE YEARS IN WEST ALABAMA that was printed in the Tuscaloosa Gazette August 12, 1886)
Vinegar of the Four Thieves was a recipe that was known for its antibacterial, antiviral, antiseptic and antifungal properties for years. It was even used to cure the Bubonic Plague. See Thomas Jefferson's recipe in 

VINEGAR OF THE FOUR THIEVES: Recipes & curious tips from the past
Check out genealogy and novels by Donna R. Causey