Archaeologists believe that humans have lived in Geneva County, Alabama for at least 13,000 years, perhaps much longer.
During the coldest periods of the Ice Age, the Gulf Coast region would have been one of the few areas of North America that could be comfortably inhabited by homo sapiens.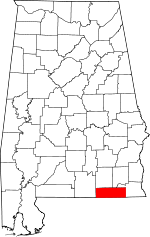 Evidence of earliest humans buried in soils
Evidence of the earliest humans may be buried of accumulated soils or under the sea bed as much as 100 miles out from today's shoreline. Nevertheless, the oldest known human remains found in the Southeast (roughly 10,000 years old) were discovered in the sediment under a cenote (sink hole) in Sarasota County, FL. They included a skull still containing brain matter. (Native American History of Geneva County, Alabama)
Geneva County is located in southeast Alabama, and its entire southern boundary lies along the northern line of the state of Florida. It is bounded east by Houston, north by Dale and Coffee, and west by Covington.
ALABAMA FOOTPRINTS – Settlement: Lost & Forgotten Stories (Volume 2)
The settlement that would become the city of Geneva was founded in 1819 as a trading post by brothers Henry Alexander Yonge and Walter S. C. Yonge. Soon they were joined by settlers from Georgia and the Carolinas seeking cheap farmland. As the settlement grew, Henry Yonge began to refer to the village as Geneva, after his wife's home town in New York State.
In the early days, the part of what is now Geneva County was a part of Dale County with its county seat at Daleville in 1845, but the seat moved to Ozark in 1869.
Geneva County has a historical big oak tree, also referred to as Constitution Oak, that is believed to be the largest and one of the oldest live oak trees in the state. The tree is believed to be about 200-300 years old.
Constitution Oak (Wikipedia)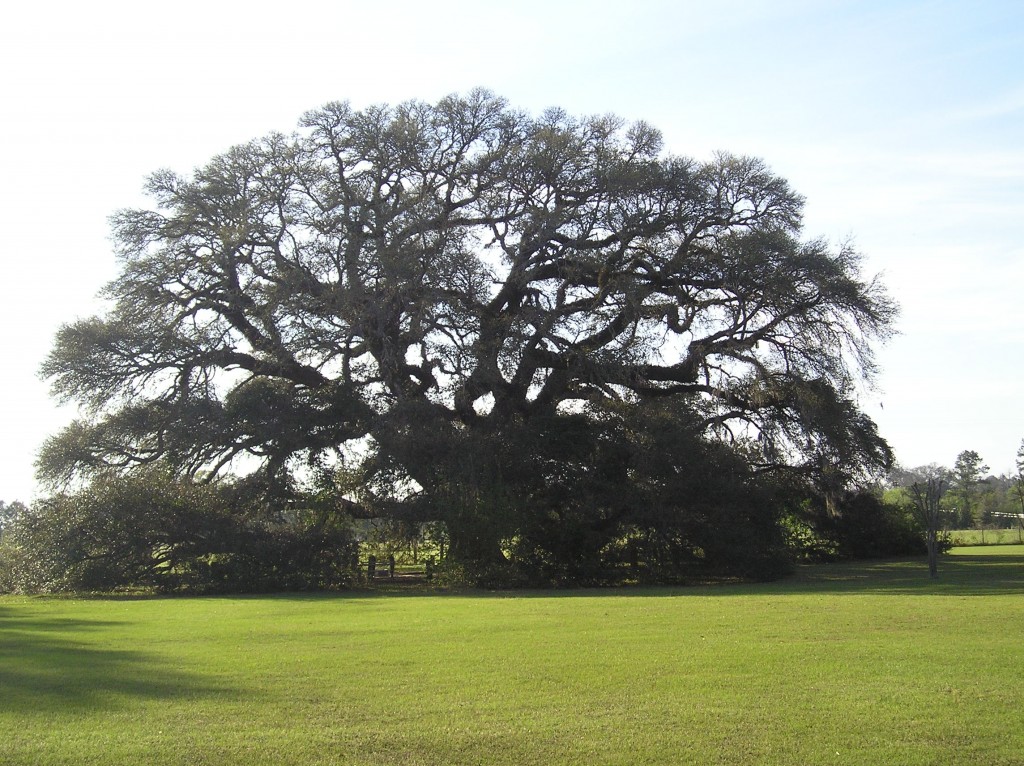 This mighty oak has inspired many over the years including the band Casting Crowns and their hit song "Thrive"
Geneva is known as Alabama's Old River Town
Geneva County, Alabama was named for its principal town, Geneva, which was also the county seat. As of the 2010 census, the population was 26, 790.
Geneva is known as "Alabama's Old River Town. The town of Geneva is settled at the junction of the Choctawhatchee River and Pea River. Not far away is the imposing oak which has served as a backdrop to scores of weddings and community events and was one of the first subjects of nature artist Stephen Malkoff.
By the mid-1830s, the town had become an important center for trade and travelers. The Yonge brothers expanded their interests to a shipping company, owned with other town residents, and by 1836, Henry Yonge was serving as the town's first postmaster.
In 1865, the Lincoln Flood, named for then-President Abraham Lincoln, destroyed the town, and the residents reestablished Geneva higher up the river bank from the original site. The Pace Hotel was the heart of the city.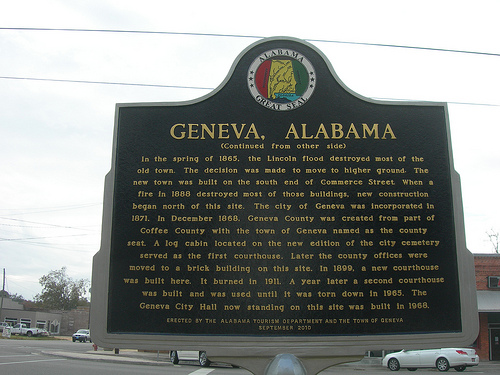 County was established in 1868
Geneva County was created by the legislature December 26, 1868. The act of establishment of the county named Thomas H. Yarborough, Daniel Falford, Daniel Miller, Asa Ray, William Hays, Ira D. Alberson, and Jonas Bell as commissioners for the organization of the new county. On the first Tuesday in January, 1869, they held an election for all county officers, establishing voting places, and appointing managers.
The commissioners were required to levy a special tax to liquidate the pro rata indebtedness of the counties out of which the new county was formed. Pending suits were to be continued and tried in the old counties, unless by mutual consent they should be transferred, and all business in the probate courts of such old counties, pertaining to the estates of deceased persons who had resided within the limits of the new county, upon application or petition were to be removed to the newly established probate court. The county was attached to the Eighth Judicial Circuit, and to the Fourth District of the Southern chancery division.
The Choctawhatchee flows through the entire extent of Geneva County. It was at one time the principal outlet for the products of the county. The principal tributaries of the Choctawhatchee in the county are Double Bridges Creek, which unites with it just above Geneva, and the Pea River just below. The latter drains the western section of the county.
Choctawhatchee River (Wikipedia)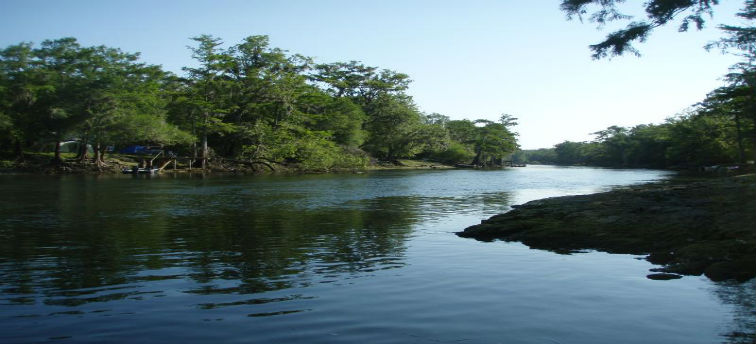 Hoover flood in 1929 named after President Hoover
In 1929, the Hoover flood, again named after President Hoover, forced townspeople to build a levee with the help of the WPA. The "junction" was the site of the Union raid on the Confederate Steamboat, Bloomer. River traffic developed to the Choctawhatchee Bay and the Gulf of Mexico.  Many river steamers began using the river to Pensacola and other ports until well after the coming of the railroads in the 1890's.
Jeremiah Pate from Tennessee fought with Jackson at New Orleans and was a captain in the Creek War, gave his name to the creek and landing on the river and with Thomas Sellers, Samuel and Jerry Tindell, and John Kinsaul, a Revolutionary War veteran, helped to organize Mt. Gilead Church in 1835, the third oldest church in the county.
Photo of Mount Gilead 8 Mile Church Cemetery (Findagrave.com by Jeremy Abbot)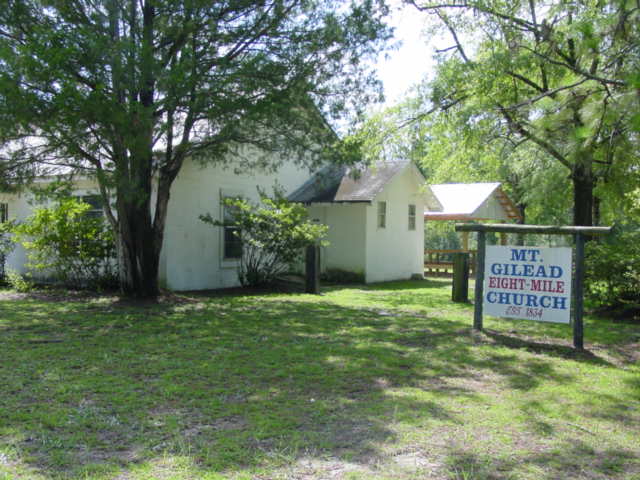 About one mile below Pate's Landing are two Indian mounds, 10 feet high, and 25 feet in diameter. Below this point about three or four miles is a much larger mound. These mounds have many indications of house sites in the vicinity.
Once a center of Native American Occupation
There is archaeological evidence that present day Geneva County may have once been a major center of advanced Native American occupation. The location of the town of Geneva was the head of navigation for large sea-going trade canoes that traversed the Gulf Coast. A Native American town site is located one mile below Pate's Landing on the Choctawhatchee River. The site contains two mounds that are still around 10 feet high.
Around these mounds is extensive evidence of houses and long term occupation. Downstream about two miles is another mound, which is about 16 feet high. It also is surrounded by evidence of houses. Geneva County has received very little attention from professional archaeologists. It may contain many other Native American settlement sites, that are yet to be discovered.
Delegates to Constitutional Conventions
1875—Henry W. Laird.
1901—W. O. Mulkey
Senators
1876-7—A. C. Gordon.
1878-9—A. C. Gordon
1880-1—F. M. Rushing
1882-3—F. M. Rushing
1884-5—C. H. Laney
1886-7—C. H. Laney
1882-9—W. C. Steagall
1890-1—Wm. C. Steagall
1892-3—R. H. Walker
1894-5—R. H. Walker
1896-7—Geo. W. Brooks
1898-9—George W. Brooks
1899 (Spec.)—George W. Brooks
1900-01—Walter Acree.
1907—P. B. Davis
1907 (Spec.)—P. B. Davis
1909 (Spec.)—P. B. Davis
1911—C. A. Stokes
1915—T. S. Faulk
1919—W. W. Morris.
Representatives
1876-7—James McDuffie.
1878-9—J. T. Register.
1880-1—M. Cooley.
1882-3—D. J. B. Atkinson.
1884-5—J. H. Alberson.
1886-7—F. H. Alberson.
1888-9—J. L. White.
1890-1—J. C. Coleman.
1892-3—W. J. Mills.
1894-5—W. J. Mills.
1896-7—G. J. Carrant.
1898-9—C. O. Box.
1899 (Spec.)—C. O. Box.
1900-01—W. J. Keith, Sr.
1903—William Jefferson Mills.
1907—J. R. Alford.
1907 (Spec.)—J. R. Alford.
1909 (Spec.)—J. R. Alford.
1911—W. O. Mulkey.
1915—Dr. W. W. Smith.
1919—T. S. Faulk
Geneva County, Courthouse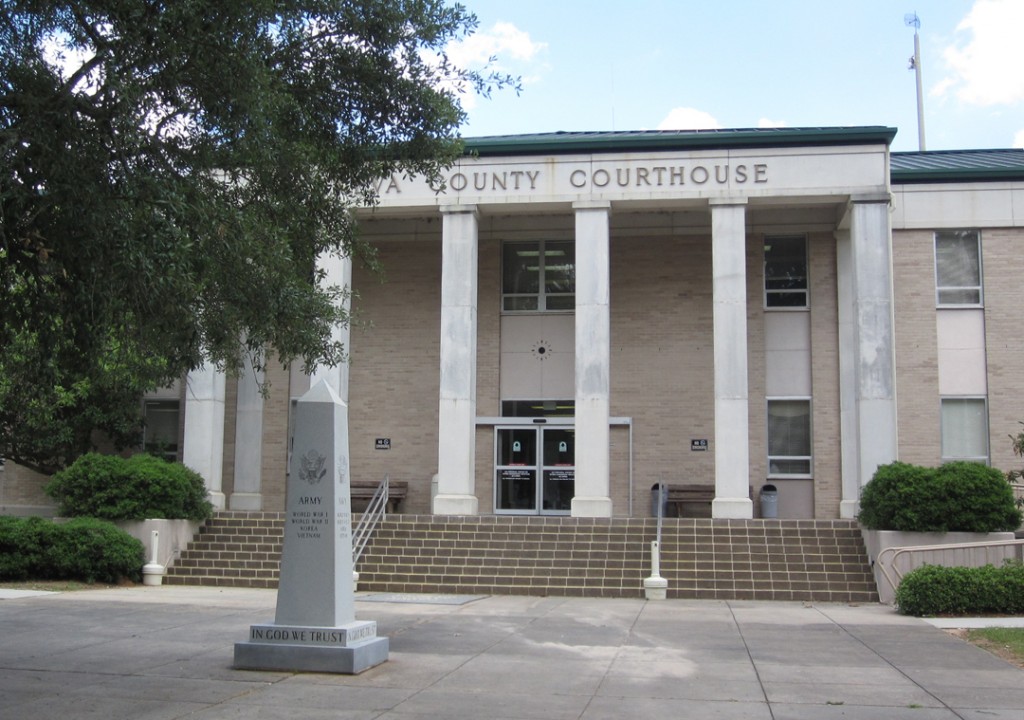 Earliest Settlers
Among the earliest settlers of the Wiregrass was James B Ward born in 1796 who served as an Indian agent and did much to keep peace with the Warlike Creeks. He married Elizabeth English a charming Creek maiden, and they sleep peacefully on the Jesse Purvis farm near Malvern, now owned by Randall Collins whose mother was a Purvis. His labors were in Georgia, Washington County, Mississippi, Wakefield, Richmond, Daleville and Newton. This prominent couple has many descendants in the Wiregrass.
Many early settlers lived among the Indians, one of whom was Thomas Sellers born in 1813 and founder of one of our first schools named for him on Pate's Creek. He also helped to establish Mt. Gilead Church in 1838 and spoke the Indian language fluently. He has many descendants in Geneva County.
John Hughes father fought at King's Mountain
Another early settler was Mary Bass, born in the county in 1822 and married John A. Hughes, Sr., who died in Selma in 1848. His father was colonel Joseph Hughes of Revolutionary War fame, who fought with Sumter at Kings' Mountain while John A. Hughes, Jr. was the father of John J. Hughes a leading citizen and banker of Hartford, Alabama.
Mary Bass Hughes married Love Turner and had two sons, Jim and Rufe. She was a prominent slaveholder and member of Mt. Gilead, where she was buried upon her death in 1889.
The Hughes family has traced their ancestry to King Alfred and also to King Henry II and Eleanor of England. Many representatives of the family fought in the Revolutionary War, War of 1812, and the Civil War, and are most prominent in Geneva County. Among these are Albert, a former State Senator; Grady, a former county board of education member; and David, a county commissioner.
The city of Geneva is perhaps most fond of its "Festival on the Rivers", which began in 1976, and takes place annually on the last weekend in April. The entire town celebrates this special weekend. Civic Clubs, schools, church groups, businesses and commercial vendors take pride in being a part of this annual event.
SOURCES
History of Alabama and Dictionary of Alabama Biography 1921
Ribbon of Love, a novel inspired by a actual people and true events.
Check all books by Alabama Author Donna R. Causey