[Do you love ghost stories and tall tales. This tall tale about Sturdivant Hall is told in a film by the late but great Kathryn Tucker Windham. We miss her.]
Over the years people have witnessed the ghosts of John Parkman and his daughters haunting the stately Sturdivant Hall. Museum staff and visitors have seen him.
John Parkman was a failed banker who was imprisoned for his actions.  When his friends staged an elaborate escape from the federal prison at Cahawba, he was noticed by the guards and killed on the banks of the river.  It is said he returned to his home to redeem his name. He has been often seen in the same window where he always watched his two little girls play outside. In more recent years his daughters have also been seen at the home.
Grand entrance to Sturdivant Hall 1939
"Museum staff and visitors have witnessed strange happenings at Sturdivant Hall including howling winds, sightings of an ethereal male figure, objects moving on their own, footsteps creaking upstairs, doors opening and closing without explanation.  Parkman's two little girls have been seen looking out an upstairs window.  The mischievous girls have made their presence known in their bedroom too.  Toys and clothes are sometimes strewn about as if children had been playing."(Selma Pilgrimage)
Author, Kathryn Windham Tucker, author of  Alabama Ghosts and Jeffrey: Commemorative Edition tells the ghost story of John McGee Parkman the Ruined Banker in the video below.
Selma, Alabama is the home of Kathryn Windham Tucker, (now deceased) the famous American storyteller, author, photographer, journalist and author of Alabama Ghosts and Jeffrey so the city of Selma is never short of ghost stories. Many people have reported seeing ghosts in Sturdivant Hall over the years.
Sturdivant Hall, also known as the Watts-Parkman-Gillman Home, is a historic Greek Revival mansion and house museum in Selma, Alabama, United States. Construction on the home was started in 1852 but it was not completed until 1856.
One of finest Greek Revival Antebellum in Southeast
The home was designed by Thomas Helm Lee for Colonel Edward T. Watts. It was added to the National Register of Historic Places on January 18, 1973, due to its architectural significance. Edward Vason Jones, known for his architectural work on the interiors at the White House during the 1960s and 70s, called it one of the finest Greek Revival antebellum mansions in the Southeast.
Col. Edward Watts and his family lived in the house until 1864. At this time the house was sold and they moved to Texas as many other Alabamians near the end and after the Civil War.
John McGee Parkman, bank president at age of 29
A local banker, John McGee Parkman, purchased the house of $65,000 on February 12, 1864. Parkman became president of the First National Bank of Selma at the young age of 29.  The bank engaged in cotton speculation and accumulated huge losses and Parkman.
Reconstruction was taking place in Alabama when Parkman acquired these losses and the military governor of Alabama, Wager Swayne, accused him of embezzlement since money from the Federal government had been deposited in the bank. Reconstruction authorities took possession of the bank and arrested Parkman.
Parkman imprisoned at Castle Morgan
Parkman was imprisoned at the former Castle Morgan in Cahaba.  The towns people of Selma felt that he had been unjustly accused of embezzlement by the military governor and sought a way to break him out of jail. One night they attempted to distract the jailers by throwing a Mardi Gras like demonstration in front of the jail with jugglers, etc.
Castle Morgan Ruins, Cahaba, Dallas County, Alabama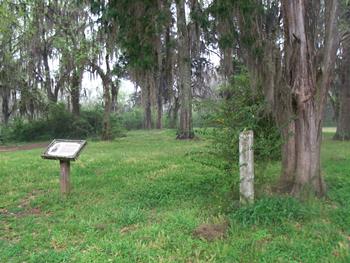 Assisted by his friends, Parkman escaped from the prison on May 23, 1867, but was killed before he reached a boat on the river. It is not sure how he died.
Below is a film from the museum staff about the escape and the mansion.
Photographs of the mansion were taken Feb. 3, 1934 by W. N. Manning before it was restored
"The house is a two-story brick structure, stuccoed to give the appearance of ashlar. The front facade features a monumentally scaled hexastyle portico utilizing 30-foot (9.1 m)-tall Corinthian columns. The front portico is accessed from the second floor by a cantilevered balcony with an intricate cast-iron railing. Identical front doorways on both levels feature elaborate Greek Revival door surrounds with full Corinthian columns to each side of the door." (Library of Congress)
People claim to have seen Parkman standing on the second floor balcony in his top hat.
Photographs below of Sturdivant Hall photographed were made Feb 3, 1934 by W. N. Manning

"The side elevations of the house feature a small cantilevered balcony on one side and a wide first floor porch surmounted by another balcony on the other. Both make use of elaborate cast-iron structural and decorative elements. The rear elevation is dominated by a monumentaldistyle in antis portico with two Doric columns. A kitchen, smokehouse and two-story servants' quarters are set at right angles to the rear portico, forming a semi-enclosed courtyard to the rear of the house.  A low pyramidal hipped roof covers the main block of the house, as well as the front and rear porticoes. It is crowned by a small cupola." (Library of Congress)
Side View showing kitchen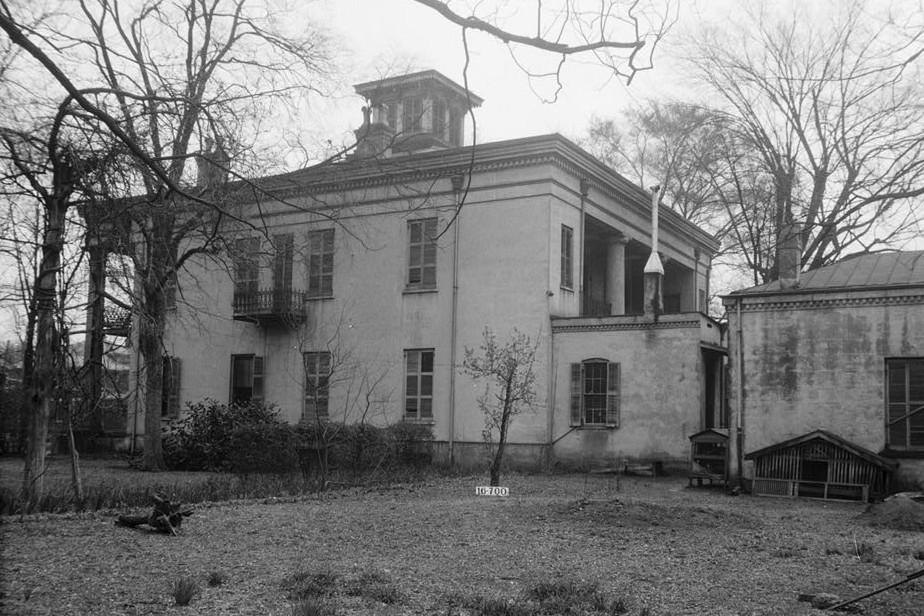 Rear view showing kitchen
Under Balcony Porch
 Interior of Sturdivant Hall has elaborte plasterwork and millwork
The interiors of Sturdivant Hall reflect the growing taste for opulence in the United States during the 1850s.The first floor has elaborate plasterwork and millwork throughout, with the drawing room and ladies parlor being the most detailed.
They both feature door surrounds with Corinthian columns and are ringed by paneled pilasters, topped by plaster cornices. The main entrance for the first floor enters a L-shaped front hall, with a cantilevered staircase in the side portion of the hall. Other rooms on the first floor are the dining room, gentleman's parlor, and the warming room.
Cantilevered stairs lead to an attic-level landing
The second floor houses a T-shaped hall and four bedrooms. From there, another cantilevered stair leads to an attic-level landing. From this landing a spiral stair winds around a central pole up to the cupola.
Front Doorway
Stairs and hallway toward rear
Dining Room toward Parlour
Staircase to cupelo
Smokehouse

Sturdivant Hall April 7, 2010, located  at 713 Mabry Street, parking lot off Union Street

Today, the mansion houses period antique furnishings, porcelain and doll collections, as well as an impressive collection of art by Selma native Clara Weaver Parrish.
13 Alabama Ghosts and Jeffrey: Commemorative Edition
 by Kathryn Tucker Windham (Author), Margaret Gillis Figh (Author), Dilcy Windham Hilley (Foreword),Ben Windham
SOURCES
Wikipedia
Library of Congress
Selma Pilgrimage
Sturdivant Hall museum
The Alabama Tale Tellin' Festival is a family friendly event was founded by the late Selma author, Kathryn Tucker Windham, and it features nationally known storytellers plus a vocal string band/comedy troupe from Birmingham.
The art of telling spine-tingling tall tales is fast disappearing in our modern world. Storytellers Bill Lepp, Wanda Johnson along with Reggie and Kim Harris are sure to entertain everyone with the tall tales.
The festival will be held this year at the Wallace Community College.
Sponsored by ArtsRevive, admission is $15 for adults for one night or $25 both nights, $10 for students ages 9-17 for one night and $15 for both nights, and free for children age eight and under. Tickets will be sold at the door or in advance through PayPal.
The theater is located just north of U.S. Highway 80 at Wallace Community College, 3000 Earl Goodwin Parkway.
For more information, call 334-878-ARTS (2787), email [email protected] or visit the website at www.artsrevive.com, and look for updates on the ArtsRevive Facebook page. The ArtsRevive mailing address is P.O. Box 2548, Selma, AL USA 36702. (from Selma Times Journal, August 19, 2015)