Artifacts date back to 600 B. C.
The ghost town of Cotton Gin Port in Monroe County, Mississippi was once part of Marion County in the Alabama Territory. Located on the east bank of the Tombigbee River, this area was a crossing for many Indian trails since it was apparently an easy place to cross the river. (Continued below)
Artifacts found at Cotton Gin Port date back as early as 600 B.C., possibly earlier. This region was one of a number of large centers of Mississippian culture in the Tombigbee Basin. The mound itself was built during this period, dating from 1000 to 1700 A.D., by the ancestors of the Chickasaw Tribe. In area the mound measures about fifty yards square and is elevated over eight feet, clearly above high water level.i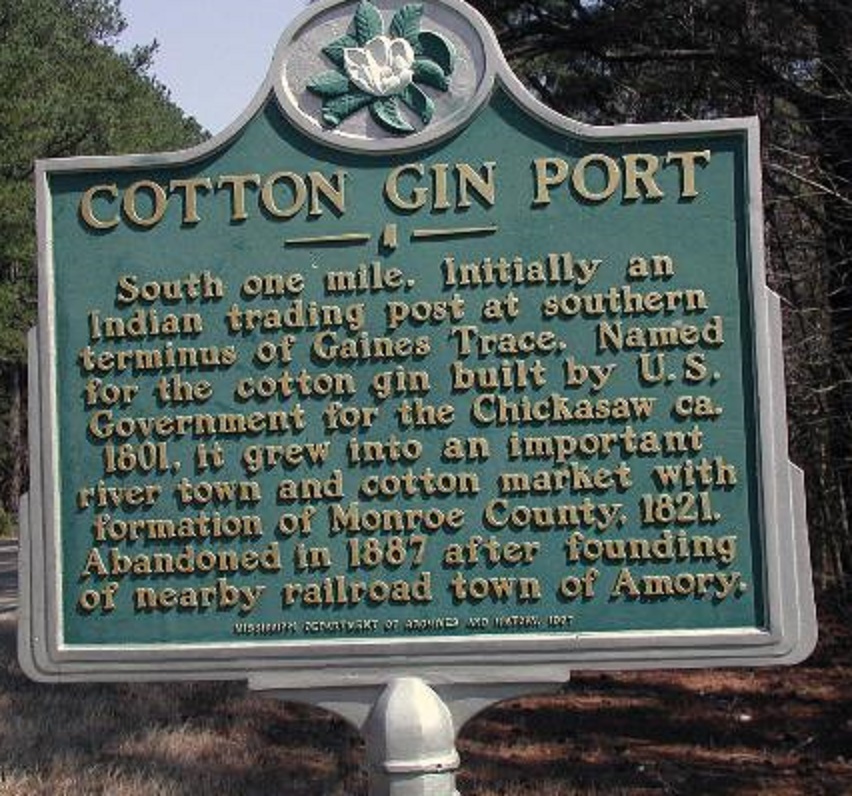 United States Government built a cotton gin for Chickasaws
Chief Levi Colbert is said to have lived on the bluff west of Cotton Gin Port and operated a ferry there until 1803.
In 1801, the United States Government built a cotton gin at Cotton Gin Port as part of a 'plan of civilization' for the local Chickasaw Indians. Shortly afterward, the settlement became known as an Indian trading post and and the road, Gaines Trace, was built to the town by 1812. The road ran from near present day Muscle Shoals to Cotton Gin Port, then it crossed the Tombigbee River and continued south to Fort Stoddert. At one time, a large Chickasaw town sat on the bluff of the river.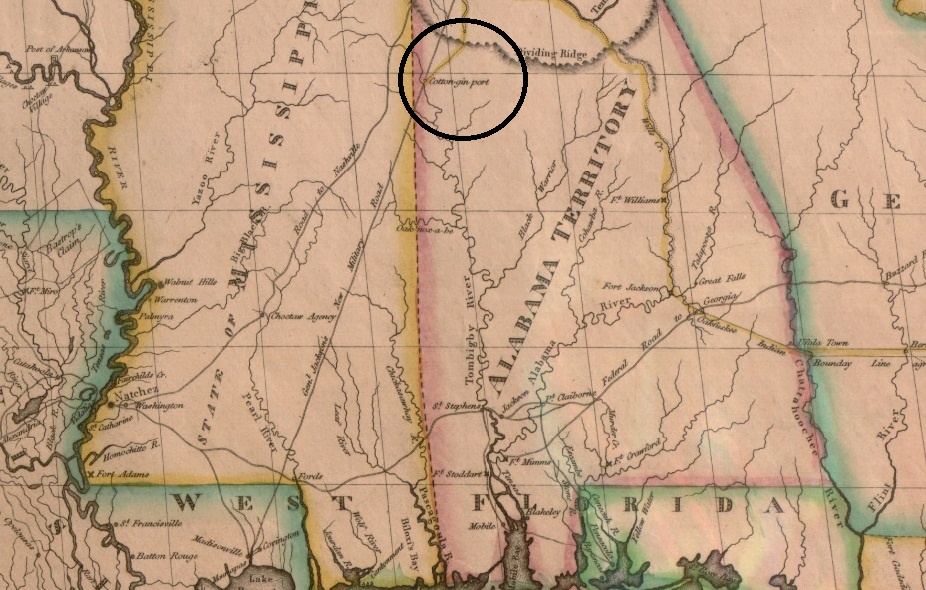 Map showing location of Mississippi Territory & Alabama Territory with circle showing Cotton Gin Port in Alabama
The cotton gin was only used a few months before it was allegedly burned. There are three prevailing stories as to why it was burned. One states that the Choctaws burned it in jealousy because they didn't get one, the other version states that the Chickasaw, in a fit of 'ungratitude' burned it themselves. Finally, some say that it was only a regrettable accident.
Legend states that Tecumseh spoke at Cotton Gin Port spoke at Cotton Gin Port in 1811 to seek support from the Chickasaws beneath the Council Tree on the bluff near Colbert's home.
White settlers arrive in 1816
In 1816, the first white settlers arrived at Cotton Gin Port when the land was ceded. Five families from Russellville, Alabama, led by Reverend Frederick Weaver settled in the area. Weaver settled on land "one mile southeast of the Port on Weaver's Creek, where he built New Hope Church."ii Other early settlers were William Wise, John and Abraham Gideon, Eli Thames, and Robert Coil.
There were eight log cabins in the area by 1820. Major Isaac Mayfield built the "first large general store" and opened the "Cotton Gin Port Hotel"iii "James Ederington and Charles Hudspeth opened a trading post for the Indians and Barney H. Flynn built the first grist mill.
Town becomes part of Mississippi
In 1821 when the state line was surveyed, it was determined that Cotton Gin Port was actually in the state of Mississippi instead of Alabama.
Today, only the ruins of the old town remain.
iHob Bryan, "Mound Site Dates to 600 B.C.," Tupelo Daily Journal, August 13, 1971
SOURCES
Wikipedia
Hob Bryan, "Mound Site Dates to 600 B.C.," Tupelo Daily Journal, August 13, 1971
Cotton Gin Port: A Frontier Settlement on the Upper Tombigbee by Jack D. Elliott, Mary Ann Wells, Mississippi Historical Society 2003
In this action packed novel depicting true events the family saga continues with Ambrose Dixon's family. George Willson witnesses the execution of King Charles II and is forced to leave the woman he loves to witch hunters in 17th century England as he flees to his sister, Mary, and her husband Ambrose Dixons home in Colonial American. Ridden with guilt over difficult decisions he made to survive, George Willson and the Dixon's embrace the Quaker faith which further  creates problems for their existence in the New World.