Anne Royall (June 11, 1769 – October 1, 1854) was a traveler and writer and was one of the first newspaperwomen. Anne traveled Alabama after her husband's death for four years. She wrote letters to her friends about the evolution of the young state. The letters were published as a book entitled Letters from Alabama in 1830.
In the following letter written in 1818, she describes some of the people living in Madison County and North Alabama. The letter has been transcribed exactly as published (including misspellings).
Melton's Bluff, same date (January 16th, 1818)
Dear Matt,
It is now high time to introduce you to the ladies and gentlemen of this town, city, or what you please to denominate it. It would be a million of pities not to do so; particularly a young lady, called the beauty of the Territory. There are so many pleasing objects here—the climate so mild—and such a wide and handsome prospect, that I am all delight—like a bird let out of a cage. But I shall take care not to mount my hobby, lest I might gallop off to Cahawba, or some other place.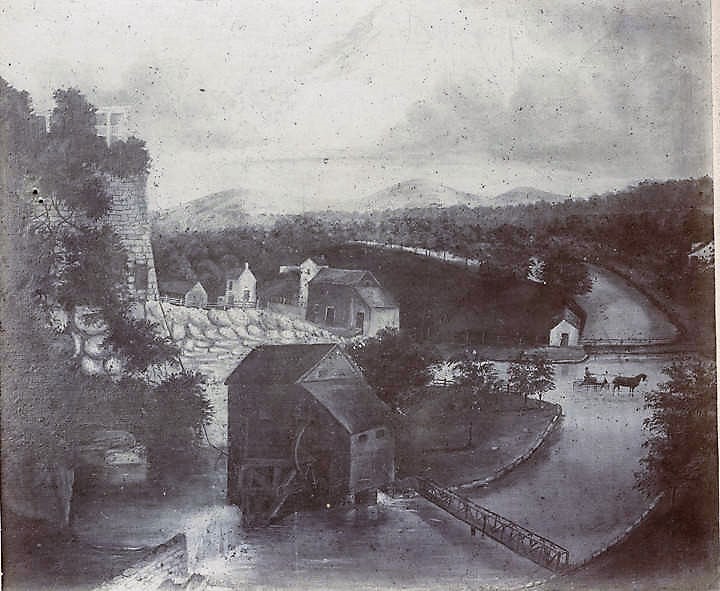 Painting of Big Spring and water works in Huntsville ca. 1850 by Laura Bassett (Alabama Department of Archives and History)
Colonel Pettis is from Virginia
To begin with my landlord, Colonel Pettis1. He is a young man of handsome appearance, and very good natured— weighs about 200 weight, though not corpulent. He is a native of Virginia; lived sometime in Madison, and moved here about the time I arrived. I was introduced to him in Huntsville, and knowing he was about to remove here, I was warmly recommended to him. He is a man of considerable property, and keeps a house of entertainment for the accommodation of the innumerable travellers, who, like locusts, cover the land. He amuses himself in this way, till the land sales approach, when he designs to purchase and settle himself. His wife, young, active, genteel, and sprightly, with a sparkling black eye, is a beautiful woman, and the life and soul of the Bluff, two children, boys, all they have, and two of his wife's sisters, a gay young widow and her child, with the bar-keeper, and myself, compose the family. But the beauty, Matt, the flower of the country, is here. She is only fourteen, but her fame extends, and will, doubtless, cause many an aching heart. She is one of the sisters just mentioned, the handsomest piece of mortality I ever met with. Her features are without fault; her eyes are unmatched in expression, as black as sloes; and her cheeks are like roses. But my pen fails me—her name is Martha Patrick.
Tavern kept by Major Wyatt
Another tavern is kept here, by Major Wyatt2, one of the heroes of New Orleans. The Major, his wife, and his wife's sister, with his mother, compose this other family. Besides these, there are several tipling shops, three stores, an apothecary shop, two doctors, a hatter's shop, a ware house, and several mechanics.
Major Wyatt is by far the most interesting man in the town, as poor as Job, but brave and generous as a prince. At the battle of New Orleans, he held a captain's commission, and was taken prisoner on the night of the 23d December. After forcing the British from one position to another, and dealing death wherever he appeared, deceived by the darkness of the night, he mistook the British for our own men, and was taken prisoner. The officer into whose hands he fell, immediately disarmed him; put him under guard, arid treated him very harshly. Next morning he was exchanged. The next engagement, Wyatt had the good fortune to take the same officer prisoner. The officer immediately surrendered his sword, which Wyatt received, but instantly returned it: shook him by the hand very friendly, led him to his tent, ordered refreshments, and setting a bottle of wine before him, after taking a glass, desired him to make himself happy, and that he should take the first opportunity of effecting his exchange; saying this, he hastened to take his station at the head of his men, leaving the Englishman overwhelmed with shame and astonishment. Would you believe it. the hero of this Godlike act was master of nothing at the time but his sword and his honor, and at this moment is an humble boatman, and pilots boats through the Shoals!
Wife attends to the tavern
His wife is young, handsome, and industrious, and attends to the tavern. But Mis. Wyatt, his mother, one of the nobility of the Ancient Dominion, poor and proud, is extremely mortified that her son should have married " so much beneath him."3 Shocking! She has condescended to come and spend the winter with Neddy, however, but she lowers upon her sweet daughter-in-law like a thunder cloud. This widow of 70, is laced and starched stiff up to the chin; homely face, but a fine figure, ignorant and proud as Lucifer, and if I am not much mistaken, would have no objection to enter into the holy bands of matrimony again. The young widow of our family, is a daughter of the wealthy Mr. Foaly, of Natchez. She fell in love and married a Major Chandler against her father's consent, who not only refused to give her a dollar, but forbid her his house.
Chandler was a handsome, accomplished, man, but poor; and about one year after his marriage, died, and left his wife with an infant amongst strangers. Mrs. Chandler was found in this situation by Colonel Pettis, and taken to his house, where she is treated with kindness and respect. Her father, who owns about ninety slaves, has sent for her to return to him, and upon this condition he promises to divide his fortune with her, General Castleton, his son-in-law, and a son, his remaining child. But she, as yet, refuses to return to her parent. She is a very small woman, but handsome and kind hearted.
Doctor Crab and Doctor Rousseau
To go on with the rest. One of the Doctors, Crab, of Botetourt, Virginia, I knew, as well as the whole family. They were respectable, and were formerly of Maryland. The Doctor is a young widower, tall and slender; and pursues his profession.
The other Doctor, Rousseau, descended from the famous writer of that name, is also from Virginia, and near Alexandria. He is a man of genteel manners, young and handsome, and very sociable. One of the merchants, Mitchell, with his wife, is from Nashville, Tennessee, the first people on the Bluff, and are also very pleasant. If we except a little envy on the part of Mrs. Widow W. we have a very pleasant society of our own, independent of the flood of travellers which delight the country, making choice of such lands as they design to purchase at the sales. The whole country exhibits fair roads, produced by the people allured from all the States to settle in this beauteous country. Our house is full every night. In short, there are ten families, which, with the comers and goers, and the arrival of the boats from East Tennessee, we have a merry time of it.
Yours, &c.
N. B. Here is another Jay's Treaty.
2 This may have been Peyton Stewart Wyatt. In the fall of 1835 Peyton Stewart Wyatt was employed as clerk of the United States District Court in Huntsville, Alabama. When word of the Texas Revolution reached Huntsville, he helped recruit and equip a group of twenty volunteers. With Wyatt as captain, the unit left Huntsville on November 2, 1838, to join the Army of the Republic of Texas.
3She has a daughter married to Mr. Pope, one of the wealthiest men in Madison.
FreeHearts: 2nd edition A Novel of Colonial America (Tapestry of Love Series Book 3)

 

Inspired by true events, Col. John Washington (ancestor of President George Washington), Randall Revell, Tom Cottingham, Edmund Beauchamp ward off Indian attacks and conquer the wilds of Maryland's Eastern shore in 17

th

 century colonial America in this historical novel.