Excerpt transcribed from The Alabama Historical Quarterly, Vol. 07, No. 03, Fall Issue
EARLY HISTORY OF AUBURN
By Mrs. Mary Reese Frazer
(Through the courtesy of Miss Mary E. Martin, long while librarian of Alabama Polytechnic Institute, this history of early Auburn has been copied by her from an out-of-print pamphlet. Mrs. Frazer has been dead for some years, but we are indebted to her for both the "Early History of Auburn," herewith published, and also "History of the Auburn Baptist Church," which will appear in a later issue. Editor.)
Early days of the village of Auburn, Alabama
Among the prominent men who moved into this community (Auburn, Alabama) were Major James F. White, a very rich man, who owned the Large two-story house just across the railroad, now the property of Mr. Mitchell Drake; my uncle M. Edwin Reese, who built the house now owned by Mr. T. O. Wright; Mr. William Osborne Moore, father of Mr. Smith, our efficient telephone operator, who lived about a mile farther south of my uncle; Judge Harper, who built the two-story house on the lot where Mrs. Myrick now lives, afterwards owned by Mr. Wesley Williams, a man of means; Hon. William F. Samford then bought it. He was the father of our late Governor William J. Samford, Mrs. Myrick and Miss Mary Samford.
Official portrait of William James Samford, thirty-first governor of Alabama 1900 – 1901 (Alabama Department of Archives and History)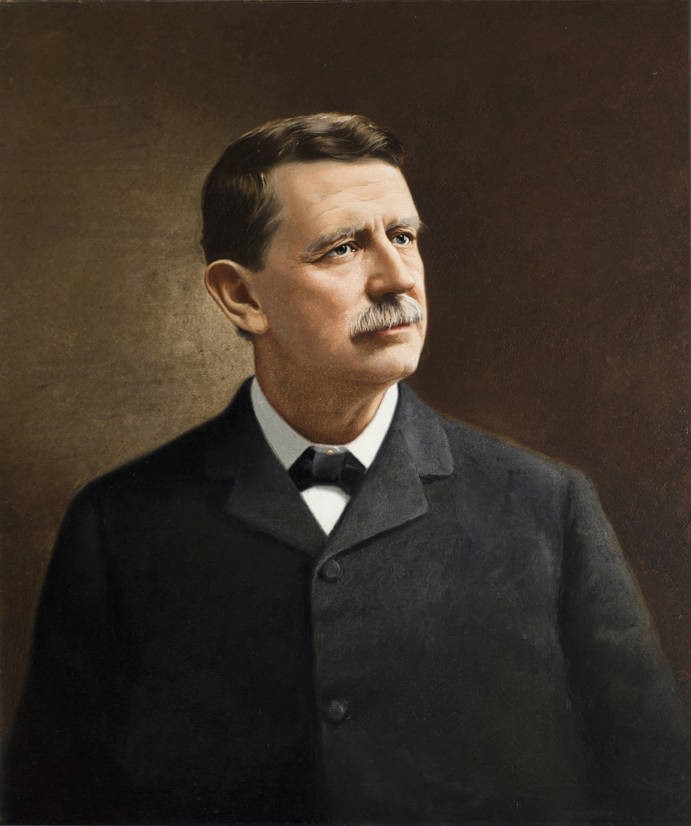 Among the original settlers was Major D. T. Halliday, a very wealthy planter, whose dwelling is now occupied by Dr. and Mrs. Gary. Mrs. Gary is Chairman of our Civic and Health League, and is untiring in her efforts toward the improvement of our town.
Halliday-Garey home in Auburn, Alabama ca. 1937 (Lollar's Alabama Department of Archives and History)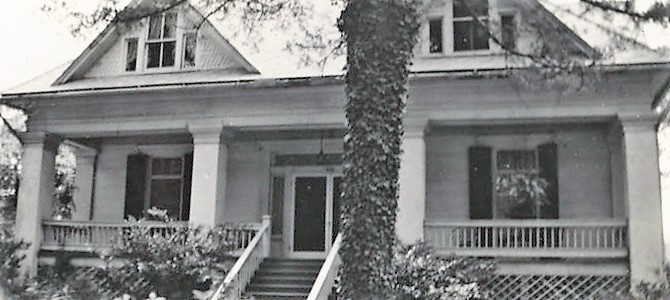 Professor John Darby lived where Professor Duggar now lives. It was there that he discovered and manufactured his wonderful "Darby's Fluid," which was and is in constant use as a medicine and disinfectant.
Very few of the original houses are left standing as Auburn has been almost destroyed three times by fire and twice by storms.
My own house is one of the few left. I am told that it was originally two rooms and that the grounds around it were called China Walker's calf pasture, because of the fact that a number of calves roamed at large over the place, as there was no stock law in those days. The house was remodelled (sic) in 1859. My parents came here in 1845. My father was a young lawyer of twenty- three years. He built the little cottage opposite the negro schoolhouse, and it was there I was born in 1850. I am today the oldest born citizen in the town.
Flourishing business town
You will, no doubt, be surprised to know that in those early days we had quite a flourishing business town. There were eight large dry-goods stores, a shoe factory, a carriage factory, which I mentioned before, a number of grocery stores, drug store, jewelry store, a cabinet maker's shop, a bank, two tailor shops, a good market, several newspapers: The Herald, edited by Holifield and Reese; The Gazette, by Drake and Price; Young Ladies' Mirror, by the College girls. There was a Water Cure Hospital, supervised by Dr. and Mrs. Reed. This hospital was where Professor Webb recently lived. The place is now owned by Mr. Finley and occupied by the Theta Chi Fraternity. There were two Daguerreians here; we know them today as photographers,— Mr. Park and Mr. Farrer were very fine artists whose work is as unchanged today as when finished. These artists had their galleries in what was known as the Rail-Raod Hotel. This hotel was just across the railroad from Mrs. Howard Lamar's, on" the lot we have known for years as the Dunklin lot. It was kept by a Mr. Tom Eady, about 1850-1852.
Three churches
We had in the early days of Auburn, three churches, Methodist, Baptist and Presbyterian. The Methodist Church was a log house just to the rear of where the present building is; the Baptist Church was also a log structure, and stood near the railroad, facing the street going towards Mr. Amos Cox's house. The place is now occupied by Joe Nesbit, a colored man, In 1848 the present lot was given by Mrs. Matthew Turner, a very rich lady. She built the second Baptist Church which was blown down by a storm. This was during the Civil War and the building was full of sick and wounded soldiers. The roof was blown down, and rested on the pews, which prevented it from crushing our soldiers. Not one was hurt, but kept dry during that night of the most terrific storm that we have ever experienced. The third Baptist Church was built by my father-in-law, Mr. Alex Frazer, with just the aid of some minor help. We now have the fourth church, foundation same as the third.
Speaking of the Baptist Church, let me give you the name of one of our Ministers: Edwin Champion Baptist Bowler Wheeler Nichols Dema Stephen Resden Carter Jackson Moore Thomas. He usually signed himself as E. C. D. B. Thomas. We also had another Minister, Parson Jones, who thought it very sinful not to be on speaking terms, which was the case with several of the members of his Church. He made this remark one day in the pulpit: "Won't speak to each other! Why I'd speak to the Devil; I'd say, 'Good Morning, Devil and walk on."
The old Presbyterian Church was built by my uncle Mr. Edwin Reese. My great-grandmother, Anna Reese, and my father contributed largely to its erection. My great grandmother gave the Bible, which is still in use. She also gave the Communion Set. After the individual cups were furnished I fell heir to the tankard, which is now owned by my grand-child. That old church was built in 1850.
In the early fifties, Auburn boasted of an Episcopal Church. This church stood a little back of where the Library now is, and was built by a Mr. McGregor.
Quite a number of prominent Methodist families moved into this city: Reverend John Glenn, Mr. Isaac Hill, Mr. Sim Perry, Mr. Ogletree, Mr. Addison Frazer, Mr. Adam Hardin and others.
Boarding houses and taverns
Just here let me tell you about one of our boarding houses in which lived Lambs, Drake, Whales, and Kidds: the Lambs and Kidds became dissatisfied and moved over to the Byrds.
The building of the railroad created a bit of excitement about 1850-1852. Judge Harper had the contract for building this railroad through this section of Alabama. However, he did not live to see this great work completed, he died that same year. The road was built to West Point by the slaves of Mrs. Jordan, great-grandmother of our Mrs. Gilbert.
Jones Hotel in Auburn, Alabama ca. 1930s (Alabama Department of Archives and History)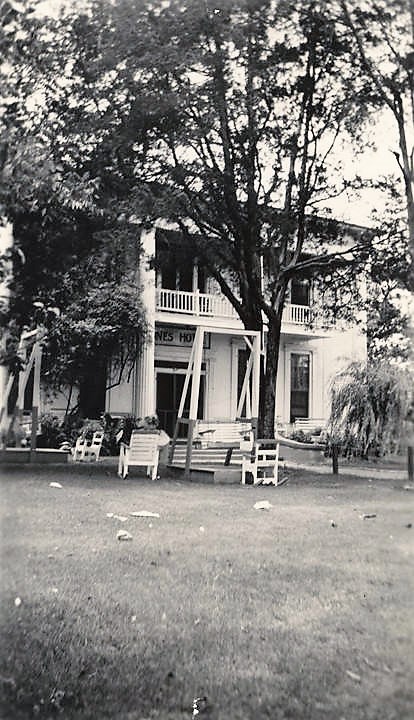 Stage coaches were used before the building of railroads. Most of the citizens here were men of means, therefore owned their vehicles and travelled wherever they wished to go.
Judge Harper said there should never be a saloon in two' miles of the incorporate limits,—but please don't understand me to say there was no whiskey sold in this town; yes, I am sorry to confess, that whenever it was desired it flowed in plenty.
Twenty-three Physicians
In 1836 to 1860 there were twenty-three physicians who practiced here. Among those of my recollection were Drs. MeDowdell, Mason, Bass, Drake, Bilbro, Capers, Jones and Philpot.
The dentists were Cobb, McElhaney, and Cherry. Lawyers: Carter, (first husband of our sainted Mrs. McElhaney), F. M. Reese (my father), Turner, Leftwick, Dillard (father of Mr. A. L. Dillard, who lives here today), Mr. Boyd and Mr. Holifield (uncle of Misses Mollie and Kate Holifield).
Literary men and authors: Professor Darby, textbooks; Reverend Dr. Sasnett, textbooks; Professor Morris, Grammar; Hon. W. F. Samford, (father of our former Governor and Mrs. Myrick and Miss Mary Samford) ; Professor Price and Col. Wallace Drake; Mrs. C. C. Oliver, Mrs. Hamil (mother of our sainted Howard Hamil); R. C. Holifield, William Howe, F. M. Reese, Col. Scott and Dr. Lamar.
Home of Governor William J. Samford in Auburn, Alabama ca. 1930s (Alabama Department of Archives and History)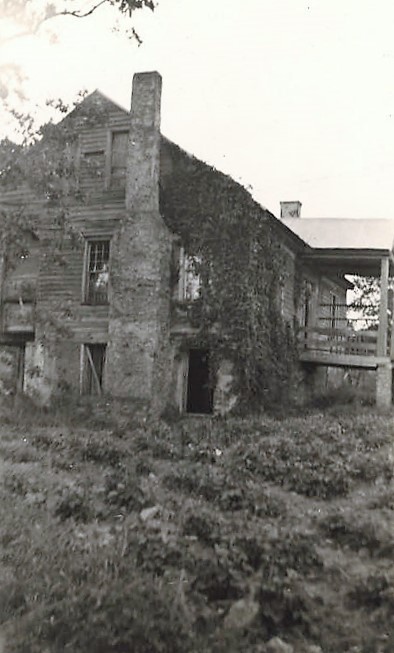 On the second floor of a large two-story wooden structure, just about where the large northeast entrance gate is which leads into the college campus, was a printing office, where the three papers were sent out each week to enlighten the people of Alabama. On the first floor of this building was a large supply store kept by Col. Scott and Mr. Frank Dillard (father and grandfather of Miss Annie Laurie Dillard). The shoe department of this business was managed by a Mr. Flanagan (father of T. A. Flanagan, whom we all knew so well as "Boss Flanagan." As we remember, Boss Flanagan owned the business now owned by Mr. W. D. Gibson). Another store in the first mentioned building was a grocery store kept by a Mr. Grout (grandfather of our Mrs. C. S. Yarbrough). This Mr. Grout and family were the early settlers of Auburn.
Merchants
Other prominent merchants of this town were: Sale and Smith, Dillard Brothers, Mr. Raiford, Mr. Bryant Glower (who was accidently (sic)  killed), Mr. Nick Persons and Mr. Thomas Slaton.
William Howe, the poet and writer, built the house now owned and occupied by Mr. Shell Toomer. He married Virginia Gorse. Virginia's mother kept boarding house where the Lambda Chi Fraternity house now stands. Virginia was a little girl, fourteen years of age; Mr. Howe was thirty years of age. He fell in love with this little child and beset her mother to give her to him. For a long time the mother refused the request, but at last, consented to the marriage; so at the age of fifteen Virginia put on her first long dress and became the wife of William Howe. At the age of sixteen she died and left a broken-hearted husband, who would not consent for his little child-wife to be buried in the cemetery, so he laid her in the front yard, where, on doubt, he shed many a tear at her grave. But, man-like, he soon sought consolation in the pretty face of the older sister, who told him when he buried her sister in Pine Hill Cemetery she would be his bride. Of course, it was done without delay. As you enter the cemetery you will see a tomb with these words: "William to Virginia."