GREENSBORO, ALABAMA PRESBYTERIAN CHURCH1
(Published 1908)
The first sermon ever preached in Greensboro by a Presbyterian minister was some time prior to 1822 when Mr. Hunter delivered a discourse.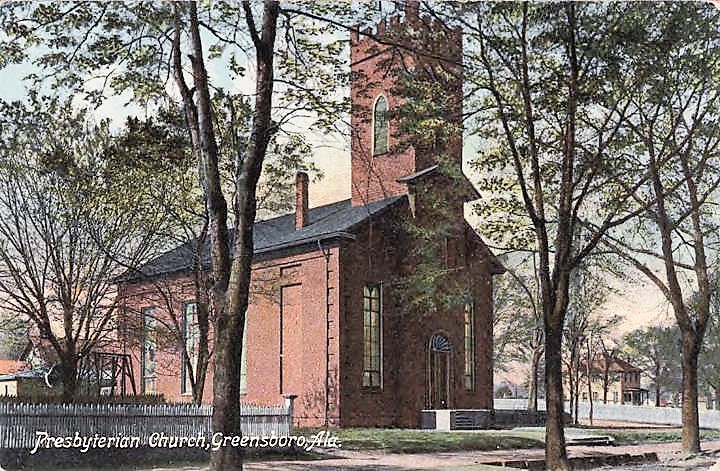 Presbyterian Church, Greensboro, Ala ca. 1890 (Alabama Department of Archives and History)
Presbyterian erected a house of worship in 1823
In 1822, Rev. James Hillhouse came from South Carolina and delivered his first sermon in a small house used as a tavern. The next year (1823) he organized a church of twenty members, and the same year a house of worship was erected where Mrs. Mary G. Pickens now resides.(1908)
On the first roll are the names of Norris, Knox, Hall, Hunter, Hillhouse, Darragh, Bell and Barron. Except during the period from 1830-1832, Mr. Hillhouse served as pastor until his death in 1835. Such was the growth of the church under his administration that the congregation was able to offer in 1836 a salary of $2,000 per year.
Presbyterian ministers over the years
In 1837 Rev. T. R. Witherspoon became the pastor of the church and held the position until 1843. The following ministers subsequently served the church either as stated supplies or as regular pastors, VIZ. Rev. L. D. Hatch, spring of 1843; Rev. R. C. Yale, 1843 and 1844; Rev. R. H. Chapman, 1845 to 1850; Rev. J. C. Mitchell, 1850 to 1859; Rev. F. H. Bowman, 1859 to 1860; the church pastorate was vacant 1861 and 1862; Rev. J. M. P. Otts, D. D., 1862 to 1867; Rev. D. D. Sanderson, 1868 to 1871; vacant 1871 and 1872; Rev. W. J. Frierson, 1872 and 1873; Rev. Thomas Ward White, 1874 to 1879; Rev. J. J. Anderson, 1880 and 1881; Rev. W. C. Clark, May 1882 to 1886; Rev. W. G. Keady, 1889 to 1902; Rev. J. P. Anderson, 1902 to present (1908).
The church has numbered among its membership some of Greensboro's most honored and prominent men. On the roll will be found such names as Witherspoon, Kerr, Locke, Lowry, May, Strudwick, Webb, Carson, Castleman, Boardman and others. The number of persons brought into the church since its organization has been something over six hundred. This church has furnished seven or eight ministers, and there have been associated with it, as pastors, Seven ministers: Witherspoon, Chapman, Mitchell, Otts, Clark, Keady and Anderson; and as stated supplies, nine: Hillhouse, Murphy, Hatch, Yale, Bowman, Sanderson, Frierson, White and Anderson.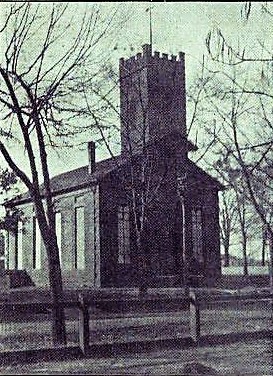 Presbyterian Church, Greensboro, Ala ( HISTORY OF GREENSBORO, ALABAMA From Its Earliest Settlement by William Edward Wadsworth Yerby, Montgomery, Alabama)
Three houses of worship
Three houses of worship have been built—1823, 1841 and 1859, in the latter year the present edifice was erected.
Miss Emma Boardman, a member of this church, went as a missionary to China in March 1894 and is yet at her post of duty. (in 1908)
Where Do I Start?: HINTS and TIPS for BEGINNING GENEALOGISTS with ONLINE RESOURCE

 Do you need some guidance in your genealogy search? Save time and avoid pitfalls in your research. This book provides simple, no-nonsense instructions to help you get started. Many FREE research links included.
Tips include:
WHERE TO FIND – on-line resources, experienced genealogists will not be aware of many of these.
COURT RESEARCH – how to do courthouse research, where to find birth, death, social security records free on-line.
EIGHTY – ONE QUESTIONS – you should ask your elderly loved ones before it's too late.
TIPS ON BREAKING DOWN THE WALL – Everyone faces some difficulties in research, often called a 'brick wall' but WHERE DO I START? provides suggestions for overcoming them.