HAMPTON HARMON COSPER
and his move
from Alabama
to Texas
By Quillie Pugh Caskey
Hampton Harmon Cosper married Eliza Caroline Smith. This union was blessed with fifteen children, six sons and nine daughters. After her death, which occurred fifteen years after he moved to Texas, he married Dora Trammell Worley, a young widowed school teacher with one daughter.
To this second union two sons and three daughters were born, making a total of twenty of his own children. All except to of these children settled in the Southwest, and two of them are still living. (1955) Mrs. Barabara Zaid Cosper (Richard) Sowell of Colorado City, Texas, and Milo Bert Cosper, the twentieth child. Milo Bert of Fort Worth, Texas, had this to say recently of the close relationship existing between him and his father: "We were great pals."
Hampton Harmon Cosper
From Findagrave.com contributed by Chuck Thomas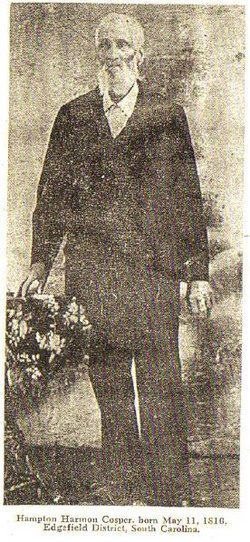 Just why Hampton Harmon, who was engaged in such profitable enterprises in Randolph County, Alabama, should decide to go west is one of those unsolved mysteries. But some time shortly before 1851 Hampton Harmon Cosper, and others in his locality loaded their families and worldly possessions into ox-wagons and started west. Texas was their destination.
Hampton Harmon left Randolph County, Alabama before 1851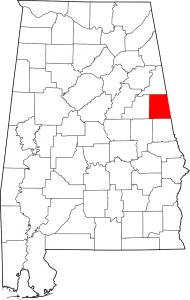 Fires burned all night to keep the wolves from coming inside
The writer's grandmother, Mary Ann Frances, and several of her sisters, including Emily, Martha, Manda and Eliza, were in the caravan. Mary Ann Frances said that when they had camped at nights in tents that the women would cook enough food for the next day's journey; that "During the night they would often be awakened by fright between their two big watch-dogs and the wolves beating against the tents; and that "fires were kept burning all night to keep the wolves from coming inside."
They were forced to return to Randolph County, Alabama
But they were not as yet destined to reach their "promised land," because when they reached the swamps of the Mississippi River the "water was so high and the mud so deep that they were forced to turn back." They settled once again in Randolph County, Alabama, and Carroll County, Georgia, where during the ensuing years, they sowed, reaped their crops and continued to "look beyond the horizon of the foot-hills of the Blue Ridge Mountain and to long for, to know, and to experience a new life in that much talked about fabulous Texas."
Foot-hills of Blue Ridge Mountains in Georgia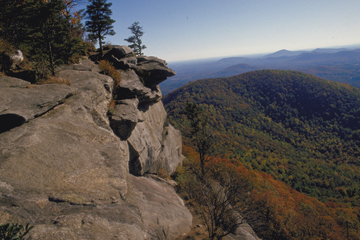 Hampton Harmon made extensive plans for their second departure. He owned much land and many families of negroes. The negroes "all begged to go with him." He was unable to grant this request. But he did grant to each family "a certain portion of land to cultivate for its own." No sales or deeds were ever made or recorded.
They attempted the trip to
Texas again in 1854, but some were left behind
The time set for this departure of these pioneers was September 15, 1854. When the designated day arrived, the covered wagons, drawn by horses and mules were loaded. Fond farewells were said with very heavy hearts, because this time two married daughters, and a number of grandchildren and relatives were being left behind at the home place, a large two story mansion which still stands.
These daughters of Hampton Harmon, soon demonstrated that they were strong and courageous women, for after the first grief over the departure of most of their loved ones, they set about building a new life of their own. Both had married in the interim between the first ill fated attempt to migrate to Texas and this second departure.
Mary Ann Frances, who had married the Rev. Vincent King soon learned that a circuit rider's wife must assume tremendous responsibilities. It meant staying at home, directing the farm activities and caring for their five lovely daughters. One of these five daughters, Emily Amanda Tommie, married Henry Tilman Pugh and became the mother of the six sons and three daughters. The writer is her eighth child. The other daughter of Hampton Harmon, Emily Caroline, married Marshall Williams, and soon experienced the real hardships of a typical pioneer mother. She became of the mother of sixteen children, thirteen of whom lived to be grown, married and reared large families. Her husband died in 1878. She passed away in 1925, after having lived a widow for 47 years.
After many hardships, they reached Farmersville, Texas
But we must return to our Texas bound caravan. After a few months of travel, during which these pioneers endured extreme hardships and adversities, Hampton Harmon and his large party settled at Farmersville, Texas. He remained for several years ever increasing family. The first Texas born was named Texas Cordella.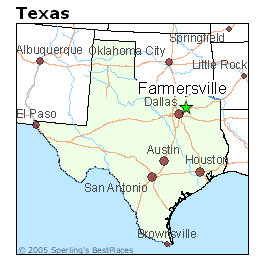 Masonic and other records reveal that Hampton Harmon Cosper lived, during the next few years in Bosque County, at Acton in Hood County and at Buffalo Gap in Taylor County. It was a Buffalo Gap that he engaged in farming and ranching on an extensive scale for a number years before moving, as we shall presently see, further westward into New Mexico, Arizona, and eventually back to Texas.
Many in the family served in the Civil War
We must, of necessity, pause here, first, to give a brief resume of the contribution of the Cospers to the cause of the Confederacy; and, second, to recount the interesting story of the last great migration of the Cospers from Alabama to Texas, New Mexico and Arizona. As has been stated again and again in the records, "the Cospers loved God, their families, home and country." So, when the first call came for volunteers to serve in the Confederacy, "these men and boys" were amongst the first to volunteer.
Some fifty Cospers are listed in the Confederate Records from Alabama, and a great number from Georgia, and Texas. Although he was 50 years of age, James Glenn Cosper volunteered in 1864 in Captain Larkin Breed's Company "F" of Randolph Militia, along with his nephew, Joseph Berry Mark Cosper, a lad who was only sixteen. The Rev. Joel Henry Cosper served as First Lieutenant in the same Company.
Rev. Joel Henry Cosper
contributed to Findagrave.com by Wendy Martin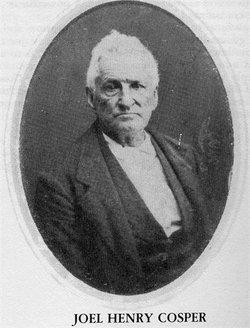 Hampton Harmon, who was passed the middle age years, is also listed among those Texas who volunteered, and the evidence warrants the assertion that he was wounded while serving in Texas and Arkansas in the Texas Cavalry.
SOURCE:
The above (without pictures) is a transcribed excerpt from The Cospers: Pioneers of the South and Southwest By Quillie Pugh Caskey Mississippi College, Clinton, Mississippi as published in the Arizona Cattlelog, February, 1955; Vol. X, No. 5
Stories include; The Yazoo land fraud; daily life as an Alabama pioneer; the capture and arrest of Vice-president Aaron Burr; the early life of William Barrentt Travis, hero of the Alamo; Description of Native Americans of early Alabama including the visit by Tecumseh; Treaties and building the first roads in Alabama.