(Transcribed and unedited (with misspelled, capitals and grammatical errors) excerpt from a story written by WPA (Works Projects Administration) writer Annie L. Bowman, Escambia County, Alabama, January 29, 1940)
John's Domain in Escambia, County, Alabama
Life story of
written 1940
by
Annie L. Bowman
John Wesley Bowman was born at Wawbeek, Ala in (March) 1824. His parents John W. and Susana Bowman came from South Carolina in 1820. The country was new and unsettled and as all early settlers did they built their home near a spring. He was a circuit rider of the old Methodist shouting type and it was he who brought the gospel to this unbroken wilderness. It was he who ministered to the sick with his herb medicine for he was the nearest to a Dr. that could be had. Many believed in his faith as well as his medicines.
Wife stayed alone in wilderness at night
Their home was built on a hill and this historic old spring was nearly a mile from the house. His wife Susana had to stay alone often at night with her eight small children. Regardless of her pioneer spirit, she would be afraid, for wild beasts roamed the woods. She didn't fear the Indians. They were on good terms with her circuit rider husband.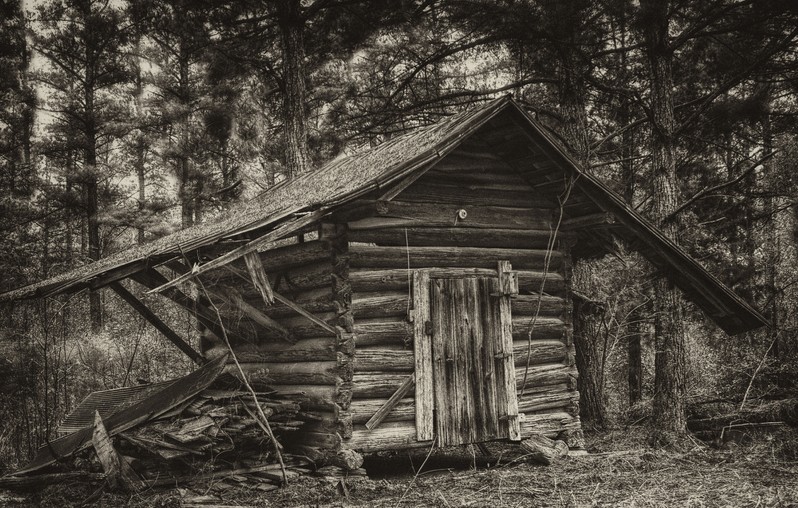 There was a legend about the spring, that claimed two soldiers coming from the war had stopped here to get a drink of water. One had saved his money and was carrying it home to his family. The other had spent all of his in riotous living. While the good man was kneeling to drink the bad man took his gun and knocked him in the head, robbed him and fled. Many a night alone with the children, she relived this scene and often after the hard days work was over she was forced to go to the spring after dark to get water. She would be so afraid, she would run all the way there and back. Her life was miserable until one night sitting before the fire a picture of the slain man came down the chimney and stayed there five minutes. He seemed so happy and at rest. So great was her faith in this she was never afraid again and could come and go after dark when she pleased. In after years the spring that was never dry, ceased to exist over night.
Best shot in the whole county
In this christian home John Wesley was born and reared. He grew to manhood here and was considered the best shot with his rifle in the whole county, this was considered the sport of the every man in those days.
In 1845, he married Miss Malinda Shepherd and homesteaded a section of well timbered land a mile from his fathers home. The land was open and free at this time and he stocked it with cows and sheep. Here was born eight children and the baby was two years old when the mother died.
Left with eight babies to care for
The civil war came while he was a widower with eight babies to care for and mother. He was given a contract to get out timber for the new railroad by his old friend Mr. Hoyt who realized the plight he would be in if he should be drafted in the army.
The yankees came by and took all he had but one side of bacon. Fortunately he had carried his cows and sheep away from their path. They subsisted on what he could get about the country until he could raise another crop of corn and potatoes.
After the war was over he looked around for another wife and he was married to Miss Frances Presley in May 1868, and eight more children was added to the household.
Had home remedies
He was called honest John and he encouraged good settlers to come in and take up land. The new settlers loved and also feared him. He used some of his fathers remedies for the sick and was called to many a bedside. Some few seemed successful. One in particular. Scrofula was a dreaded disease and he was successful in every case he was called to attend. There is nothing to it he said, go in the woods and grub up the roots of a wild plant that grows abundantly in Escambia county, called Queens Delight, get as many as you can hold between your thumb and fore finger, put this in a quart of raw whiskey and take a tea spoonful three times a day.
They tell of a little girl whose glands were badly eaten by scrofula. She had been under the Dr's care and got worse everyday. Her father would not hear of home remedies, but he finally yielded as she was given up, to his amusement she was well in three weeks. Dr. Dr. asked him why he hadn't brought his little girl in for treatment. He was told what he did and that she was well. The Dr. said, well it must be good but what I gave was good to.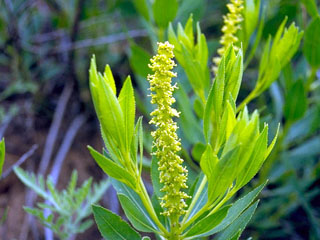 Queen's Delight herb Alabama (wildflower.org)
He promoted the idea of getting good settlers to come and take up land in the country. But the undesirables were given such a cold shoulder they would eventually move out. He made a modest little fortune. The land was good grasing (sic) and he, the Miles and Leatherwood families were the stanch (sic) back bones of the country for at least thirty miles radius and had several thousand cows and sheep each on the open range. There was not much farming, just patches and big fruit orchards. Pensacola was their trading center and it would take a week to make the trip in the ox wagons where they sold their beef cattle, apples and peaches. In the spring shearing sheep was the main thing. They always carried their wool to Mobile where there was a good market.
Honest John's Domain
It was he who first promoted the little log school house. He would board the teachers to get his children in good company. It was he who first promoted the log union church in the county. It was his popularity that the country around was called or known as honest John's Domain.
Note from transcriber: John Wesley Bowan died in 1909 in Escambia County, Alabama and is buried in Bowman Cemetery, Wawbeek, Escambia County, Alabama Find A Grave Memorial# 49371433
Do you need some guidance in your genealogy search? Save time and avoid pitfalls in your research. This book provides simple, no-nonsense instructions to help you get started. Many FREE research links included. Where Do I Start is filled with Hints and Tips to begin your family genealogy research and acquire Genealogy information.
WHERE TO FIND – online resources, experienced genealogists will not be aware of many of these.
COURT RESEARCH – how to do court house research, where to find birth, death, social security records free online.
EIGHTY – ONE QUESTIONS – you should ask your elderly loved-ones before it's too late.
TIPS ON BREAKING DOWN THE WALL – Everyone faces some difficulties in research, often called a 'brick wall' but WHERE DO I START? provides suggestions for overcoming them.

Download Where do I Start? to your Kindle in less than 30 seconds or to your PC, iPAD, iPhone, MAC or Android device with FREE Apps from Kindle.