Some Genealogy Humor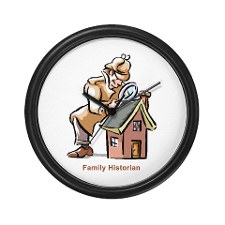 I'd rather be looking for dead people than have them looking for me!
I'm searching for myself; Have you seen me?
If only people came with pull-down menus and on-line help …
A new cousin a day keeps the boredom away.
I researched my family tree … and apparently I don't exist!
As family historian, do you have friends and family ask you how to get started in family research? This is a hard question to answer in a few minutes. Refer them to the book below to help them get started in this fun hobby. Purchase several – Books make great gifts!
REVIEWS
"This book was very informative and at a very modest price. One web site I may have missed in your book that has been very helpful to me is genealogybank.com. I found articles about several of my ancestors in their newspaper archives. Thank you for your great newsletter and this book."
"The book was clear & concise, with excellent information for beginners. As an experienced genealogist, I enjoyed the chapter with lists of interview questions. I'd recommend this book to those who are just beginning to work on their genealogies. For more experienced genealogists, it provides a nice refresher."
All books by Donna R. Causey (fiction or nonfiction) – help keep this website FREE!