The Fed Hartley Rock
by
Dudley Hartley of Huntsville, AL
 Contributed by  Karen R. Barbour
(granddaughter to Joseph W. Hartley and Ila Snipes both born in AL.)
[This is transcribed from a photocopy of hand written document from the letters of Dudley Hartley starting in October 1993 to Ila Marie Hartley. Transcribed by KRH.]
Until about the mid nineteen thirties when road working machinery came into use the rural roads in Alabama were kept in repair by the men of the various communities. Each county was divided into road districts and all able-bodied men aged 18 to 45 were required by law to work ten days per year on the roads of their district or pay a road tax of $10.00. Most of the men chose to work on the roads.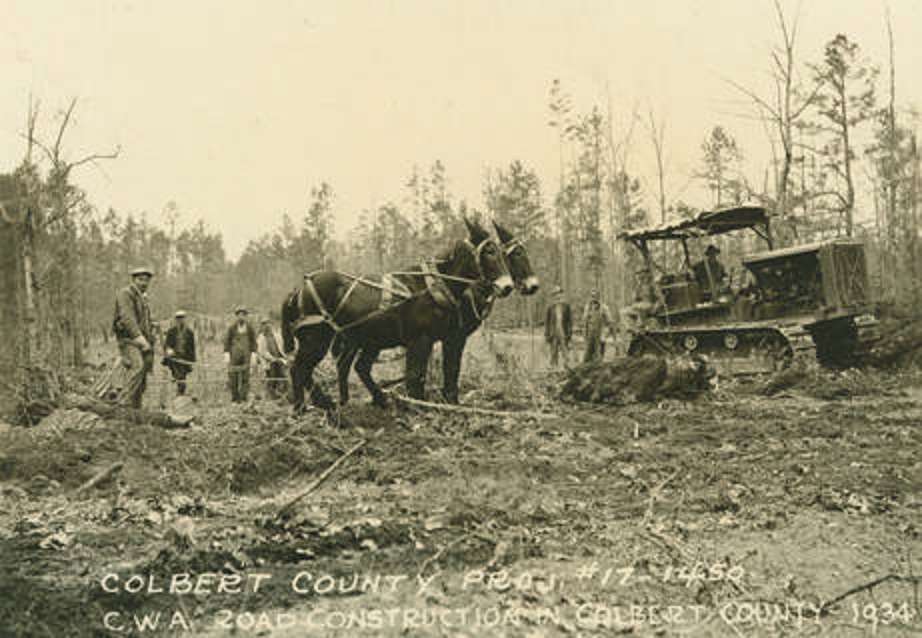 Road Construction project in Colbert County, Alabama ca. 1930s (Alabama Department of Archives and history)
He moved it out single-handed
One year when Frederick Hartley, Jr. was doing his road work there was a large rock in the road that they decided should be moved out of the road. About five men gathered around the rock, and tried to move it but couldn't.  Then Frederick Hartley moved it out of the road single-handed. This story was told to me by my grandmother, Beedie Hartley Coley, who remembered Frederick Jr.  She said he was a very powerfully built man.
A few years ago I was at a home coming at Salem Church, which is in the community where those old Hartleys lived and where the rock moving occurred. I asked Melina (?) Gray, who was also at the home coming, if she knew about the rocks. A bystander, who overheard our conversation, said "That is the Fed Hartley Rock."
No one else could budge it
Then some older people who had grown up in that community told us that for many years the Fed Hartley Rock had been a testing device for the young men of the community. They would try to move. One man, Manley Palmer, was able to turn it over; no one else could budge it. Someone who knew where the rock was showed it to me. It is about 2 1/2 feet long by 1 1/2 wide by 6 inches thick. Those are the maximum dimensions; neither width, length nor thickness is uniform.