Don't waste time researching genealogy others have completed. This book is filled with genealogy research, notes and sources of information on Alexander Grancer Cobb's descendants.
Alexander Cobb was born 1772, South Carolina (Edgefield District?) and died 1856, Bibb County, Alabama.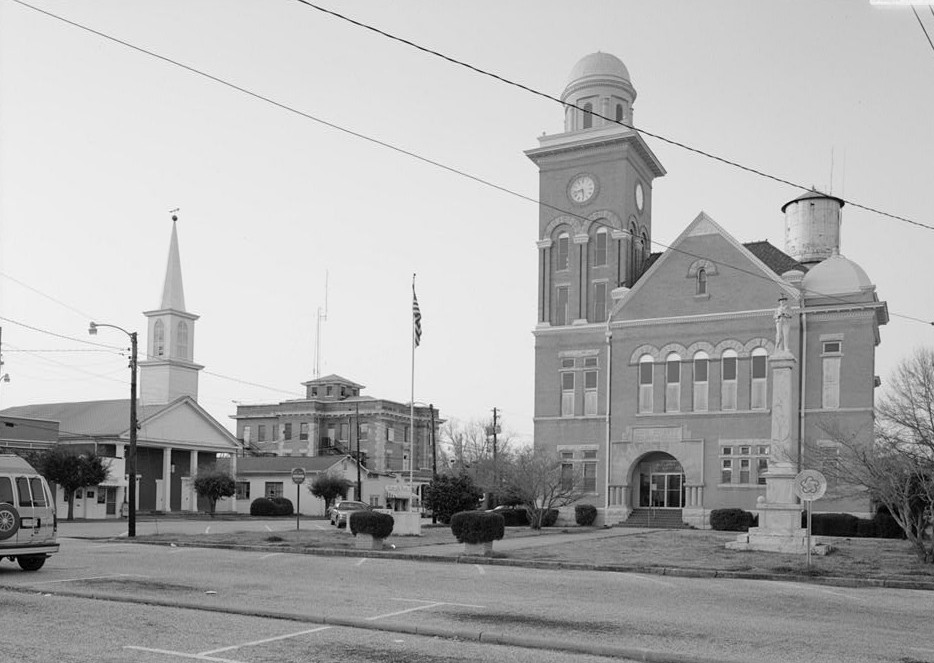 Bibb County Courthouse & Jail, Courthouse Square, Centreville, Bibb County, AL (Library of Congress)
Cobb married Ruth Banks in South Carolina around 1793. She died about 1825 in Bibb County, Alabama. They arrived on Mulberry Creek, Cahawba (later Bibb) County, Alabama, about 1816. Alexander and his Ruth had the following children:
1.Rutha Banks Cobb
2.Bethaney Bathsheba Cobb
3.Tabitha Telitha Cobb
4.John Allen Sanders Cobb
5.Charles 'Charlie' Banks Cobb
6.Mary 'Polly' Ruth Cobb
7.William Pinkney Cobb
8.James Jackson 'Jim' Cobb
9.Priscilla Cobb
10.Levi Banks Cobb
11.Elizabeth Martha Cobb
12.Frances Cobb
13.Rebecca Underwood Cobb (adopted)
After Ruth's death, Alexander married Marian Campbell Dec. 21, 1826 in Bibb County, Alabama.
Some descendant surnames include: AIRHART, ARLEDGE, ARNOLD, AVARY, AVERY, BEASLEY, BOLES, BRASHER, BRASHIER, BUSBY, CAMPBELL, COKER, COOPER, CREEL, CRIM, DAVENPORT, DELOACH, DESHAZO, DOSS, DUFFEY, BANKS, ELLISON, FITZGERALD, FRANKLIN, GENTRY, GILES, GLASCOCK, GLASSCOCK, GOODGAME, GRAY, GREEN, HARDAMAN, HARDIMAN, HONEYCUTT, HORN, HOUSER, HOWSER, HUBBARD, HUCKABEE, JOHNSTON, KNOLES, LANGSTON, LAWHON, LAWHORN, LEOPARD, LIVINGSTON, LOWERY, MADDOX, MAHAN, MATTHEWS, MCCASKILL, MCGRAW, O'DONELY, RIGDEN, SAMMONS, SEALES, SEALS, SPENCE, THAMES, TUCKER, WALKER, WASSON, WOOODALL, WOOLLEY
Browse the FREE SAMPLE pages (which includes a brief descendant outline in the first pages) on Amazon to see if this is your family line.
While every attempt has been made to document all data found in this compilation, as with all genealogy works, there is the possibility of inaccuracies. Please use this book as a starting point in your own research.
Download and read Kindle books on your computer or smart phone with FREE APPS!
Use the Search/Find feature on your electronic device will assist you in finding names or places in this E-book. Click below to see how.