Fountain Heights is one of Birmingham's historic neighborhoods, and was home to some of Birmingham's most prominent and wealthy business leaders, but today the community is located at two of the state's busiest highways, Interstate 20 and Interstate 59.
Built in early 1900's
Most of Fountain Heights was built in the early 1900's, but the community is filled with history even before then and continuing through the Civil Rights era.
Residence of H. Clanton Miller, Fountain Heights ca. 1910 (1110 Fountain Avenue – from Birmingham Public Library – by Davis Advertising and Sales)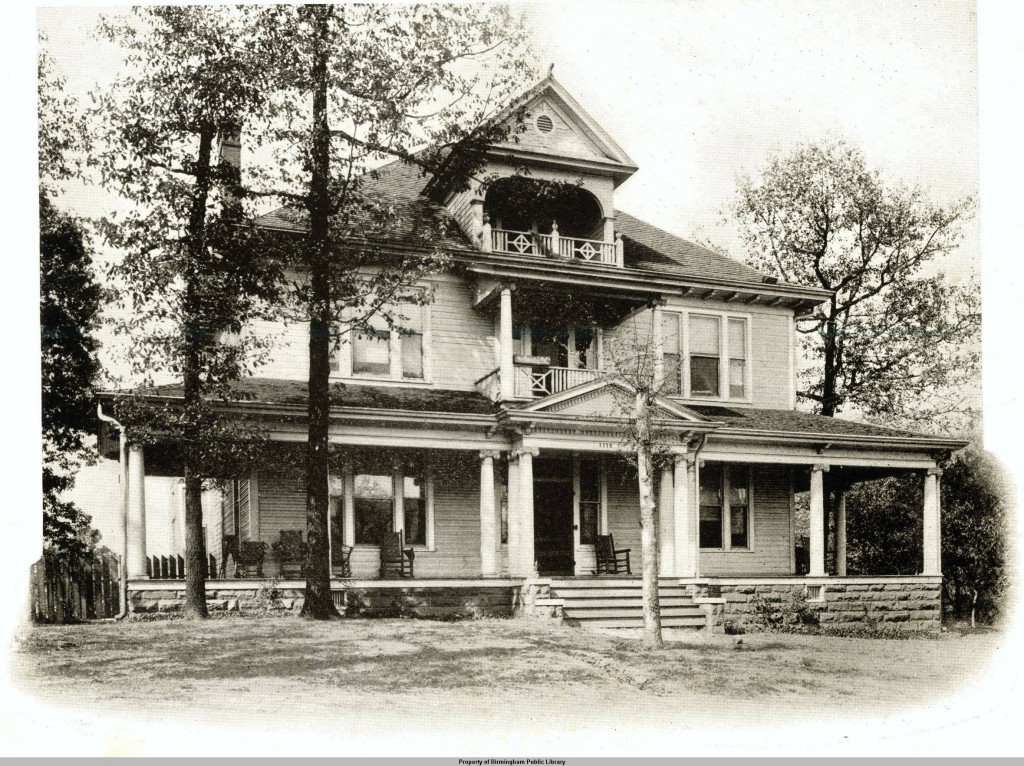 Kelley purchased ten acres
George C. Kelley was a progressive businessman in Alabama who was born in Wilmington, North Carolina on July 30, 1847. In 1881, he became a resident of Birmingham, and erected upon Second Avenue, a fine building devoted to the mercantile trade where he established a wholesale and retail hardware business that extended throughout the South. In 1882, he purchased ten acres in the Fountain Heights area and built a beautiful residence there.
Pamela King of UAB is researching the homes at Fountain Heights and tells of her project in the film below.
Two streets ran through Fountain Heights
The historical society's research shows that back in 1898, there were only two streets that ran through Fountain Heights. In the early 1900's the street car came roaring up the big hill as well as the weather station for Birmingham that remained there for over 40 years.
1892 – First streetcar from Avondale to Fountain Heights (from Birmingham Public Library)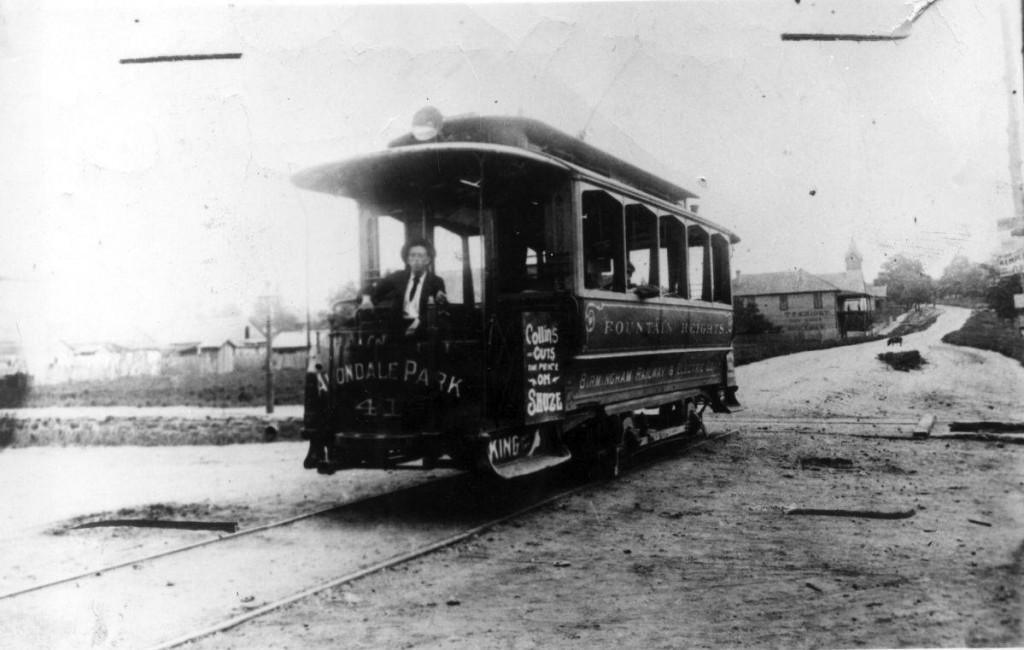 DeBardeleben had home in Fountain Heights
Henry F. DeBardeleben, founder of Bessemer, had his home in Fountain Heights. This mansion was later the start of St. Vincent's Health System. The first temporary location was established in his home in 1898 by the Sisters of Charity Hospital Association. "Groundbreaking for the facility shown in this photograph took place in March 1899, and this permanent location opened on Thanksgiving Day 1900. Known as Mount Saint Vincent, the hospital was the first in Birmingham to have x-ray equipment installed."i
Birmingham's St. Vincent Hospital 1908 27th St. and Avenue I (from alabamayesterdays.blogspot.com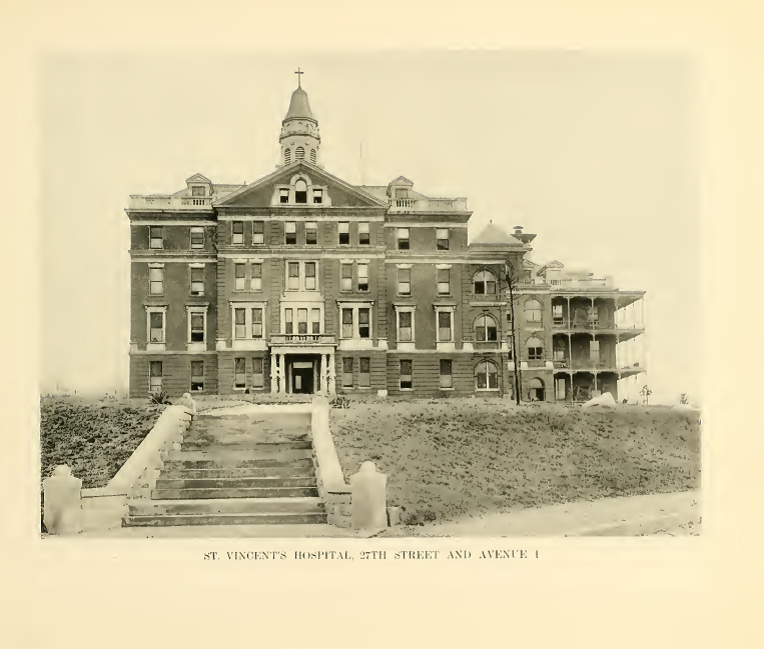 Weatherman broadcast from Fountain Heights
"One of its claims to fame was it had a weather station for Birmingham for 40 years and the weatherman he weatherman, E. C. Horton even broadcast from there.ii Horton was marooned in his weather observatory at Fountain Heights in a disastrous sleet storm on February 5, 1923 without telephone communication with the outside world. He made his readings by candle light while the city of Birmingham awoke under a solid sheet of ice. The whole city was without electricity and was forced to return to kerosene lamp and old-fashioned candles. Magnificent oaks and tall pines went down as if hit by a cyclone according to The Birmingham News.iii
U. S. Weather Bureau Station Alta Avenue and Lawn Street ca. 1913
(Alabama State Archives)
Jewish Settlement extended up to 13th Avenue
"An area of Jewish settlement extended from there up to 13th Ave. And then to the West," White said.iv
"Hidden in plain sight, the Knesseth Israel/Beth-El Cemetery, the oldest Jewish cemetery in the city, is situated at the top of Enon Ridge in the Fountain Heights neighborhood of north Birmingham. Modest wooden houses built during the 1930s line the cemetery on two sides. Center Street runs through the middle, with Knesseth Israel on one side and Beth-El Cemetery on the other. A strip of woods screens the peaceful grounds from the sounds of cars and trucks roaring by on I-59, constructed during the late 1960s as part of Eisenhower's urban renewal plan "v
Fox 6 WBRC has ties with Fountain Heights
Even the history of Fox 6 WBRC station has ties with Fountain Heights. "M.D. Smith, Jr., a local business man, purchased WBRC-AM from J.C. Bell for $2,000. In fact, WBRC stands for Bell Radio Corporation. In the late twenties, WBRC AM 950 operated with a power of 10 watts. The transmitter facilities and studios were in the home of J.C. Bell in Fountain Heights, and WBRC-AM had a broadcast day of only four hours"vi.
One of Birmingham's historic fire stations, No. 11, was built in 1910 in a commercial style, in contrast to later suburban stations. The garage door sat on the left side of the building next to a central entrance door. A brick belt over the office portion of the building and an awning over the doors are the only decorative elements in the building.
There are many more stories connected to the Fountain Heights Community and it is sad to see its deterioration. I know progress is important, and we must have improvements on our Interstate system, but Birmingham has lost so much of its history that makes it a unique city. The destruction and loss of the Birmingham Terminal Station is and will forever be a disappointment felt by many.
General View, showing Court House, St. Paul's Church, and Terminal, Birmingham, Ala ca. 1908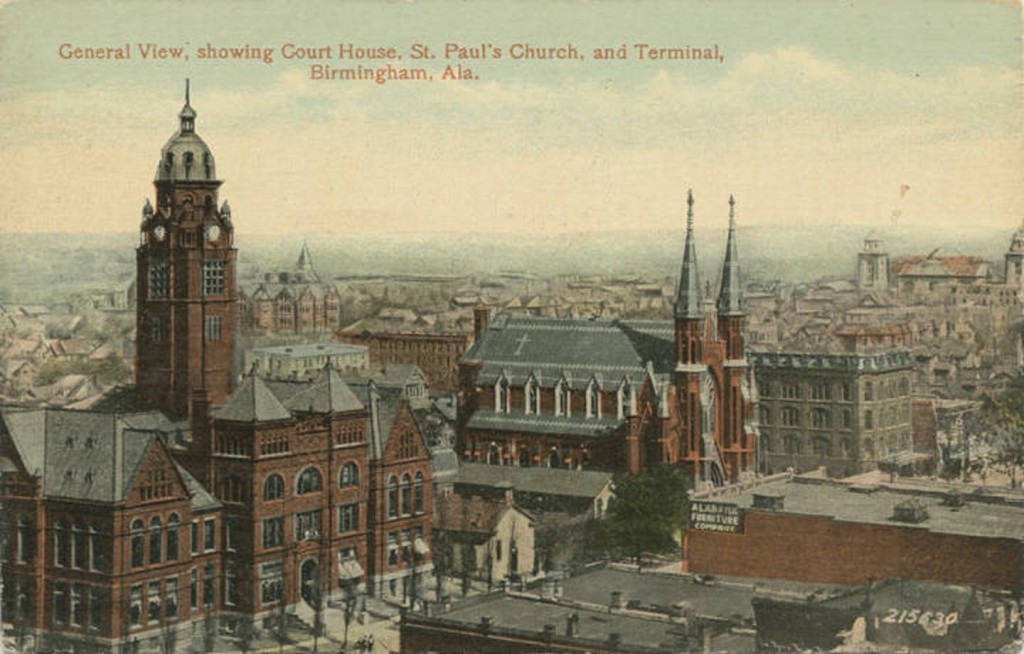 Terminal Station cost $2,000,000 in 1910
Jemison magazine of June 1910 volume 1, No. 2 stated that the "Terminal Station cost $2,000,000 and had a wonderful effect on property values on Second, Third, Fourth, Fifth and Sixth Avenues, East of Twentieth Street." Can you imagine what it would cost to replace such a property today? Those who remember the Terminal Station realize what a treasure we had. If we still had the terminal in conjunction with Railroad Park, imagine what a tourist attraction it would be to the city of Birmingham.
Those who remember it, realize what a treasure we had. If we still had the terminal in conjunction with Railroad Park, imagine what a tourist attraction it would be to the city of Birmingham.
I hope we can find some way to save these beautiful historic homes in Fountain Heights before it is too late.
Future plans for the two Interstates threaten to destroy the neighborhood further. (Interstate 20/59: Fountain Heights residents give input on bridge replacement plan August 29, 2014)
RELATED STORIES
Early Birmingham and Bessemer Alabama [Photograph and vintage film]
This is what stood at 1st Avenue and 19th street Birmingham, Alabama
The Birmingham Zoo and Botanical Gardens sits on 4700 graves
RIBBON OF LOVE: 2nd edition – A Novel of Colonial America 

 – the true story of religion in America –

Inspired by true historical events, Mary and Henry Pattenden flee to America to escape persecution –  It is almost impossible to put the book down until completion. – Dr. Don P. Brandon, Retired Professor, Anderson University