A number of National Register of Historic Places listed plantations are located a few miles from Faunsdale in Marengo County, Alabama.
Faunsdale Plantation
Faunsdale Plantation is a historic plantation near Faunsdale, Alabama, United States. The plantation was first established in the 1830s by Messrs. Pearson and Henry Augustine Tayloe, who owned New Hope Plantation and co-owned Walnut Grove, Oakland (or "Woodville" it was then) and Adventure Plantations, in the Canebrake and would later racehorses in Alabama and co-found the Louisiana Jockey Club, now the New Orleans Fairgrounds, with Bernard de Marigny in 1839. Nine Hundred and Sixty acres were then purchased by Dr. Thomas Alexander Harrison from Charles City County, Virginian in1843. He named his plantation after Faunus, the ancient Roman deity of the forest, plains, and fields. Harrison is known to have brought a large number of slaves with him from Virginia, he is listed in the 1850 Federal Census of Marengo County as having $18,300 in property.
The slave quarters on the property are among the most significant examples of slave housing in Marengo County and are among the last remaining examples in the state of Alabama. The house was added to the National Register of Historic Places on 13 July 1993 as a part of a multiple property submission, "Plantation Houses of the Alabama Canebrake and Their Associated Outbuildings".
Faunsdale Plantation slave quarters in 2008 by (Altairisfar, Public Domain, Wikipedia)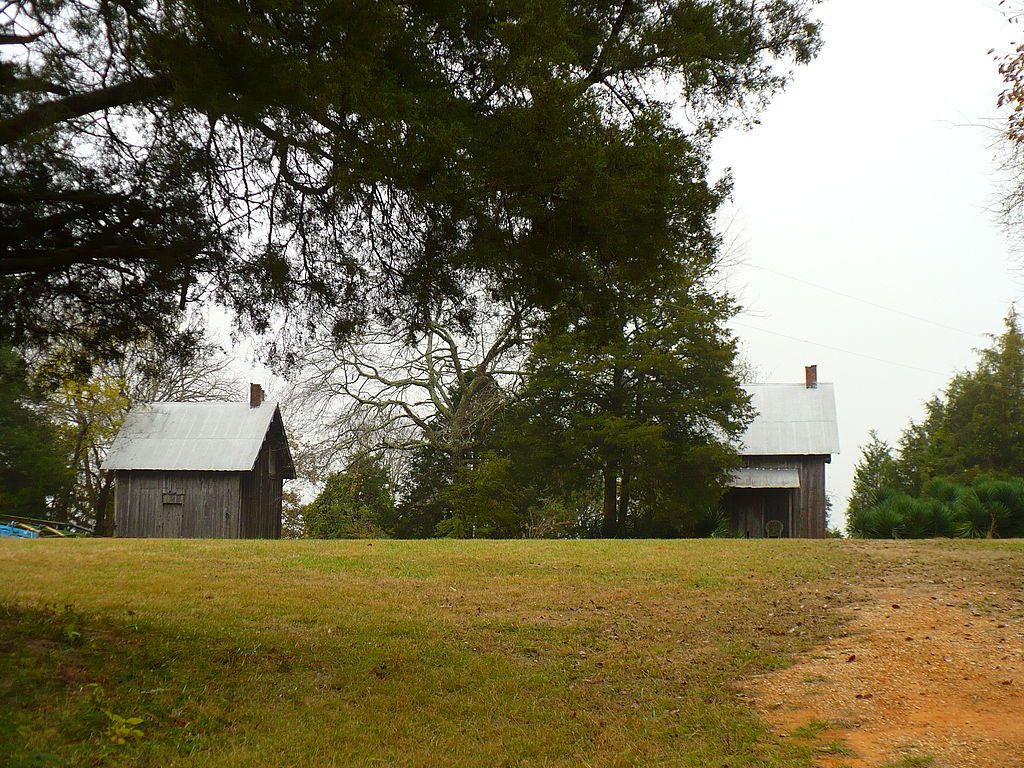 "Dr. Harrison was one of the notable acquisitions to the Canebrake and to the citizenship of Alabama. He was a gentleman of most polished manners, handsome person and rare intelligence. He was six feet high, weight of 200 pounds but active, a fine dancer and an expert horseman. He never resumed the practice of his profession in the Canebrake, giving his attention to the plantation, which he cultivated in the highest customary skill. Every morning, as he rode among the negroes in their hoes, plows, etc., every individual man and woman, young or old, saluted the master: "Good morning," the males with lifted hat and the females with pronounced courtesie. The custom was peculiar to the Faunsdale plantation. There was a touch of superstition in Dr. Harrison's prejudices, it seems. The negroes had increased in a "natural way several years," outgrowing the original plenty of cultivable acres on the plantation. The master had desired a tract of 340 acres adjoining, owned by Mr. Robert Armstead but it was not to be sold. Dr. Harrison dreamed he had met Mr. Armstead mounted on the line and had purchased the tract. After breakfast still impressed with his dream a few hours earlier, he rode to the point the dream indicated. Mr. Armstead presently appeared, mounted, and remarking that he expected to remove to Montgomery to live, as United States Marshal of the District Court, the Pierce administration; he had sold his plantation nearby to a gentleman, Mr. Walker, from Georgia, and now Dr. Harrison was at liberty to buy the detached 240 acres. The negroes continued to increase "in natural way." About 1855 Dr. Harrison bought land in Louisiana near the Mississippi river, wild land. He sent a strong force of negroes there." 1 Dr. Harrison was killed in a buggy accident on 5 Sept 1858 and the nearby town of Faunsdale was named after his plantation in his honor.
Faunsdale Plantation main headquarters in 2008 by (Altairisfar, Public Domain, Wikipedia)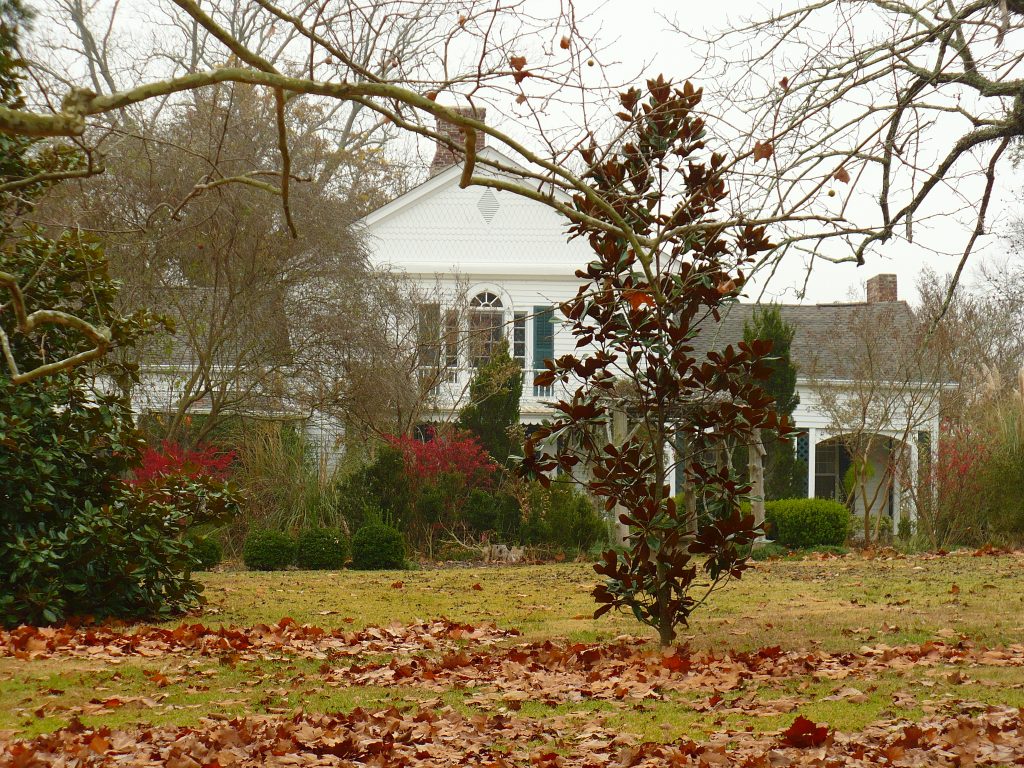 One of few plantations with slave records that have survived
Faunsdale Plantation is one of the few large plantations in Alabama where detailed slave records were recorded and managed to survive as part of the historical record. These records indicate that the Harrison family held roughly 99 slaves in 1846. This number had increased to 161 by 1857. A list from 1 January 1864 also indicates that Harrison's widow, Louisa, owned 186 slaves, at least 35 families. Some of the slave surnames noted at that time were Barron, Brown, Francis, Harison, Iredell, Mutton, Nathan, Newbern, Paine, Parsons, Richmond, Washington, and Wills. Fourteen of these enslaved people had died by the end of 1864 from causes ranging from typhoid fever to measles.
Faunsdale Plantation front Greek Revival home by (Altairisfar, Public Domain, Wikipedia)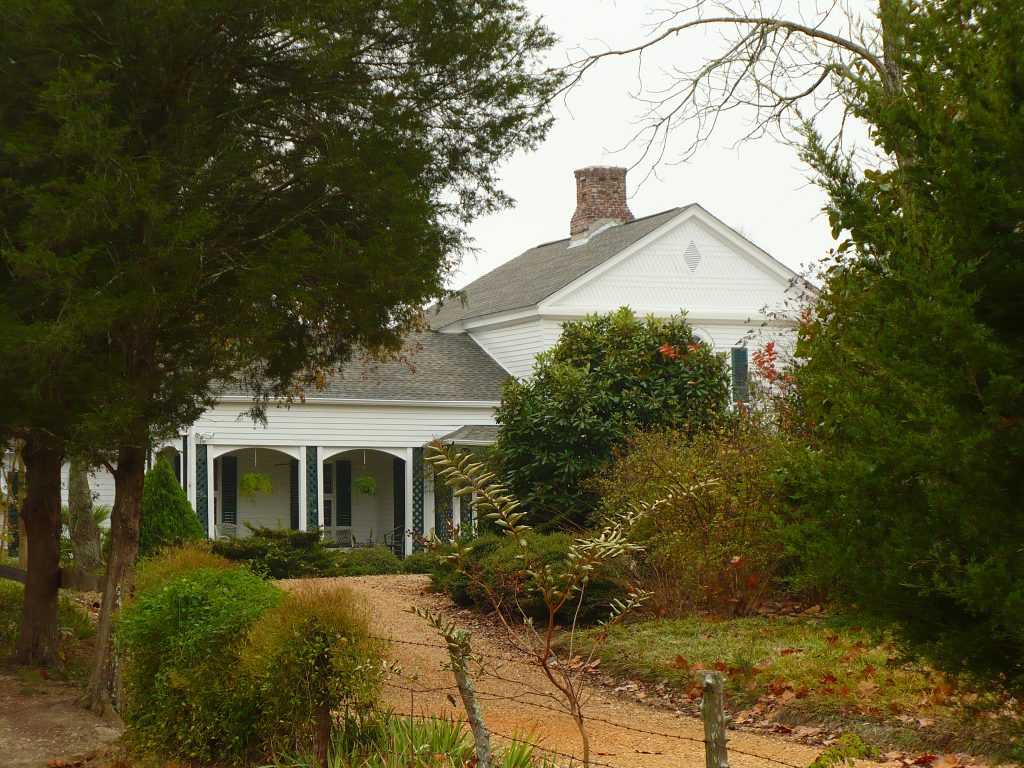 Missionary among the African Americans
"Mrs. Harrison was a notable woman. She had been educated in every advantage this country offered to her generation. She was taught by governess and tutor at home, Edenton, and seven years was a pupil at a famous school for girls in New York. Her mind was brilliant, her temper was amiable, her manners distinguished.1 Several years after the death of Thomas Harrison, Louisa remarried to Rev. William A. Stickney, the Episcopal minister for St. Michael's, in 1864.Stickney had been one of the first ministers ordained by Bishop Cobbs and was appointed by Bishop Richard Wilmer as a "Missionary to the Negroes" in 1863. Louisa joined him as an unofficial fellow minister among the African Americans of the Black Belt.
Faunsdale Plantation detail of slave house in 2008 by (Altairisfar, Public Domain, Wikipedia)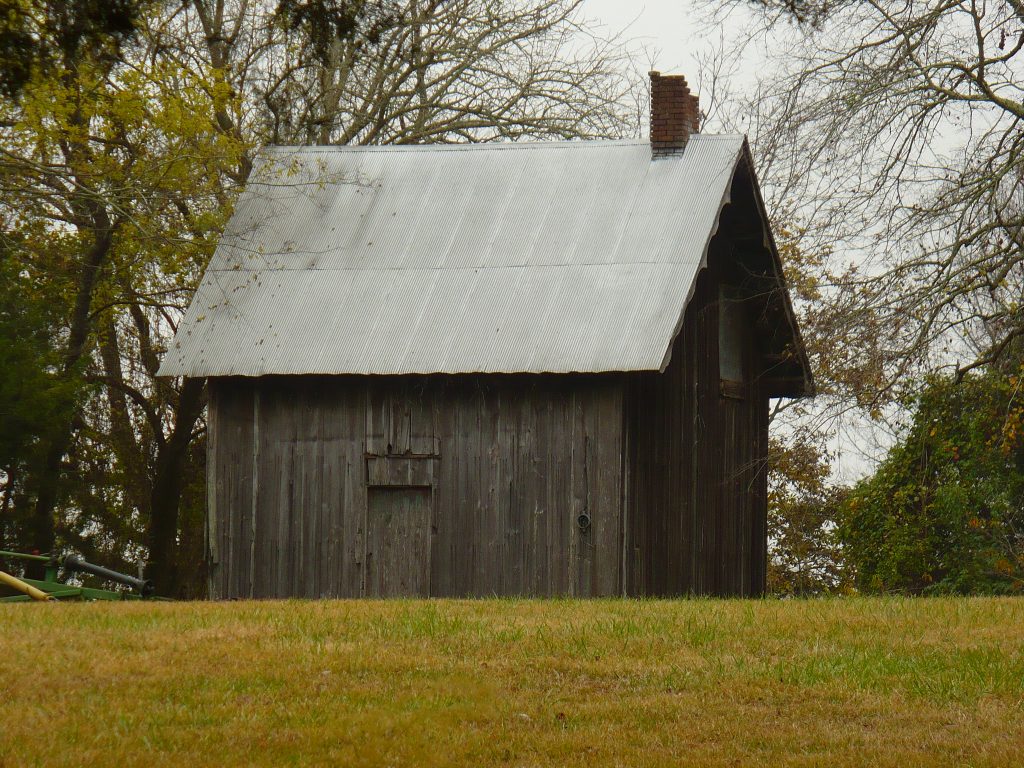 Plantation built by a slave
Cedar Crest, also known as Cedar Crest Farms, is a Greek Revival plantation house located near Faunsdale, Alabama. It was built for Kimbrough Cassels Dubose in 1850 by Albert Prince, a slave. Dubose, born in Darlington District, South Carolina was educated at the preparatory school of Prof. Stafford who later was of the faculty of the University of Alabama. His wife was Miss Elizabeth Boykin Witherspoon also of Darlington District, South Carolina, and they had seven sons and four daughters: John Witherspoon, James Henry, Jr., Eugene, Nicholas William, Francis Marion, Lemuel Benton and Edwin Dargan-the daughters Louisa, Rosalie, Augusta and Adele. The house is one-and-a-half stories with side gables but has been simplified. It originally had side wings, with adjoining porches across the front. These were removed in 1939, leaving the small central front portico.
Altwood Plantation near Faunsdale 2008 by (Altairisfar, Public Domain, Wikipedia)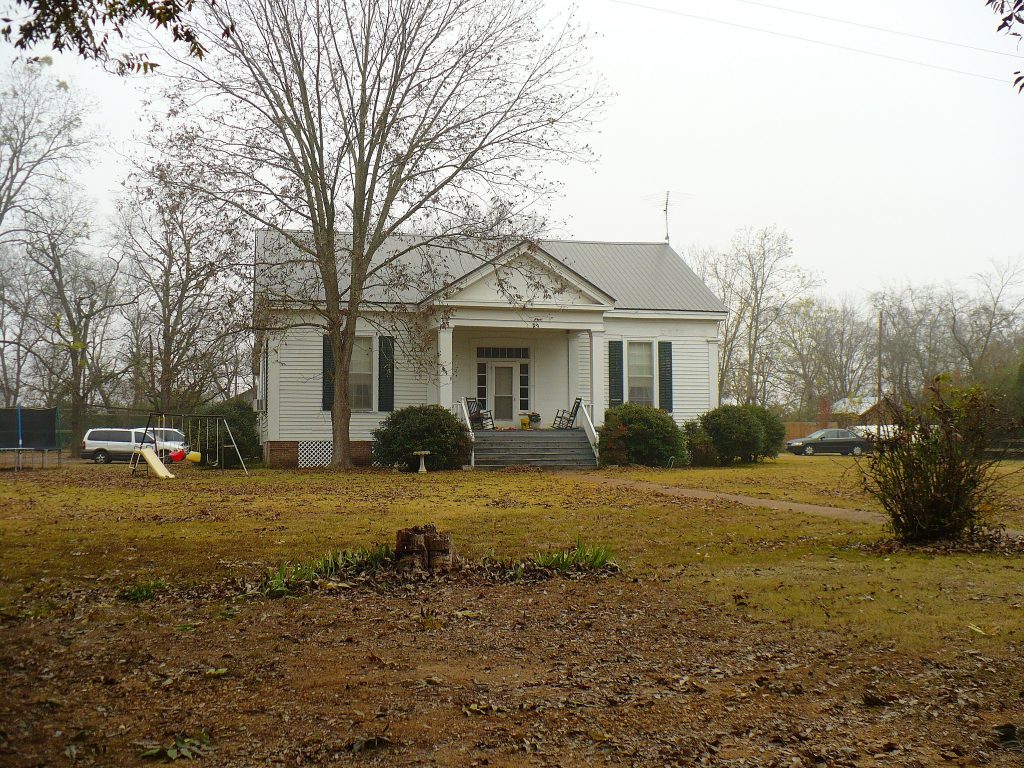 Another historic plantation house
"Altwood was built in 1836 by Richard H. Adams and began as a log dogtrot house. It was then expanded until it came to superficially resemble a Tidewater-type cottage. Brought to the early Alabama frontier by settlers from the Tidewater and Piedmont regions of Virginia, this vernacular house-type is usually a story-and-a-half in height, displays strict symmetry, and is characterized by prominent end chimneys flanking a steeply pitched longitudinal gable roof that is often pierced by dormer windows was moved from a nearby location to the Cedar Crest grounds in 1988."1The house was added to the National Register of Historic Places on August 05, 1993 as a part of the Plantation Houses of the Alabama Canebrake and Their Associated Outbuildings multiple property submission.
Altwood Plantation near Faunsdale 2008 by (Altairisfar, Public Domain, Wikipedia)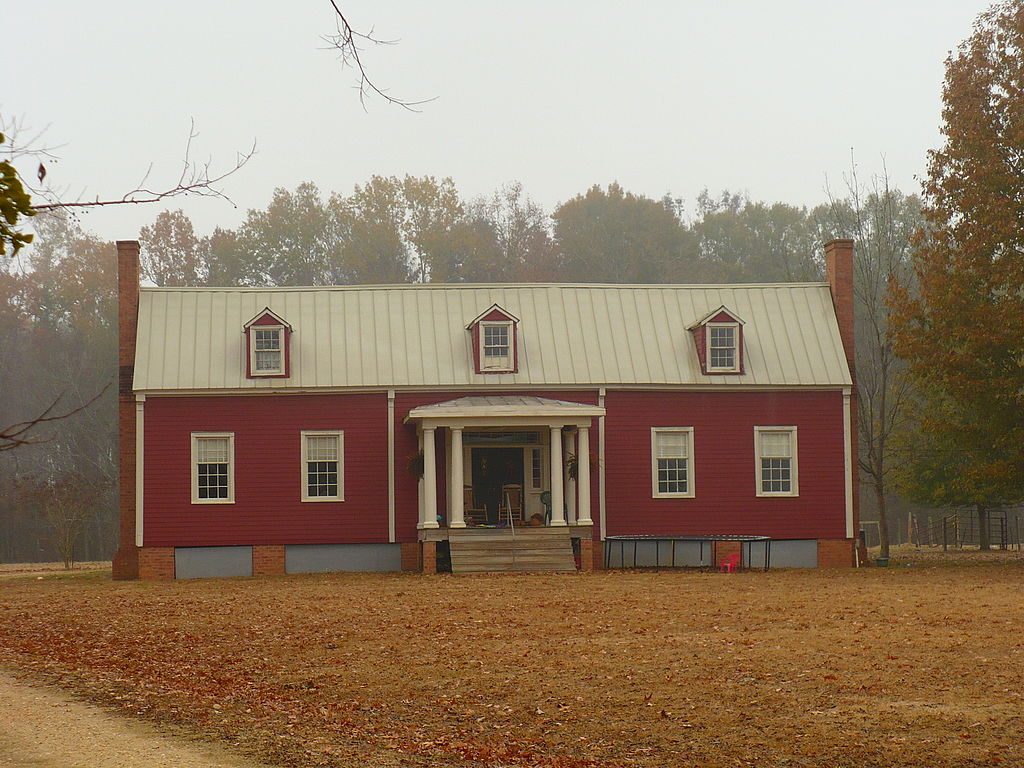 A successful city in 1913
Named for Faunsdale Plantation, the city of Faunsdale is in the northeast corner of Marengo County, on Cottonwood Creek, 21 miles northeast of Linden, 5 miles west of Uniontown, 16 miles east of Demopolis. It was incorporated under the municipal code of 1907, with corporate limits extending one-half a mile in every direction from the southwest corner of Main Street.
In 1913, the city of Faunsdale owned its electric light plant, waterworks, and power-house, and schoolhouse. It had a volunteer fire department, 3 miles of wooden sidewalks. its tax rate is one-half a mill, and there is no bonded indebtedness. Its banking institutions are the Bank of Faunsdale (State), and the Watkins Banking Co. (State). Its industries are a cottonseed oil mill, 2 cotton ginneries, 2 cotton warehouses, a sawmill and lumber plant, a gristmill, stores, the municipal light plant, and the power-house for waterworks with a standpipe of 50,000 gallons capacity. Its churches were Episcopalian, Methodist Episcopal, South, and Presbyterian.
First settlers of Faunsdale
The first settlers were W. M. Selden and Hugh Nelson. Later came the Watkins, Skinner, Hollis, Bradfield and Duggar families. The public road from Uniontown to Demopolis passes through the town.
1JW Dubose, "Chronicles of the Canebrake," Alabama Quarterly, Winter 1947 p598-599
1JW Dubose, "Chronicles of the Canebrake," Alabama Quarterly, Winter 1947 p598-599
1Gamble, Robert (1990). Historic architecture in Alabama: a guide to styles and types, 1810-1930. Tuscaloosa, Alabama: The University of Alabama Press. pp. 33–35.
SOURCES
Polk's Alabama gazetteer, 1888-9, p. 348; Alabama Official and Statistical Register, 1915.
Marengo County Heritage Book Committee: The heritage of Marengo County, Alabama, pages 17-18. Clanton, Alabama: Heritage Publishing Consultants, 2000.