HISTORIC TORNADO OUTBREAK
ALABAMA
March 21-22, 1932
(FROM: DARKEST HOURS by Jay Robert Nash)
On March 21, 1932, Marion, Alabama was the first town struck in one of the most destructive series of tornadoes to wreak havoc across seven states. From this point at least a dozen vicious twisters ravaged the tornado belt, as they moved northeast toward Georgia and then splayed out into Tennessee, South Carolina, Kentucky and Virginia.
A thundershower broke shortly after 3:30 in Tuscaloosa, but after a torrential downpour, it ceased. Shortly after 4 o'clock, however, a heavy black cloud rolled up from the southwest and followed the course of the Warrior River.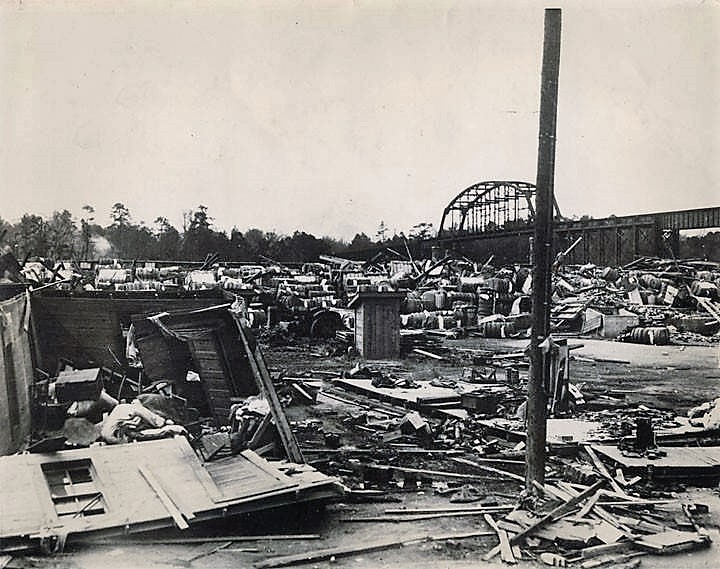 Cotton bales left without roof when warehouse is blown away in Northport, Alabama. A scene on the site of the cotton warehouse of Northport following the disastrous tornado that swept the region Monday March 21st. This and four other sites were hard hit, a total of 275 deaths were compiled.
Hugged the ground for the next five miles
The storm hit Lewis' tourist camp near Northport then hugged the ground for the ground for the next five miles. Fire broke out in Northport, escaping gas, flaming mattresses and other inflammables added to the horror.
The Tuscaloosa Country Club was struck by the storm and presented a picture of war-time desolation. The clock was blown down and stopped at exactly 1 minute after 4 o'clock setting the time of the storm. Kinney Daniel's store at the intersection of Fosters and Sanders Ferry roads was blown away and Mr. Daniels was lost in the wreckage for more than half an hour. He died at Druid City Hospital.
Other places hit were Perry County, Demopolis, Linden, Plantersville, Jemison, Talladega, Sylacauga, Cullman, Stevenson, Faunsdale and other points. Marion was hit twice on the same day. Lomax, Thorsby, Columbiana, Bethel and Paint Rock were also hit severely. Witnesses at Columbiana, where sixteen people died, told of a dark funnel-shaped cloud that cut a swath 150 yards wide. Six were killed at Lineville, Alabama.
Wedged under a tree trunk
In Chilton County, Alabama, Sheriff Gore was eating supper with his family. When the tornado struck, he was knocked unconscious. Coming to, he found himself in the yard wedged under a tree trunk. He wriggled out. "The wind was howling like mad," he told a correspondent later. "It was flashing brilliant, blinding lightning and I heard my son call to me from across the yard. He was lying against the stump of a tree. We almost feared to rise against that wind, but both of us thought of his wife and four children, and immediately went to find them."
Gore and his son found the family in a corn patch where they had been blown; all were unhurt. Then the Gores raced to the neighboring farm of Battle Hamilton.
Blown into a corn field
"His house was nowhere to be seen." Gore said in semishock. "Down the road a piece we found him cut to pieces by barbed wife, hanging on a fence……Battle's wife had been blown into their corn field and was badly injured. They don't expect her to pull through (she didn't) Then there was Battle's six-month old son, Jack. We found his body in a creek….He had been drowned, if he hadn't been killed before reaching the creek."
The tornadoes raged on, killing twenty-nine at Demopolis, five in Pulaski, Tennessee, and thirty-four in the vicinity of Rome, Dalton, Athens and Cartersville in northeastern Georgia. In Cleveland, Tennesse, the wind from a tornado snatched an infant from its mother's arms and dropped it to its death down a well.
Several freakish events were caused by the erratic fury of the twisters. In Dalton a man was blown to the top of a tree and a piece of wood impaled him there in a crucifixion nature. He hung there until the next day when he was taken down and moved to a hospital, where he died. Hundreds of rural dwellings were demolished by this army of tornadoes, and 268 persons were killed in four states.
Filled with drama, suspense, humor, and romance, DISCORDANCE continues the family saga from the Tapestry of Love series with the children of Mary Dixon who married Thomas Cottingham.
Inspired by true events and the Cottingham family that resided in 17th century Somerset, Maryland and Delaware, colonial America comes alive with pirate attacks, religious discord, and governmental disagreements in the pre-Revolutionary War days of America. Descendants of this Cottingham family eventually migrated to Alabama before it became a state.
SOURCES
DARKEST HOURS by Jay Robert Nash
The Tuscaloosa News March 20th and 21st, 1932