NOTE: The 1932 film includes a graphic scene of recovering a body so please do not view it if you are sensitive to such scenes.
The March 21, 1932, tornado outbreak which took place in the Southern States was the worse in history for Alabama. At least 36 tornadoes—including 27 killers and several long-lived tornado families occurred across the South and Alabama was the hardest hit. (Some of the names of those killed are listed at the end of this story.)
The March 24th headline of The Tuscaloosa News stated that the death toll rose to 300 names of people killed in Alabama, 32 of whom had died in Northport, and 2,500 were known to be injured. The Red Cross worked tirelessly to rehabilitate approximately "10,000 people left homeless in Alabama, Georgia, and Tennessee. According to The Tuscaloosa News,  in Alabama alone, there are more than "8,000 whose domiciles were blown to the four winds."
James Spann of 33/40 News talked to a man who experienced the outbreak in the Youtube video below.
The story of the tornado outbreak on March 21, 1932, made it all the way to the England and can be seen in the film below.
WARNING: This graphic film from England taken in Alabama shortly after the tornadoes hit, includes the discovery of a body so don't watch it if you are sensitive to such a scene.
Five people died in the building below, only one person, Bill Snyder, survived

Storm Stories from 1932
On March 27, 1932, these were some of the storm stories that were published in The Tuscaloosa News. They reveal how wide-spread the tornado outbreak was.
Two little negro boys were blown across the Warrior River at Demopolis and landed unharmed in an adjoining field.
Two injured at Clanton now believe in the adage that it never rains but it pours. Injured as the twister struck there, they were taken in ambulances to Thorsby for medical attention. Hardly had they passed over the threshold of the physician's office than the storm doubled back and struck Thorsby. Luckily, they were in a brick building and were not killed.
Physicians at Sylacauga said they handled 115 injured at one hospital without lights or water.
Strangely enough, not a woodpile was blown away around Ashland and Lineville although scores of homes were demolished.
Joe Peers at Columbiana was trying to reach the safety of his home when the tornado caught him, lifted him high in the air and sat him down unharmed in a sweet potato patch a half mile away. Joe said, "I was kicking and scrambling trying to get back down to earth but I just couldn't reach the ground." City officials praised his bravery for returning to the devastated area and working all night in helping rescue residents trapped under the timbers of their homes.
The tornado struck in wide areas from Marengo to Jackson counties, but the longest swath was reported in Clay County where it cut a path 30 miles long from one end of the county to the other.
Two 12-year-old boys escaped Monday's storm uninjured by hiding in a hole in the ground near Spencer's Mill. John E. Hardin, son of Mr. and Mrs. R. T. Hardin, of Northport, and his cousin, Bill Miller, son of Mr. and Mrs. W. N. Miller were the youngsters who raced 100 yards to the dugout where they remained during the terrific blow which tossed timbers and trees around them. The Miller boy wished to run for home but the Hardin youth figured that the hole was the only safe place and after some scuffle succeeded in dragging his cousin to that refuge.
Bill Snyder, the only survivor of six men in Propst and Ray Stables at the time of the storm, reported the most miraculous of all escapes. He fell sidewise between two timbers and was only slightly hurt in the head. R. B. Ray, holding Snyder by the hand, fell sidewise of the timbers and was crushed to death.Twenty-eight mules in the stables at the time of the tornado were unhurt, although they were in the rear of the barn.
Twenty-five cities reported at least one fatality
According to the Red Cross on March 27, 1932, surveys disclosed that tornadoes swept over 13 counties in Alabama. The death toll grew to 363. At least 25 cities and communities in Alabama reported one fatality or more during the day.
On March 28, 1932, tragedy struck again in central Alabama when another tornado struck and killed five people in Bibb County, two in Pleasant Grove, Chilton County, and injured at least twenty-five others. The high winds from the storm created an unusual freak of nature on Easter Sunday. The Black Warrior River became a crimson stream as high winds swept red dust through the river valley.
The photograph below revealed damage from the tornado in Lawley on the March 27, 1932.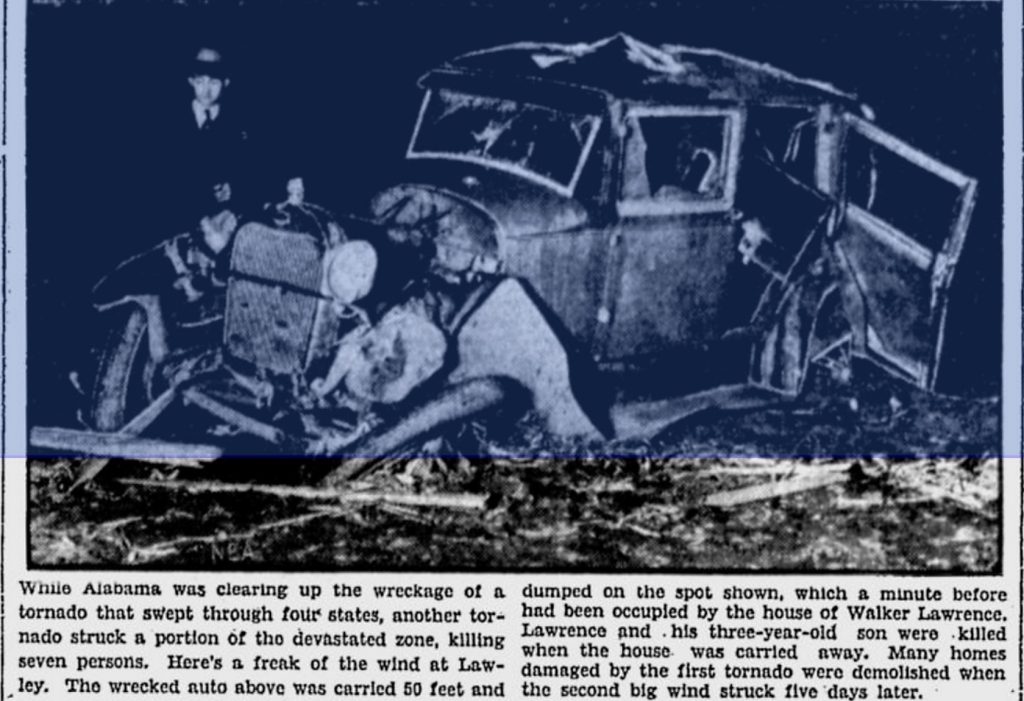 The following editorial was published in The Tuscaloosa News on March 22, 1932.
AN EDITORIAL
Be Glad You Are Alive —And Give Quickly
Tuscaloosa, Alabama, Tuesday
March 22, 1932
Each and every person who lives in the vicinity of Tuscaloosa is alive only by the grace of Almighty God. Be thankful, and rise to the aid of those unfortunates who were not spared. More than any other one thing needed now is money.
Men and women of every walk of life are bending their shoulders to personal service. Doctors and nurses, National Guardsmen, our faithful preachers, our fine group of University students and our magnificent womanhood are rising to the occasion.
The loss has been terrific– suffering is at every hand—the expense on relief agencies demands prompt action by a systematic and grateful people. Help the Hospital and the Red Cross in this great work- do so without delay. Leave your contribution at any drug store, at the city hall, the courthouse, the Supply Store, Red Cross Headquarters or the Tuscaloosa News.
Do it now, there is no time for delay. Be glad that you are alive, show it—Give! Give thankfully and with humility.
True count of deaths will never be known
A true count of all the deaths that took place in March 1932 will never be known, especially since many tornadoes in rural areas probably caused more injuries and probably higher fatalities than reported. Also, "newspapers paid little attention to the deaths of Black sharecroppers whose families and identities were often unknown. Such a racial aspect was common during natural disasters in the South before desegregation in the late 20th century." (Wikipedia)
Below is an extract of names (as written) from The Tuscaloosa News on March 23-24, 1932 of people in Alabama who were killed by the tornado outbreak on March 21, 1932
Northport (30) – Maurice Jones, Mrs. Ebb Shirley, Eb Shirley R. B. Ray, W. F. Farley, Mrs. W. F. Farley, 4-year-old James Moore, Cassie Richardson, John Thomas Murphy, Ruby Hunter, Mrs. Rebecca Hughes, Caster Richardson, Hazel Gay (negro), Josephine Davis (negro). Anne Hyche (negro), Hyche child (negro), Steve Gore (negro), Conway Lewis (negro), Mattie Bell Rogers, (negro), her two children Sophronia Mae Rogers (negro), Willie Bell Rogers (negro), David Hill (negro), John Fulgham (negro), Prof. V. E. Mathew (negro) Hardy Prewitt (negro), Charlie Booze (negro) Beulah Williams (negro), Lucy Ware (negro), O. C. Ware (negro), Bob Floyd (negro), Prof. William Anderson (negro) Mary Wells (negro)
Lawley, Bibb County – Tom Wallace
Foster's Ferry Road – (1) – L. K. Daniels
Chilton County (41) Including villages of Lomax, Union Grove, Collins Chapel and Jemison – Mrs. Barbara Hubbard, Tom Ellison, grand-daughter of Tom Ellison, the Rev. R. S. Chandler, Berney Chandler, Mrs. Berney Chandler, infant Chandler, Mat Smith, two children of Mat Smith, Joe Littleton, Hazel Strength, Mrs. C. S. Willis, John Chandler, Holly Mims, child of Tommy Ellerson, Mrs. Eli Mitchell, Mrs. John Stanley, Jack Hamilton, Ellen C. Lackler, Cecil Williams, "Aunt Sis" Headley, Perry Lykes, Carmich Hays, Mrs. Lucille Queen, two infants of Mrs. Queen, Hopson Smith, Frank Smith, "Doc" Ray, Mrs. "Doc" Ray, Mrs. Robertson, child of Mrs. John Standley and eight unidentified persons.
Cullman (20) – Mrs. Hattie Ragland, Mrs. W. M. Ayers, infant of W. M. Ayers, Mrs. W. A. Ayers, G. Cole, P. A. Wray, Mrs. P. A. Wray, infant son of E. H. Bates, Mrs. W. E. Roy, James Lewis, Eva Lou Ayers, Mrs. O. W. Bonds, Mrs. Lucinda Brooks and five unidentified reported by Red Cross.
Sylacauga (23) – Mrs. J. L. Kelly, Mrs. Porter Dobson and 18 negroes. Three more died today.
Marion (21) – D. A. Everett, John de Yampert and 19 negroes.
Faunsdale (25) – Floyd Collins and 24 negroes.
Columbiana (15) – Robert Howell, Jr. W. A. Walton, Mrs. W. A. Walton, Alleen Northington, Dicie McMichael, John Ernest, Jessie Hamrick, Melissa Hamrick and seven negroes.
Plantersville (11) – Jack Latham, Mrs. Jack Latham, five Latham children, Mrs. Jim Mitchell, Mr. Duramus, Mrs. Duramus, R. L. Hamm
Randolph (9) – Nine unidentified persons
Lineville (8) Buell Burchfield, Mary Dell Burchfield, —-Lucille Burchfield, —
Talladega –torn page
(continued on 2nd page)
City unknown – Jack Taylor, Mrs. Jack Taylor and five negroes
Stevenson (7) Seven unidentified persons
Corinth (6) – Mrs. G. O. Minor, Ola Bryant, Audrey Bryant, Jose Bryant, Alama Blair and an infant named Perry
Bridgeport (6) – G. N. Bell, George Reeves, Mrs. George Reeeves, Zeke Jones, a girl named Turner and nine-year-old daughter of Brinks Troxwell
Paint Rock (6) – F. M. Erwin, Fred Russell Jones, Joe Smith, Pansey Moore, John Terrell and Mrs. John Terrell.
Linden (6) – Child of Joe Dixon, Mrs. Joe Dixon and four negroes
Ashland (3) — Nettie Stockdale, infant Mitchell, Mrs. R. L. Quarles
Demopolis (3) – Three Negroes
Sycamore (3) – Three Negroes
Falkville (1) – Mrs. Sarah Lawrence
Lawley, Bibb County (1) Tom Wallace
Cox, near Lawley (3) – Fate Hamm, Mr. and Mrs. Floyd Dobbs
Hatchett Creek (Clay County) (1) – Mrs. Bob Quarles
Tupelo (10) — Will Austin, wife and son, three children of Louis Manning, John Williams, wife and baby, William Parker
Carnes (3) – Clarke Mathews, four-year-old son Andrew Little, Mrs. Vic Dunn
RELATED STORIES
As the family historian, do you have friends and family ask you how to get started in family research? This is a hard question to answer in a few minutes. Refer them to the book below to help them get started in this fun hobby. Purchase several – Books make great gifts!