Interesting news article from 1867 about early roads in Limestone County, Alabama.
"SCRAPS"
RELATING TO THE EARLY HISTORY OF LIMESTONE COUNTY
By Thomas Smith Malone
Excerpt Transcribed from The Athens Post, March 28, 1867
Page 2, Column 3
Part IV
We failed to state in our last number, (section) that there were several roads cut out through the county, by the Soldiers, under Col. Meigs, during the year 1809, and 1810. The Colonel had two companies of United States regulars under him, which he confined pretty closely to "Fort Hampton", and with these opened a good wagon road from the Fort to this place.
Roads through the county
The road was extended on to Huntsville, and in the cutting out of the road, east from this place, he was assisted by troops furnished him by Gen. Wade Hampton, whose headquarters were at Huntsville. Gen. Hampton had the supervision of all this section of country, and is supposed to have had with him a regiment or two.
His troops are said to have opened a small wagon road from "Hayes Point," three miles this side of Huntsville, to Brown's Ferry, which was some years thereafter enlarged and straightened, and became the great "Township Road" to that ferry, from Huntsville.
Colonel Meigs, in this year, (1810), opened a road from the Fort (Hampton) in the direction of Mooresville and called the Old Fort Hampton and Mooresville Road. In this year (1810) was begun and completed the road from Mooresville, in the direction, and to Elk River, at a ferry known as "Elk Ferry", and subsequently, as Elkton.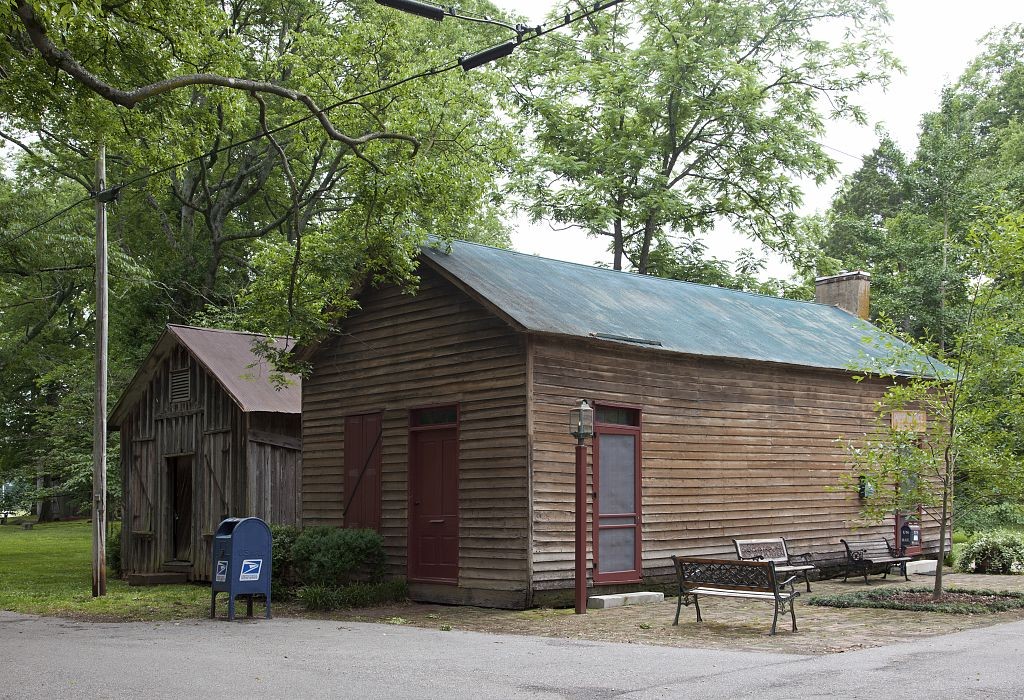 Post office, Mooresville, Alabama 2010 by photographer Carol Highsmith
Gen. Hampton gave squatters trouble
During the years 1810, 1811 and 1812, General Hampton gave the squatters, through this county, on Indian lands, much trouble and loss, by sending squads of Soldiers through the country to burn and destroy their patches of corn, vegetables, fences, etc.; in some instances burning their huts and cabins.
The squatters, in turn, gave him much trouble, in various ways; to-wit: in secreting the stock, horses, cows, and other property, run out of Madison county, into this, then Indian sections, to evade impressment, the paying of debts etc.
Taxes difficult to collect
There is a citizen of this county, now living, who experienced much trouble in collecting debts, at that time, or more particularly in 1813, 1814 and 1815. He was a Deputy Sheriff and a Justice of the Peace, and in order to succeed in making levys, regaining stock and other property, that dishonest citizens of Madison county, where law and order, to some extent, had been established by the United States Government, had to resort to the expedient of hiring men to come by night, recapture said property, carry it over the line, when the officer would meet him, levy it, and in proper time proceed to sell it.
What, with the encroachment of immigrants on the Indian lands, their complaints to the General Government, and to General Hampton himself, I doubt not he had an interesting and lively time of it.
Indeed if the remark be permissable just here, I would say that this world has been in a considerable of a "Stew" ever since Adam was driven out of the Garden.
Establishment of Cotton Port
But to return to the year 1808, Benjamin French left his relatives, then settling on Limestone Creek, nine miles east of Athens, and visited, and established himself at a point 17 miles South of Athens, two or three miles south of Mooresville, near Piney Creek, which place afterwards became a town of some importance, and known as Cotton Port, from the fact that the first cotton in this county, was shipped from that point in the flats, a few miles down into the Tennessee River and thence on to New Orleans.
This was a place of considerable traffic for many years, cotton being shipped annually from it for a number of years, and more largely than from any other in the county, until about the year 1818 or 1819, when Browns Ferry outstripped it in the shipment of cotton. Respectively, M.S.T. March 23, 1867.