The Screech Owl
by
Roger Brothers
I remember sittin on the front porch in the dark with my Daddy when I was four or five years old on sultry north Alabama summer's evenins, right after the last light was gone from where the sun had went down behind the spruce pines on the mountain. The only lights visible were lightnin bugs, hundreds of em, and the glow from Daddy's non-filter camel.
"A nasty habit I picked up in the army," he said it was.
I usually had several little white circular burn scars on my arms when I was a kid because I was always literally in his footsteps, and if he ever stopped quick like, I always bumped into the business end of the camel if it happened to be in his hand at the time. I weren't a real fast learner, I reckon. Looks like after once or twice I might've thought about stayin back a step or two, but I didn't.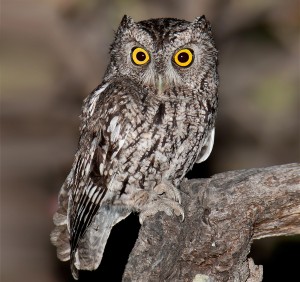 Whiskered Screech Owl (www.audubon.org)
Listening to the sounds
I would sit there in the porch swing beside him a lot of nights after supper, coolin, while my Momma and sisters cleaned up the kitchen. Thisuz before air conditionin or television, least-wise before we or any of our neighbors or kin had em and even before I knew there was some rich folks that did. We'd sit there and listen to the night sounds and Daddy explainin what made each sound.
Conversation went somethin like this here:
"What's that, Daddy?"
"What's that, Daddy?"
"That'd be tree frog, boy."
"Do they really climb trees, Daddy?"
"Well, I reckon they don't fly up in there."
"What's that, Daddy?"
"What's that, Daddy?"
"What's a Whipperwill, Daddy?"
"It's a bird, boy. They sit on the ground to do their hollerin."
"Why do they call him that?"
"Listen close to what he says, boy, whip-poor-will."
"What's that, Daddy?"
That's a Screech owl, boy."
Lordy, what a spooky, mournful sound to a pair of five year old ears. Old folks used to say an old screech owl hollerin around a place was a sign that somthin or someone was afixin to die there. If you ever have heard one of em, then you got an idea why folks used to believe that too. Even unto this day it makes the hair stand up on the back of my neck whenever I hear one. I weren't never "afeered," as Daddy called it, though. Not as long as he was around, anyway. Hope my younguns and grand younguns feel that same way about me. Daddy would like that.
The old cemetery at dark
Stopped by the old cemetery on top of the mountain near about dark when I was on the way home from his grave the day we buried him. I didn't even really know what I went there for, alone. It was a good ways out of my way and gas is expensive. His Cherokee Great Grandmother is buried there. Talitha Cumi was her name.
She made her way, somehow, from Jackson Parrish, Louisiana, to Muscadine, Alabama, near bout on the Georgia line goin towards Atlanta, goin home to her Daddy, walkin most of the way, her three little boys in tow, after the yankees killed her husband at Mansfield. Must be 400 miles or more. They come close to starving to death along the way. Guess her and them three boys had their own little "Trail of Tears" but goin in the opposite direction from the one that's in the history books. The oldest of them boys was eight and he became Daddy's Grandaddy'.
While I was standin there, by myself, by Talitha's grave in the dark and wonderin why I went there, there came from somewhere across them fields and woods that old lonesome wailin of a screech owl, mournful and spooky as it ever was even when I was five years old.
I weren't afeered though. And I weren't alone.
FreeHearts: 2nd edition A Novel of Colonial America (Tapestry of Love Series Book 3) 

Inspired by actual people and true events, Col. John Washington (ancestor of President George Washington), Randall Revell, Tom Cottingham, Edmund Beauchamp ward off Indian attacks and conquer the wilds of Maryland's Eastern shore in 17

th

 century colonial America in this historical novel.