How to cure rheumatic gout and using food for ailments instead of medicine
(Transcribed from The Iron Age, Birmingham, March 5, 1874)
An Englishman with rheumatic gout found this singular remedy a cure for his ailment: He insulated his bedstead from the floor by placing underneath each post a broken-off bottom of a glass bottle, He says the effect was magical; that he had not been free of rheumatic gout for fifteen years and that he began to improve immediately after the application of the insulators. We are reminded by this statement, says the Scientific American, of a patent obtained through this office for a physician, some twelve or more years ago, which created considerable interest at the time. The patent consisted in placing glass cups under the bed-posts in a similar manner to the above, and the patentee claimed to have effected some remarkable cures by the use of his glass insulators.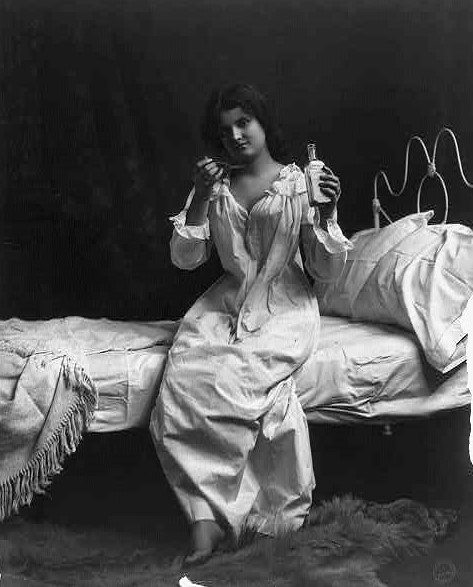 FOOD AS MEDICINE
Dr. Hall relates of a man who was cured of biliousness by going without his supper and drinking freely of lemonade. Every morning, says the doctor, this patient rose with a sense of rest and refreshment, and a feeling as though the blood had been literally, washed, cleansed and cooled by the lemonade and fast. His theory is that food will be used as a remedy for many diseases successfully. As an instance, he cures cases of spitting blood by the use of salt, epilepsy and yellow fever by watermelons; kidney affections by celery; poison, olive or sweet oil; erysipelas, pounded cranberries applied to the part affected; hydro phobia, onions, etc. So the way to keep in good health is really to know what to eat – not to know what medicine to take.
Start researching your family genealogy research in minutes for FREE! This Ebook has simple instructions on where to start. Download WHERE DO I START? Hints and Tips for Beginning Genealogists with On-line resources
to your computer immediately with the FREE APP below and begin your research today!