Oldest Carrier Had 3,000,000 Pieces of Mail
(Transcribed from Times Daily, Florence, Alabama December 17, 1929)
R. W. Sims, 1223 Wills avenue, North Florence, the city's oldest mail carrier from a viewpoint of service, according to Postmaster H. A. Cathey, has an enviable record since he began delivering for Uncle Sam, Sept. 1, 1902.
Among other things, excluding Sundays, the veteran Florentine has enjoyed only six holidays annually for a period of 27 years.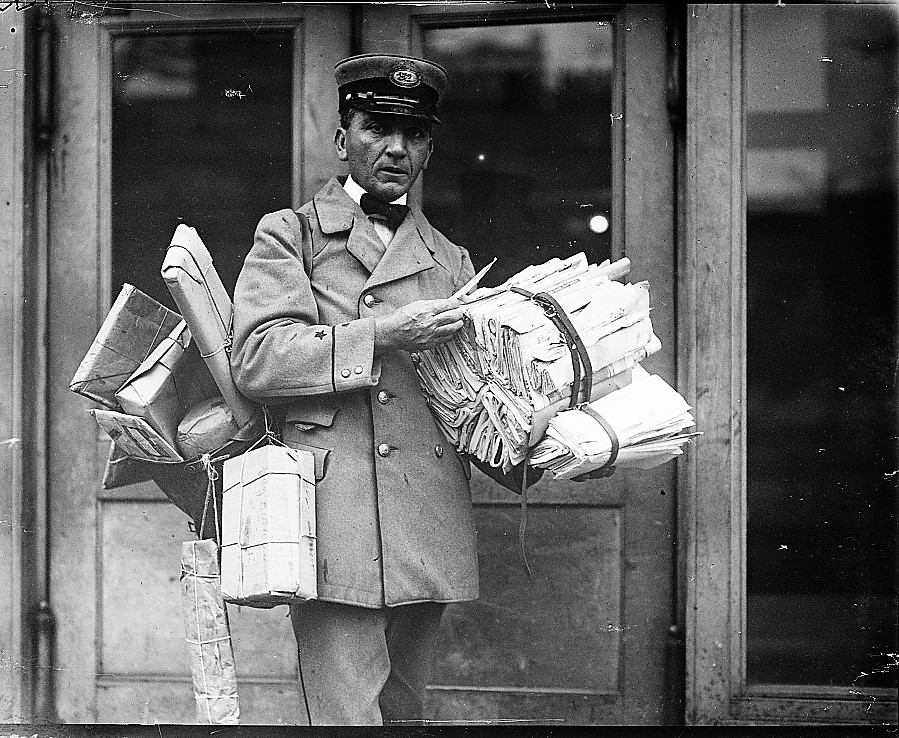 A mail carrier 1923 by Harris & Ewing, photographer (Library of Congress)
First thirteen years were the hardest
According to Mr. Simes, the first "13" years are the hardest (although he declined to comment on the old proverb that the first $10,000 is the most elusive) as for 13 years he never missed his daily 14 – meaning 14 miles per day on foot.
Then the promotion came, as it always does, according to records, when one sticks to Uncle Samuel, and in 1915, when Mr. Sims became a mounted carrier.
With it came increased responsibilities and since 1915 Mr. Sims has been averaging 19 miles per day although the amount of mail carried now is "about the same as when I walked," as Mr. Sims termed it, which is an average of about 400 pieces of mail daily.
His life is full of statistics
Since the advent of the auto, Mr. Sims has walked less, but still boasts considerable spryness.
The Sims family, headed by the mail champion, is in addition composed of Mrs. Sims, two boys and two girls.
But getting back to the subject, Mr. Sims' life is just full of statistics– for instance, how many miles did he walk from 1902 to 1915?
During that period Mr. Sims estimated he has worked about 3,991 days, walked approximately 55,874 miles and delivered nearly 1,596,400 pieces of mail. Quite a bundle.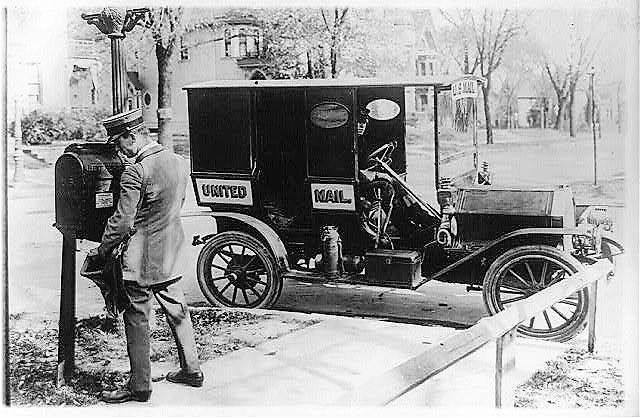 Drove an auto since 1915
Since 1915, however, Mr. Sims has been driving an auto and has traveled on an average of about 19 miles per day.
During this span of 14 years, Mr. Sims has covered a distance of approximately 81,662 miles by auto.
Since he has been equipped with a "jitney bus", which, by the way, came in the way of federal aid, he has delivered another mere 1,719,200 pieces of mail.
If Mr. Sims had a dollar for every mile he covered in delivering mail and a dime for every piece delivered, or vice versa – or a quarter for every drop of rain that fell on him– or—if you love figures, go ahead.
The Yazoo land fraud
Daily life as an Alabama pioneer
The capture and arrest of Vice-president Aaron Burr
The early life of William Barrett Travis, hero of the Alamo
Description of Native Americans of early Alabama including the visit by Tecumseh
Treaties and building the first roads in Alabama.